 After what many deemed to be the end for Die Mannschaft's World Cup run in Russia on Saturday night, the German's were to breath a huge sigh of relief after a wonder goal from star midfielder Toni Kroos saved the day.
The German team looked set for another night of frustration and bad luck as their promising start to the match plateaued into long periods of possession without the desired outcome of a goal. Little did the team know they were in for a historic night as the last time the German National team was able to come back from behind and win a World Cup match was also against Sweden in 1974 (0-1 at halftime, won 4-2).
The Golden Curse
Much has been said about the German's drive and mentality to defend their title victory from four years ago in Brazil. In 2006, Italy won the Cup on German home soil and were later dumped out of the competition at the group stage in 2010. The same fate awaited eventual winners Spain in South Africa, who failed to progress from their group in Brazil of 2014.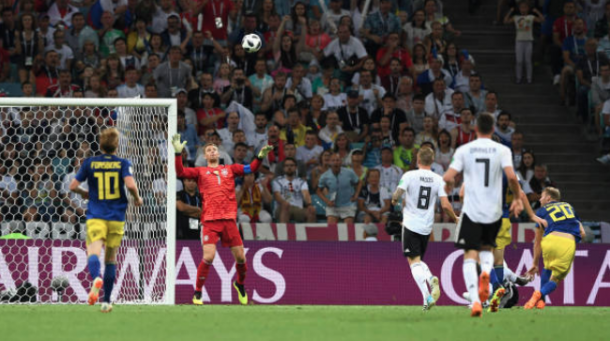 This year when pre-tournament predictions started no one even dared to think the impossible could happen and that the dominance of this German powerhouse team might possibly fizzle out, it would have been utter lunacy to suggest. However, Germanys campaign in Russia has started off worse than coach Joachim Löw could have fathomed, with them losing 1-0 to Mexico in their opening game. Fast-forward to Saturday and the match against Sweden was begining to unravel in much the same fashion. So, are the World Cup winners doomed for failure like so many before them? Not this German side.
Back from the dead
Germany were down 1-0 in the 32nd minute after a pass gone wrong from the normally immaculate Real Madrid star Toni Kroos saw Ola Toivonen volley the ball over Neuer's head and German hearts broke around the world.
A rallying plea in the locker room must have done the trick for Marco Reus however as the Borussia Dortmund man was able to save his team from imminent elimination, scoring almost immediately after the start of the second half in the 48th minute. Albeit, a tie would see Germany with only 1 point after two matches meaning their fate would be in the hands of the final match between Sweden vs. Mexico, where a win for the Swedes would be the end of Germanys bid at a repeat World Cup victory.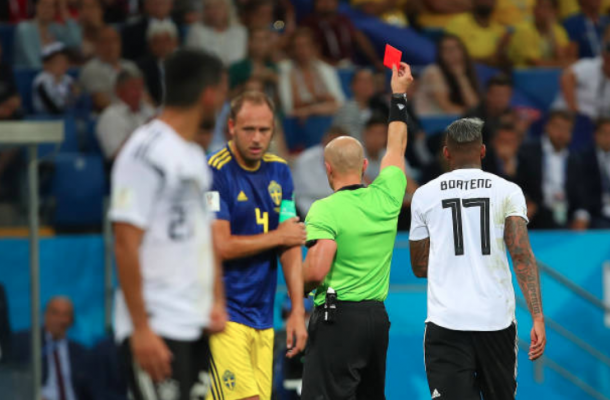 A very ill-timed tackle from defender Jerome Boateng late in the game saw him sent off after he accumulated two yellow cards over the course of the match, and with just eight minutes remaining things looked more dire than ever for Germany. However, Die Mannschaft's slogan this year being #bestneverrest couldn't be any more perfect for that is exactly the German way, to never stop fighting until the bitter end.
With a man down and the weight of a nation resting on their shoulders, Germany were not going down without giving it their all, and were rewarded for their perseverance when Durmaz foolishly conceded a free-kick on the edge of the Swedish penalty box in the 90+4th minute of stoppage time. Unfortunately for Sweden, when you have possibly the greatest midfielder of his generation on your side, it's game. over. Toni Kroos was able to redeem his earlier blunder with perhaps the best goal and moment of Russia 2018 thus far.
Group F standings (ahead of Wednesday's matches):

After being on the brink of elimination, Germany now have a chance to win their group if they can pull off a win against South Korea and if Mexico fail to secure a victory over Sweden. Come Wednesday, the three teams may well all be tied at 6 points each, leaving their fates down to goal difference.
Watch the full match highlights here: