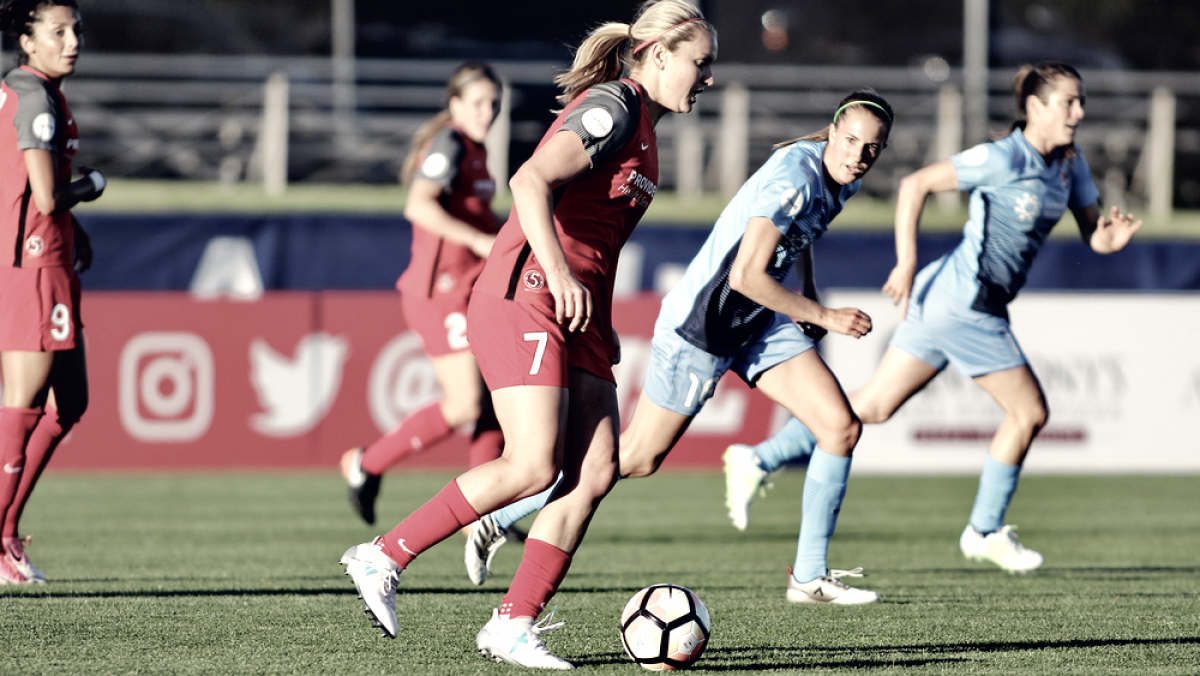 The Portland Thorns and Sky Blue FC played to a 1-1 draw Wednesday night, which extends Sky Blue's winless streak to 12 games. Portland's goal came courtesy of Lindsey Horan as she headed in Christine Sinclair's pass off of a freekick just before halftime. Then Carli Lloyd equalized with a 77th minute penalty kick conversion, after being fouled by Portland's Celeste Boureille. Both of these goals were given with the help of some questionable officiating, which we will get into a little bit later.
This game had little effect on the standings, with both Portland and Sky Blue not moving from fourth and tenth place respectively. With this tie, Sky Blue now have one of the most unwanted records in league history. They have now gone 12 consecutive games to start a season without a win, breaking the 2013 Seattle Reign record of 11.
Sky Blue close, but unable to find second goal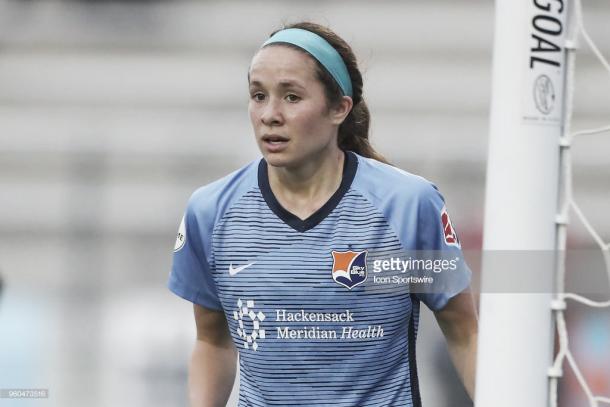 This was a relatively impressive performance from Sky Blue. While they didn't play particularly well, they were able to go into the toughest away environment in the league and weren't heavily outperformed by a better Portland team. Portland had the advantage in shots and shots on goal, leading 15-14, and 5-4 respectively. They also were ahead in corners 6-4. Portland then also had 17.6% more possession, won 16 more duels than Sky Blue, and also had a better passing accuracy. The really telling stat is Sky Blue more than tripling Portland in terms of clearances at 39-12. This shows Sky Blue's bend don't break mentality, which while it may have worked this time, they won't be able to keep getting away with it at that level.
Both goals shrouded in controversy
Both goals, in my opinion, should not have counted. Lindsey Horan was clearly offside when Christine Sinclair headed the ball onto her on Portland's goal. And, Carli Lloyd should not have been awarded a penalty kick. Even though Celeste Boureille's challenge looked to be worthy of a foul, Carli Lloyd had already lost possession of the ball, meaning that it should have been ruled a continuation of a play, and not a foul. These are just my opinions however, and feel free to tell me I'm wrong, because I just may very well be.
This will most likely be a game to forget for both sides, but probably more so Portland. Both teams had chances, but Portland had plenty more opportunities to find the winning goal, and frankly, a team as good as Portland should be beating teams like Sky Blue with much more ease. While yes, Portland had their injury issues, so did Sky Blue. Also, remember at the end of the season if the Thorns are unable to make the playoffs, they were only able to take two points at home against Sky Blue and the Washington Spirit.
Sky Blue will hope to use this as a turning point in the season, after getting a good result in a tough environment they need to push on and try to gain some momentum and hopefully a win as well.
It won't be easy for either team as they are both back in action both on the road this Saturday, June 30 as Portland visit their Cascadia rivals the Seattle Reign, and Sky Blue visit the league's newest team the Utah Royals in their first ever visit to Utah. Both matches take place at 10:00 PM EST, Saturday June 30, on go90.com as well as the go90 app.