The National Women's Soccer League season is rapidly winding down. On Sunday, the Chicago Red Stars will host the Washington Spirit for the first time this season after traveling to Maryland for the first two meetings. The teams drew in their first meeting and Chicago came away with a 2-0 victory in their second meeting. The Red Stars (4W-7D-3L) sit in fifth place in the league standings and have the potential to reach as high as second place with a win on Sunday, depending on the outcome of the games on Saturday. The Spirit (2W-4D-8L) are toward the bottom of the table in eighth place with almost no chance of making a playoff push.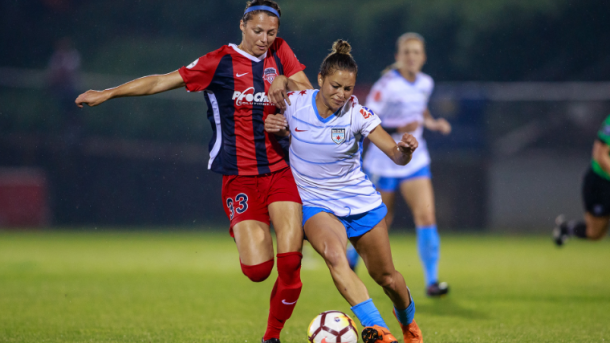 Looking for another important win
Last weekend Chicago traveled to Utah where they faced Utah Royals FC. In what was expected to be a close match, the Red Stars won 2-0 and put themselves back into the playoff hunt. The outcome of that game was made less certain by a trade in which Chicago gave away forward Sofia Huerta, midfielder Taylor Comeau, and defender Sam Johnson, but that didn't stop them from dominating the second half at Rio Tinto Stadium.
Chicago started the season with a laundry list of injuries to key players, but they have slowly and steadily gotten healthier throughout the season. Defender Casey Short made her first start of the season last weekend, but she played just 45 minutes. She should be expected to play closer to 60 minutes this match. Midfielder Vanessa DiBernardo scored the second Chicago goal after coming on as a substitute for just the second time this season after recovering from a fractured pelvis that kept her out of the first 12 games of the season. She may be fit enough to start on Sunday.
Paired with those returning players, the Chicago attack is lead by Australian striker Sam Kerr, who has totaled five goals on the season. USWNT midfielder Julie Ertz has seemingly been moved back to center back during Chicago's resurgence, and it will be interesting to see how that plays out for her. Ertz played center back for the USWNT during their 2015 Women's World Cup run but had since moved to attacking midfield to help jump-start the offense for Chicago and her country.
Chicago are heavy favorites in this match as the team seems to be finding a consistent rhythm of players and positions for the first time this season.
Chicago Red Stars injury report:
OUT: Stephanie McCaffrey (illness)
QUESTIONABLE: Morgan Brian (left groin strain), Rosie White (right hamstring strain)
The Spirit try to find something to play for
For the second consecutive season, the Spirit are in turmoil. With a mountain of injuries, including a knee injury to forward Mallory Pugh, and a general lack of enthusiasm this has been another wasted year. With eight games left in their season, the Spirit sit 10 points behind the fourth-place team and are nearly assured to miss the playoffs. Now it is up to head coach Jim Gaberra, whose seat must be getting very hot, to motivate his team and put a competitive product on the field.
This season was one of great promise for Washington. They added forward Ashley Hatch, the 2017 Rookie of the Year, defender Taylor Smith, and midfielders Rose Lavelle, Andi Sullivan and Rebecca Quinn, but it hasn't translated to on-field success. Very early in the season, it seemed like Washington would be generally competitive. Since then, injuries have mounted and the team lacks a distinct fire that shows up most clearly in the postgame conferences. They have become accustomed to losing.
If Washington is going to beat Chicago on Sunday they will need to contain Kerr, first and foremost. After taking care of Kerr, they will need to close down space and pressure the rest of the Chicago midfielders when they possess the ball. Chicago frequently scores on shots from distance because opposing defenses clamp down on Kerr and leave other players free to take open shots. Washington's defense has been subpar this season, but their offense has been downright dreadful. With just 10 goals scored in 14 matches, the Spirit will need to find the spark between Francisca Ordega and Hatch that existed earlier in the season. They will also need the midfield to act as a better bridge of play. Midfield play has been notably poor for Washington this season. If they can do all of that, they might have a chance at earning three road points for the first time this season.
Washington Spirit Injury Report:
OUT: Cali Farquharson (left tibial stress injury – D45), Cheyna Matthews (pregnancy), Mallory Pugh (right PCL sprain), Arielle Ship (right ACL recovery – D45)
QUESTIONABLE: Estefanía Banini (right hamstring inflammation), Mallory Eubanks (right ankle sprain), Rose Lavelle (left hamstring inflammation), Havana Solaun (left knee chondral avulsion)
How to watch
This game will kick off at 6:00 pm ET from Toyota Park in Bridgeview, IL. The game will be streamed on go90.com and the go90 app for viewers in the United States and on nwslsoccer.com for international viewers.