 The 2018 FIFA World Cup has given us shocks and thrills from the first whistle until now and with the knockout phase well underway, the upsets continued to come in as Belgium knocked out Brazil and France took care of business against Uruguay.
Belgium make their first semi-final in 30-odd years
Up until today, Brazil may not have had to play exceptionally well but they were able to turn it on when needed against their opponents in the group stages and in the Round of 16. Belgium however, bucked that trend and toppled Brazil with a 2-1 win to advance to the semi-finals for the first time in three decades.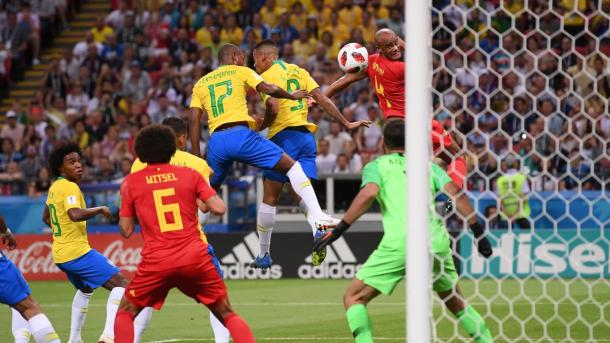 Roberto Martinez, whose tactics have always been questioned during his time as a club head coach, changed things around in this match and got everything right has Belgium dominated the first 45 minutes. With Romelu Lukaku, Kevin De Bruyne and Eden Hazard showing their brilliance and wonderfully supported by a solid backline and tireless work rate in midfield by Axel Witsel and Maroune Fellaini, the Belgians stopped Brazil's flow and kept their attacking prowess quiet throughout the first half. For Brazil, the loss of Casemiro for this match, who was suspended, proved to be a huge loss as they could not gain a foothold in midfield and prevent the likes of De Bruyne and Hazard from running riot.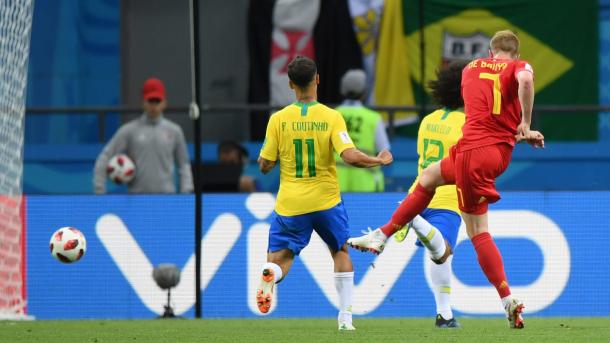 Brazil should have taken the lead in the eighth minute when Miranda nodded Neymar's corner kick towards goal and Thiago Silva somehow contrived to hit his shot onto the post from about one yard out. The Brazilians would come to rue that horrible miss as Belgium took the lead five minutes later with their own corner kick. Nacer Chadli picked out Vincent Kompany who had made a near post run and his header came off of Miranda and into his own net, sending the Belgian fans into happy joy. From then on, all Belgium had to do was sit deep and break quickly which they could do with some ease due to the talent and pace that their front three possess. The Belgians made it two in the 26th minute on the break as Lukaku slalomed forward, evading tackles as he went before finding De Bruyne out in space. The Manchester City FC player then took a touch before rifling the ball home into the far corner of the net. Philippe Coutinho tested Thibault Courtois close to half time but the Belgian goalkeeper made one of many big saves to keep his team ahead. The second half played out in an almost similar fashion but Brazil did try and push their tempo a little more as they searched for a goal to bring them back into the game but Courtois was there to make the necessary stops whenever the ocassion arose. The Chelsea FC man was only beaten once in the 76th minute when Renato Augusto finished off a lovely ball from Coutinho but Belgium held on to make it through to the next round.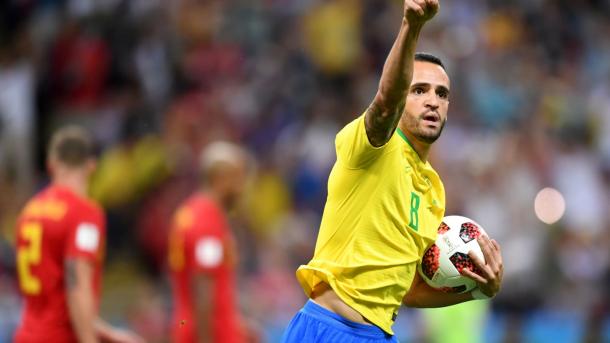 Not many would have seen this result coming despite Brazil's seemingly making it through some matches in second gear but full credit must go to Belgium and their head coach, Martinez. They knew exactly how to stifle the likes of Neymar, Gabriel Jesus and Coutinho while still providing their own attacking intent. The substitutes that Brazil brought on did make a difference in the second half, which begs the question as to why someone like Roberto Firmino did not get the nod to start. All of those questions will be asked by the Brazilian media as they look to answers for this defeat but for Belgium, led by a buzzing Lukaku, now look forward to a semi-final against their southern neighbors France.
Cavani's absence makes things easier for France
Uruguay had proven to be a difficult nut to crack for every team that they had encountered so far but with Edinson Cavani unavailable today due ot injury, the sole attacking threat had to come from Luis Suárez which made life easier for France. Uruguay were still defensively very solid but once France took the lead through a well-worked free-kick, it seemed an uphill task for the Uruguayans. France on the other hand, did not have as much space to operate in as they had been given by Argentina in the previous round but when the chances fell to them, they took them, something this version of the French team seem to be doing more often at the World Cup.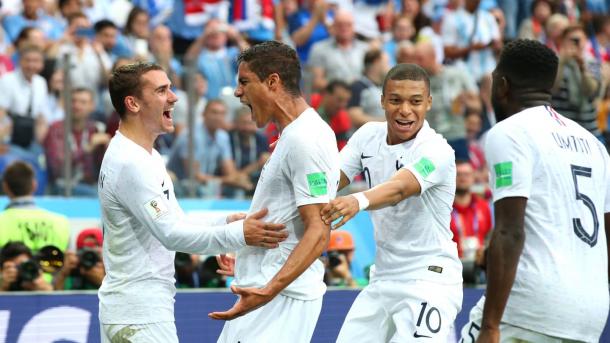 With not much goal-mouth action happening for the first 40 minutes of the match as both teams defended well, it took a cushioned header from Raphaël Varane to bring the game to life. Antoine Griezmann took a run towards the ball during a free-kick and stuttered before delivering a great set piece into the box. That stutter confused a sturdy Uruguayan backline and allowed Varane to attack the ball unmarked and give France the lead. The goal meant that Uruguay had to push forward a little more and without Cavani, it was up to someone else to help Suarez create a moment of magic to bring Uruguay back into the game. They almost had that moment in the 44th minute when Martín Cáceres found some space inside the penalty area in the 44th minute to head goalward but Hugo Lloris stretched out and made a fantastic save before getting up quickly and pressuring Diego Godín to sky the rebound over the crossbar. Uruguay's hope of a comeback were dashed in the 61st minute when experienced goalkeeper Fernando Muslera made a fatal error to hand France their second goal. Greizmann took a speculative shot from outside the area and instead of catching, Muslera elected to punch. The ball bounced off his hands and into goal, much to the despair of his teammates and his embarrassment.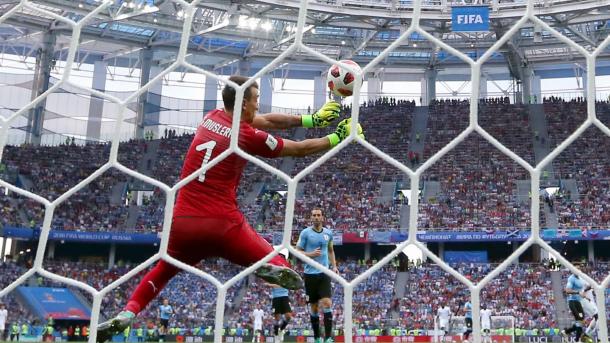 Once they had a two-goal lead France took control of the game and managed it very well. They kept possession and did not allow Uruguay to get any dangerous set pieces in and around the box. Uruguay pushed as hard as they could to try and make a difference in the match but with no one else stepping up to fill Cavani's spot, France could mark Suarez out of the game and thus, kill any attacking threat Uruguay had. Uruguay will now pack their bags and head home while France have a semi-final date with Belgium.