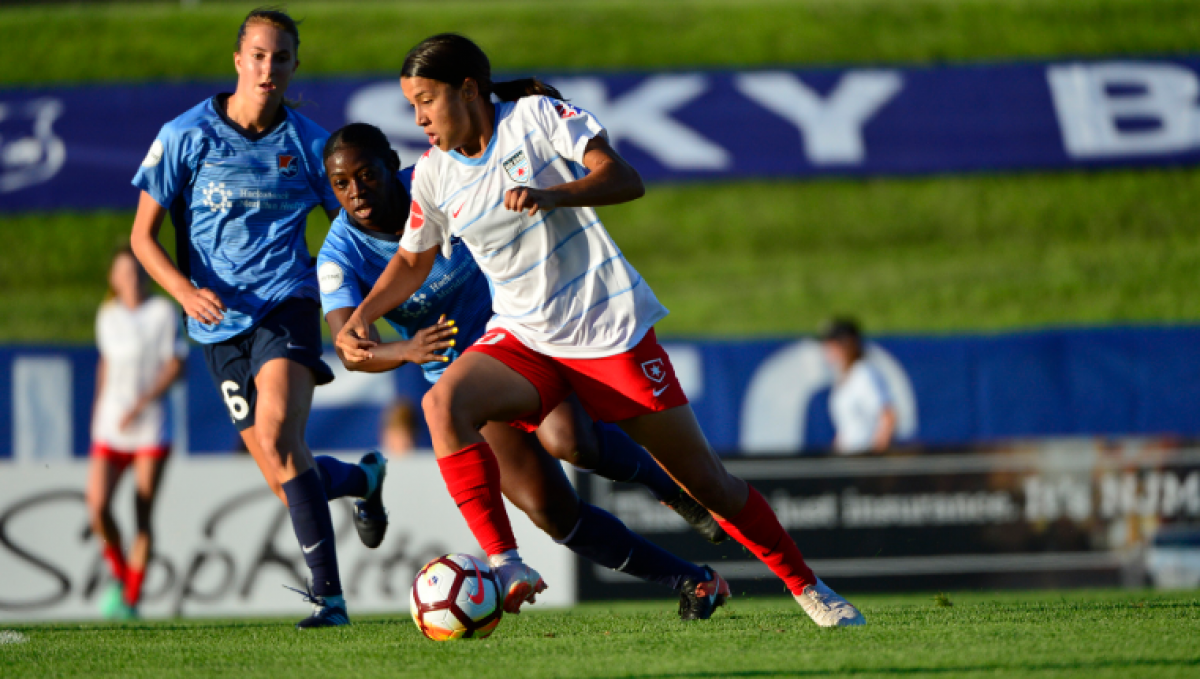 Sam Kerr had her most successful match of the season on Saturday night as the Chicago Red Stars beat Sky Blue FC 3-1. All three Chicago goals were scored by Kerr in her first trip back to Yurcak Field after being traded from New Jersey to Chicago during the offseason. Chicago (6W-7D-4L; 25 points) moved into fourth place on the table with the win while Sky Blue FC (0W-3D-11L; 3 points) broke the record for longest winless streak in National Women's Soccer League history. The record was previously held by Portland Thorns FC from the inaugural 2013 season.
Kerr scored her first goal in the 40th minute when midfielder Alyssa Mautz passed her the ball at the top of the 18-yard box. Kerr settled the ball and sent a well-placed shot to the bottom-left corner of the goal. Sky Blue goalkeeper Kailen Sheridan was initially shielded from the shot by her defenders and could not react in time.
Kerr got the brace less than a minute after halftime. Sky Blue turned the ball over on their half of the field just 15 seconds after the second half began. Chicago attacking midfielder Yuki Nagasato collected the ball and immediately sent a thirty-yard pass to Kerr who had gotten behind the defense. Kerr is one of the most comfortable players challenging the goalkeeper one-on-one, and she easily slotted the ball to the far corner past Sheridan. Kerr's second goal of the match tied her with three other players for the league-lead in goals scored.
The final Chicago goal occurred in much the same way. The Red Stars defense solved pressure this time, deftly passed the ball through the New Jersey midfield, and sent a long ball ahead to Kerr. The replay looked like she might have been a step offside, but the line judge didn't raise the flag and Sheridan was beaten for the third time. That third goal pushed Kerr into first place in the race for the 2018 Golden Boot.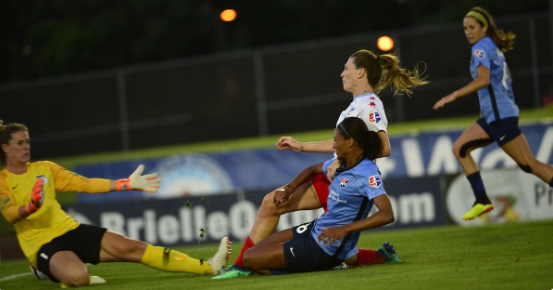 After the scoreline reached 3-0 Sky Blue FC would start putting pressure on Chicago and Savannah McCaskill combined with Imani Dorsey to get one goal back and reduce the deficit to two, but that was all the SBFC could muster and the game would end 3-1.
Sky Blue FC will host the league-leading Courage next Saturday while Chicago will host Seattle Reign FC.