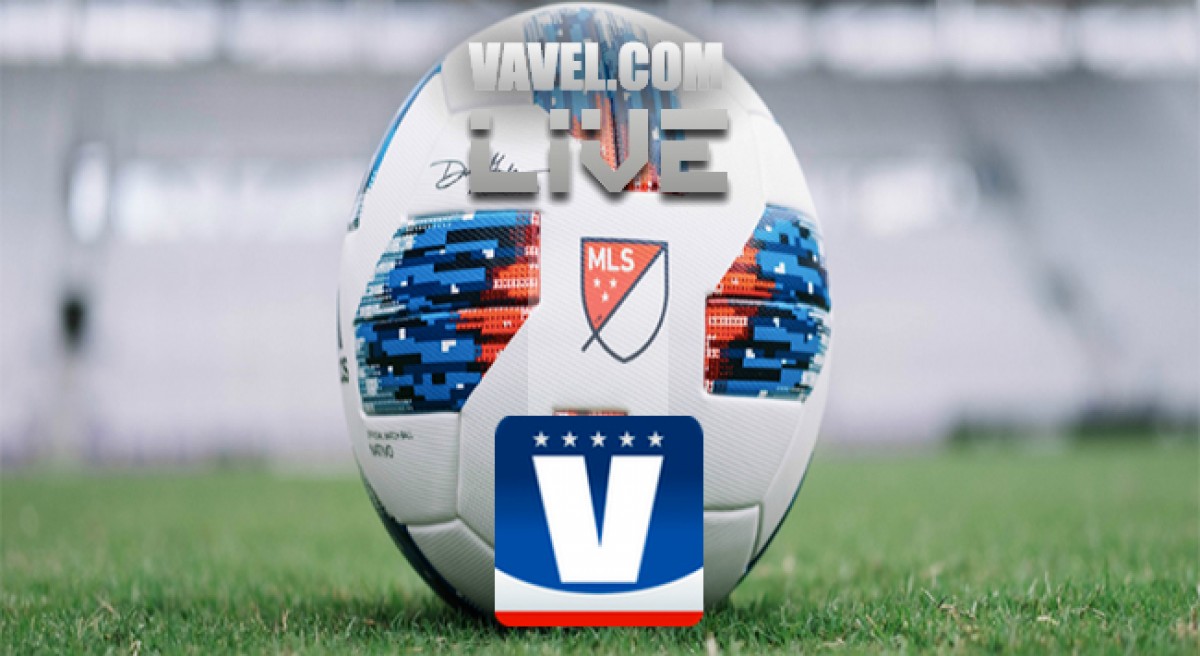 10:21 PM EST: The Portland Timbers have acquired Argentine midfielder Tomas Conechny on loan.
https://www.chicago-fire.com/post/2018/07/17/chicago-fire-acquire-raheem-edwards
10:19 PM EST: Missed some stuff as I was away preparing for an interview. But Raheem Edwards is now with the Chicago Fire.
July 17, 2018
8:22 PM EST: REPORT: Montreal Impact have made an offer for to Argentine DM Franco Zuculini.
12:50 PM EST: Saw this just now. Tyler Adams from New York Red Bulls is close to a move to sister club Red Bull Leipzig in the German Bundesliga.
10:11 AM EST: *RUMOR* Argentine club Racing has made an alleged bid for Sebastian Blanco of the Portland Timbers.
July 14, 2018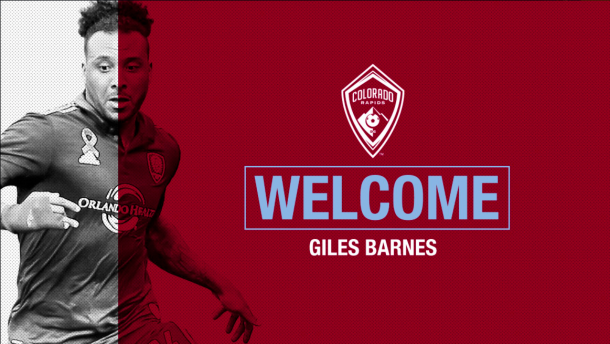 11:17 PM EST: Colorado land Giles Barnes.
11:15 PM EST: Atlanta United land their man in Eric Remedi.
July 13, 2018
9:51 PM EST: UPDATE: Giles Barnes has been released from Club Leon. Two MLS teams interested. Unclear of the second besides Colorado.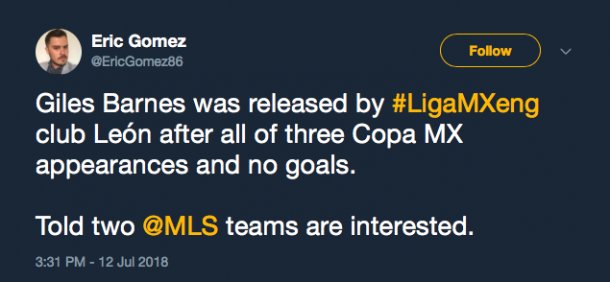 https://www.mnufc.com/post/2018/07/09/mnufc-signs-romario-ibarra
9:18 PM EST: Minnesota United back in the news as they have acquired Romario Ibarra.
4:07 PM EST: Los Angeles FC transfer Omar Gaber to Egyptian side Pyramids FC.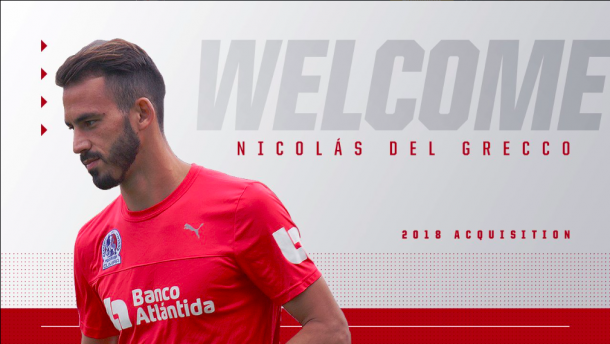 https://twitter.com/ChicagoFire/status/1017431618062028801
11:41 AM EST: NEWS: Chicago Fire have acquired Argentine defender Nicolás Del Grecco.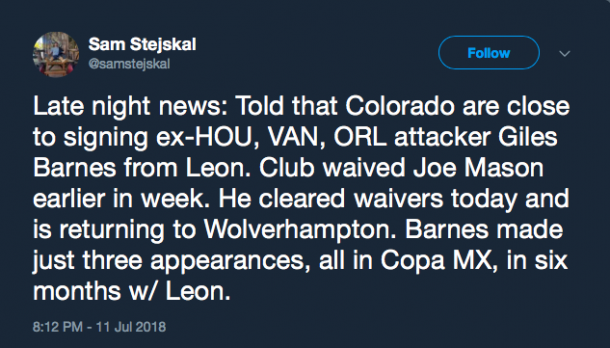 11:09 AM EST: *REPORT* Colorado Rapids are also in the talks of acquiring former Houston Dynamo, Vancouver Whitecaps, and Orlando City SC forward Giles Barnes from Club Leon.
10:58 AM EST: Toronto FC midfielder Ager Aketxe has been sent on loan to Spanish Second Division side Cadiz FC.
9:18 AM EST: American attacker, and former Crew SC player Romain Gall is looking to head to the Colorado Rapids.
9:15 AM EST: Good morning! Day three of the MLS Transfer Window and two deals have been completed. What will today bring?
July 12, 2018
11:30 PM EST: It's safe to say that the deal today (Mullins to Columbus) was the only deal done today. Check in tomorrow for more MLS Transfer window deals!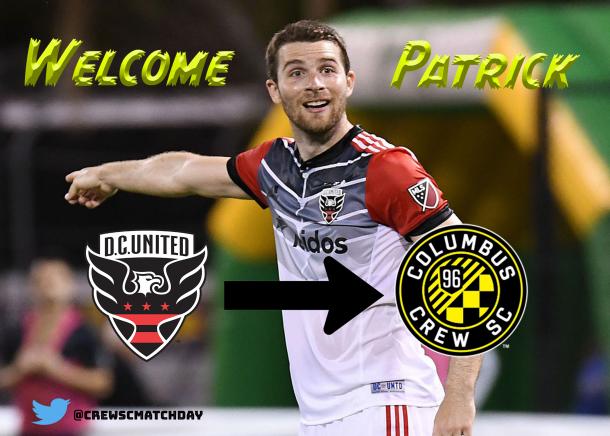 9:07: It's official! DC United have traded Patrick Mullins to Columbus in exchange for the reported $150k TAM.
1:22 PM EST: *RUMOR* According to DC United supporter group Barra Brava, Patrick Mullins has been traded to Columbus Crew SC in exchange for $150k in Targeted Allocation Money (TAM). Will confirm once announced.
https://twitter.com/MNUFC/status/1016758968780193792
Good morning! One deal was completed yesterday! Minnesota United have completed the signing of Angelo Rodriguez. Rodriguez is the clubs secon Designate Player in history.
July 11, 2018
7:50 PM EST: It's been pretty quiet on the forefront today. Not trades yet.
11:18 AM EST: All the players that were mentioned before have been added to their respecetive rosters.
11:17 AM EST: Hello! The Transfer Window is now OPEN! We can expect deals to be coming later today, but not much movement until a day or two later! Stay tuned to find out!
Peruvian forward Raul Ruidiaz will be donning the Forest Green of the Seattle Sounders as he was acquired on a transfer from Morelia.
Orlando City SC will be adding defenseman Shane O'Neill to their roster. He was acquired on a free transfer.
Newly expansion side LAFC have acquired forward Steeve Saint-Duc on a free transfer.
The other Texas team, Houston Dynamo, will be adding forward Ronaldo Peña to their roster.
In a deal that got done just a few days ago, FC Dallas have acquired defenseman Marquinhos Pedroso .
The big news, of course, is D.C. United have acquired Manchester United and Everton star Wayne Rooney. He too will be added to the roster when the window opens.
Atlanta United have added midfielder Eric Remedi. He will be added to the roster when the Transfer Window opens.
Prior Deals
Hello and welcome to VAVEL USA's Live Tracker of the 2018 MLS Transfer Window. My name is Tyler Fisher and I will be guiding you through all hte wheeling and dealing being done in MLS. The transfer window opens July 10. So sit back, relax, and enjoy the show! All of the latest deals will be at the beginning of the article.