The Seattle Reign defeated the Houston Dash at home in a 3-1 comeback win that helped them maintain their playoff position. Amber Brooks opened up the scoring for the Dash early, but three straight goals for the Reign by Jodie Taylor, Megan Rapinoe and Allie Long gave them their second-straight win. Seattle moves to 26 points after the win with a 7-3-5 record. Houston stays in seventh place with 17 points and a 4-6-5 record.
Houston scores first, but Seattle equalizes
It wasn't too long until Houston opened up scoring against the home team. Sofia Huerta's shot was pushed over the crossbar and out for a corner kick by Reign goalkeeper Lydia Williams. Huerta took the corner and sent the ball into the box where Brooks headed it in for her first goal of the season to give Houston the 1-0.
Taylor leveled the game 1-1 later in the 37th minute. Rapinoe took a quick throw in to Taylor who lofted the ball over Dash goalkeeper Jane Campbell and into the back of the net. The goal is Taylor's fifth of the season and the second in as many games. The assist was Rapinoe's third of the season.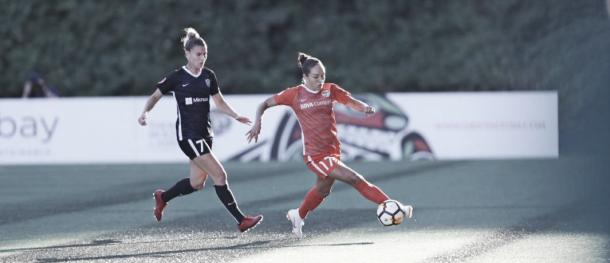 Second half saw domination from Seattle
Seattle came out of halftime attacking and were rewarded in the 56th minute. Allysha Chapman was called for a foul on Elizabeth Addo in the box and the Reign were awarded a penalty kick. Rapinoe stepped up and buried it for her sixth goal of the season, her second penalty kick goal. Seattle would maintain their 2-1 lead for a majority of the second half.
The Reign added the dagger against the Dash in the 85th minute to secure their 3-1 win. Long passed the ball to Rapinoe in the midfield who turned and fed a through ball to Long. Long let it bounce once then took a one-time shot to put it in the lower right corner past Campbell. The goal is Long's third of the season, her first since May 12, and the assist was Rapinoe's second of the night and her fourth overall.
Both teams have two games this upcoming week. Houston will return home to host the Orlando Pride on Wednesday with kickoff scheduled for 7:30 p.m. CT. Seattle will remain at home to host Utah Royals to finish the night with kickoff at 7:30 p.m. PT. Seattle will then travel to the Midwest to take on the Chicago Red Stars on Saturday July 14. Kickoff for that match is scheduled for 7:00 p.m. CT. Houston will finish week 16 play by taking on the Portland Thorns on the road. Kickoff for that match is scheduled for 8:00 p.m. PT and all four matches will be streamed on go90.com of the go90 app.