At 10:30 pm on Wednesday night Seattle Reign FC will face off in a midweek contest with Utah Royals FC. The Reign are coming off a solid 3-1 win over the Houston Dash that moved them back into second place on the league table with a comfortable one-point lead and a game in hand over their closest competition. Seattle (7W-5D-3L) is looking for their third-straight win.
The Royals, conversely, are looking to bounce back after they were thoroughly dismantled in their 4-0 loss at Portland Thorns FC last Saturday. Utah (5W-6D-4L) fell to sixth place in the loss, which was the worst defeat suffered by any team in 2018. Utah does have a game in hand over their closest competition and a win on Wednesday would move them back above Portland in the standings.
A battle of dominant defenses
In the last meeting between these two teams, the final scoreline was 0-0. This reflects two themes for these teams this season. Both Utah and Seattle have dominant defenses, and both teams have had difficulty scoring.
Seattle has allowed just 13 goals in 15 games this season, good for best goals-against average in the league. This is a huge change from 2017, and it should be contributed to head coach Vlatko Andonovski, consistency on the back line, and excellent goalkeeping play by Michelle Betos and Lydia Williams. Andonovski captained a vaunted defense with FC Kansas City for years before he moved to Seattle, and he has created something from nothing on the back line. In goal, both Williams and Betos were not available for Seattle last year, and the change has definitely made the team better.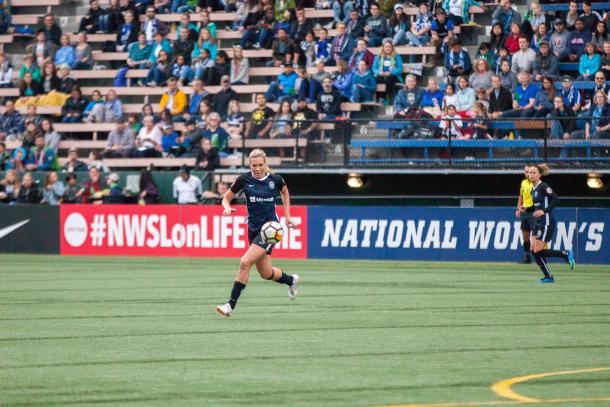 Utah, disregarding their disastrous performance last weekend, has allowed the third-fewest goals in the league. Becky Sauerbrunn, one of the best defenders in women's soccer, captains the Utah back line, so they are almost certain to be consistently good. Goalkeeper Abby Smith, who was selected in the Boston Breakers Dispersal Draft, has been consistently good this season, but she does have the occasional mental lapse. This game will definitely test Utah, but they have proven that they are up to the task.
...and lackluster offenses
While both defenses have been exceptional, their respective offenses have been woeful.
The Royals are the only playoff-caliber team to score less than one goal per game this season. They consistently lack the ability to generate good scoring opportunities, and they have been shut out in seven of their fourteen matches this season. With so many problems on offense, Utah made two major changes. First, they added Australian international Katrina Gorry to the team. The diminutive Gorry has provided a solid offensive spark, and she will be dangerous once she integrates more fully into the offensive gameplan. Then, most recently, the Royals made waves when they added USWNT forward Cristen Press to the team. Press is one of the best pure strikers in the United States, and she has made this team much more dangerous already. Unfortunately, this change hasn't shown up on the scoresheet. Utah is 1-1-1 since adding Press, but when she gets going the goals should come. The best defense for Seattle will be a good offense. If they can force Press to drop deep into the defensive half of the field to receive the ball they will limit her attacking ability.
After being one of the best offensive teams last year, Seattle is scoring at a much slower pace than the teams closest to them in the standings. Things seemed to be clicking well for Seattle at the outset of the season with Megan Rapinoe playing the best soccer of her club career, but an injury kept her sidelined for a few matches and she hasn't bee the same since. The other major issue for Seattle came when midfielder Jess Fishlock came back from international duty injured. Fishlock, who plays internationally for Wales, has not been available since June 3rd and probably won't be available for the match on Wednesday. The teams that play best against Seattle mitigate the efforts of Rapinoe. She can be stymied on the outside as long as defenders close her down quickly when she receives the ball.
How to watch
The game will kick off at 10:30 pm ET at Memorial Stadium in Seattle, WA. It can be viewed live on go90.com and the go90 app in the United States and on nwslsoccer.com internationally.