A Taylor Twellman report became official soon after. Striker Patrick Mullins will be heading to Columbus Crew SC from D.C. United in exchange for $150,000 in Targeted Allocation Money.
The move makes sense for all parties involved. The Crew needs a spark on the attacking front, while United have moved onto other striking options. Jamaican international Darren Mattocks was the starter for the black and red, but with the blockbuster signing of Wayne Rooney, his role might be relegated to impact substitute.
A roller coaster for Mullins
A graduate of the University of Maryland, Mullins was a familiar face when D.C. traded for him in 2016. Coming from New York City FC, Mullins came into a team that was gunning for a playoff run.
In 12 starts, Mullins had eight goals and two assists. During that time he helped D.C. make the playoffs, but nothing more as the capital club fell to the Montreal Impact.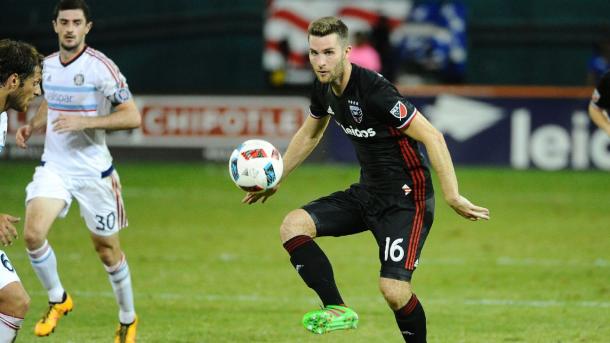 During the 2017 season, Mullins was hit by a couple of injuries but still started 12 times. He had five goals, four coming in one match against the San Jose Earthquakes.
After the acquisition of Mattocks, Mullins made only ten appearances, scoring zero goals and grabbing one assist. With Rooney on the way, it was all but over for Mullins.
What does this mean for D.C. United?
As stated earlier, this is a good move for everyone involved. Mullins is given the opportunity to kick-start his career again and D.C. gets money it can use elsewhere.
Mattocks is in good form, but there's no question Rooney will be given the nod to start up front. While the Jamaican has eight goals in 12 starts, his pace can be key if he's brought off the bench in the latter stages of a match. Plus, too much money was spent on Rooney's signature for him not to start as soon as possible.