Neither Portland Thorns FC nor the Houston Dash can move into a playoff spot when they meet on Sunday night, but the winner of this match will put themself in a much better position. Thanks to wins by the Chicago Red Stars and Orlando Pride on Saturday, the top four spots on the standings will be out of reach for these two teams.
In the last meeting between these two teams, Portland soundly defeated Houston to the tune of 3-1, but both teams are coming off big wins in their most recent matches. Portland's Midge Purce and Andressinha have both suffered injuries and will not be available for the upcoming match.
Portland tries to play their game
Portland tries to play a very European version of soccer. They try to build out of the back, break you down in the midfield, and then slowly work the ball around the box until they are able to create some space. When their shot is on, like it was in the 4-0 win over Utah, this process can be devastating. Unfortunately for Portland, if it doesn't work well it flames out like it did in their heartbreaking loss to Seattle Reign FC two weeks back. Houston's defense is not the best in the league, so Portland should expect for their forwards and attacking midfielders to find good scoring opportunities.
The Portland defense is also playing much better lately. Ever since goalkeeper Adrianna Franch came back from her lengthy knee injury the team has been great at preventing opposing goals. It also helps that defender Emily Menges is off the injury report as of late. If Houston wants to score they will have to play for a swift counterattack, but that is one of their preferred offensive styles.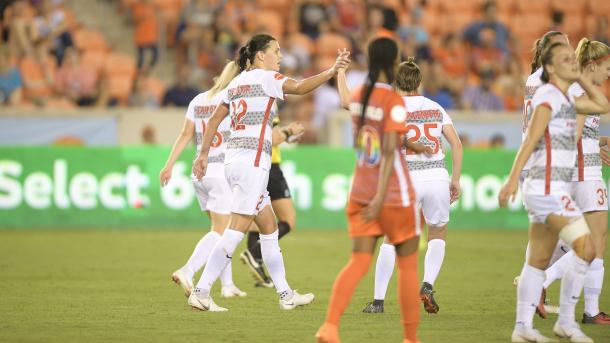 Houston sits back to counterattack
Houston plays an extremely boring style of soccer when they win games. It always feels like the team is sitting back and slowing the game down as they probe and wait for their opponent to make a defensive mistake. The last time these two teams faced off this method was not successful, but it feels like Rachel Daly and Kaelia Ohai are rounding into form and creating a more dynamic offensive presence for Houston. Houston started the season extremely slowly, but they have looked like a borderline playoff team of late.
On defense, goalkeeper Jane Campbell has been up and down this season, but the defense has been playing much more confidently since the addition of Taylor Comeau on the back line. Part of this defensive resurgence has been the fact that the offense has been better, but it also seems like the team is starting to better understand the system employed by head coach Vera Pauw. If this defense wants to stop Portland they will need to shut down space and prevent silly mistakes that occasional plague the back line and midfield.
How to watch
The game will be played at Providence Park in Portland, OR at 11:00 pm ET. The game will be broadcast on the go90 app and go90.com in the United States and will be shown on the NWSLsoccer.com website for international fans.