The Australian Women's National Team, or the Matildas, as they're more commonly known, come into the 2018 version of the Tournament of Nations as defending champions after winning the inaugural tournament in 2017. Looking to do so is a 21 player squad picked by head coach Alen Stajcic, that combines the youth commonly seen in Matildas squads of the past, as well as a group of well-experienced veterans. The full squad can be seen here Of those 21, 11 currently play in NWSL, split among six different teams. Lydia Williams and Steph Catley of the Seattle Reign, Ellie Carpenter, Caitlin Foord, and Hayley Raso of the Portland Thorns, Alanna Kennedy and Emily van Egmond of the Orlando Pride, Clare Polkinghorne and Kyah Simon of the Houston Dash, Katrina Gorry of the Utah Royals, and last but certainly not least Sam Kerr of the Chicago Red Stars.
Kerr looks to continue goal-scoring form
Of course when Australia plays, all eyes will be on Sam Kerr. Despite Kerr's incredible goal-scoring record when it comes to NWSL, it wasn't really until last year's Tournament of Nations that she started to find the same form internationally. She was only able to score eight goals over the course of her first six years in international play. Over the course of the past year however, she has managed to triple her total goals for Australia to 24, which includes a hat trick against Japan, two two goal games against China, and another against Vietnam.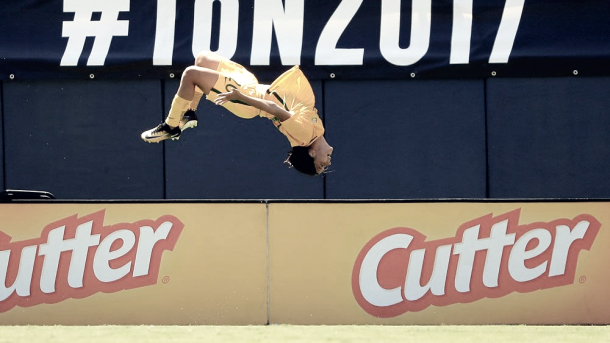 Australia bring kids, as well as the vets
An intriguing player to watch is Mary Fowler, an uncapped fifteen year old who was a late addition to this roster. Fowler joins Ellie Carpenter, Alex Chidiac, and Amy Sayer as the teenagers on this roster, something that Australia has commonly done in recent years. Fowler recently played at the AFF Women's Championship where she scored ten goals in eleven games. She currently plays for Bankstown City FC, a semi-professional club in Australia, although with a strong showing in this tournament, don't be surprised to see her sign with an Australian W-League team this winter. Another player who should never be counted out is Lisa De Vanna. Despite being 33 and the true veteran of this team, she is more than capable of winning games on her own and being able to put the team on her back. She enters this tournament with 137 caps and 45 goals. A strong showing here may see her make another return to NWSL next season.
Australia's first game, the opening game of the tournament, will be played against Brazil at Children's Mercy Park in Kansas City, Kansas at 4:15 PM EST on July 26. Their second will be against the United States at Pratt & Whitney Stadium in East Hartford, Connecticut at 7:00 PM EST on July 29. Their third and final game will be against Japan at Toyota Park in Bridgeview, Illinois on August 2 at 5:45 PM EST. The game vs the United States can be seen on Fox Sports 1. Where to watch the non-USA matches has yet to be announced.