That was fun! Thank you for following along this afternoon. Join me tonight as USWNT and Japan begin their 2018 Tournament of Nations. This is Felix Hernandez for VAVEL USA hoping you enjoyed the match. Brazil 1 Australia 3. So long everybody!
FT: Australia's defense of their Tournament of Nations title starts off on the right foot as they defeat Brazil for the 4 straight match. Brazil still looking for their first win in the Tournament of Nations tournament.
Fulltime: Brazil 1 - Australia 3
90+6: Referee blows the final whistle.
90+5: Brazil with a free kick outside the box. Kick goes comfortably to Williams.
90+4: Australian substitution: Fowler IN, Kerr OUT.
90+2: Yellow card issues to Joyce for a hard foul on Kerr
90': Officials indicates a minimum of five extra minutes.
89': Australia substitute Chidiac shot from outside the box goes over the crossbar.
86': Yellow card issued to Thaísa for dissent.
86': Australian substitution: Foord IN, Logarzo OUT.
85': Big save by Williams! Marta takes on Kennedy, putting Kennedy on the ground. Her cross is put on net but Williams is sharp and kicks it away.
​84': Brazil earns another corner but Australia able to hold. Ball goes out for a goal kick.
81': Brazil substitution: Kathellen IN, Daiane OUT
80': Brazil earns their first corner Marta to take it. Nothing comes from the corner over the crossbar.
Brazil 1 - Australia 3
79': GOOOOOOOOOAAALLL! Debinha touches one home as Marta delivered a beautiful pass from the left side.
74': Brazil substitution: Joyce IN, Tamires OUT
74': Australia substitution: Chidiac IN, Butt OUT
74': Brazil's counter is snuffed out by a strong Australian defensive.
73': Another Australian corner as they have become dangerous for Brazil. Punch away by Barbara!
69': Australia substitution: De Vanna IN, Raso OUT.
66': The match is very physical as Marta looks for a foul on Raso. A lot of smiles and handshakes between whistles as players from both team are familiar with each other.
63': Foul on Australia near the left corner spot. Set piece leads to an offsides call on Brazil.
62': Brazil substitution: Andressinha OUT, Camila IN.
61': Brazilian substitute Adriana tries to get something going for Brazil but her shot goes wide of the Australian net.
58': Australia substitution: Simon OUT, Gorry IN.
55': Brazil substitution: Thaís OUT, Adriana IN.
54': Yellow card issued to Elise Kellond-Knight for a hard foul.
Brazil 0 - Australia 3
50': GOOOOOOOOOOAAAAALLLL! Sam Kerr fires a right footed shot past Barbara extending the Australian lead. Assist goes to Butt.
49': Brazil with some half chances at the beginning of the half. Australia holds strong on defense.
45': The start of the second half!
HT: Teams are coming out for the second half.
Halftime: Brazil 0 - Australia 2
45+3': Referee blows the whistle for halftime.
45': Fourth official indicates an extra three minutes of stoppage time.
44': Marta makes a run to goal by herself. Marta's shot goes wide as Kennedy and Polkinghorne try to run her down.
Brazil 0 - Australia 2
38': GOOOOOOOOOOOAAAALLL! Tameka Butt doubles the Australian lead off a corner. Brazilian defenders failed to clear and Butt directs the ball into the net with her head. Corner was taken by Van Egmond.
38': Australia earns a corner kick.
34': Yellow card issued to Emily van Egmond for a foul on Marta
31': Kerr looking for a foul in the box but nothing from the officials.
30': Save by Williams! Brazil puts together a couple of good passes. Andressinha puts a shot on net that Williams catches to her right.
27': Yellow card issued to Kyah Simon on a hard foul on Marta.
25': Pushing and shoving by Beatriz and Kennedy while going after the ball. Referee gives a talking to both players.
24': Foul on Brazilian Daiane far away from the ball. Set piece from about 30 yards out. Free kick finds Kerr on the far post. Her cross was headed by Butt over the crossbar.
17': Marta impressing the crowd as she gets away from Logarzo pressure.
17': Hard foul at midfield on Australia. Brazil with a free kick.
Brazil 0 - Australia 1​
9': GOOOOOOOOOAAAALLL! Own goal from Brazilian defender Poliana from a corner kick by Kellond - Knight. Australia takes an early lead.
8': Australia earn the first corner of the afternoon
5': Foul on Brazil outside the box on the right flank. Nothing comes of Kellond-Knights free kick.
4': First opportunity of the afternoon goes to Brazil. Debinha takes a shot from left side of the box goes wide.
Kickoff: We are underway in the 2018 Tournament of Nations!
National Anthems are done and we are moments away from kickoff!
Teams are out for the National Anthems!
Warm ups are underway!
Australia has 8 NWSL players in their starting lineup: Kerr, Carpenter, Simon, Raso, Kennedy, van Egmond, Polkinghorne and Williams
Brazil is bringing out 5 NWSL players in their staring lineup: Marta, Debinha, Andressinha, Mônica and Polina.
Australia starting XI: Williams; Polkinghorne, Logarzo, Kellond-Knight, van Egmond, Butt, Kennedy, Raso, Simon, Carpenter, Kerr
Brazil starting XI: Barbara; Poliana, Mônica, Daiane, Tamires, Andressinha, Thaísa, Debinha, Beatriz, Thaís, Marta
We are an hour away from kickoff and the starting XI are in!
Its game day!
Brazilian Marta and Australian Sam Kerr have been selected to the shortlist of FIFA's Best Women's Player.
Be sure to check back here as new information such as injuries, replacements and starting lineups become available. Then join me Thursday afternoon for live game updates.
The Australians made a late change to their roster. Laura Alleway will replace Seattle Reign FC defender Steph Catley due to family reasons.
Brazil currently have seven players on NWSL rosters. Australia have 11 players on NWSL squads.
We have not seen the same Australian team that won 9 of 11 matches in 2017. Disappointing finishes in the Asian Cup and Algarve Cup dropped the Matildas in the World rankings and had them looking to get back into form. Three of those wins in 2017 came at the expense of Brazilians. Brazil will be looking to avenge those three losses and bounce back from a disappointing showing last tournament. Brazil will want to repeat their impressive performance from the Copa America tournament.
Australia players to watch: Ellie Carpenter has found a constant starting spot with the Portland Thorns and can play any position on the pitch. Elise Kellond-Knight is very good on long set pieces that could cause problems. Veteran Tameka Butt scored against the US last year and plays for Klepp in Norway. At forward, Sam Kerr will have all eyes on her but veteran Lisa De Vanna can take over a match at any moment.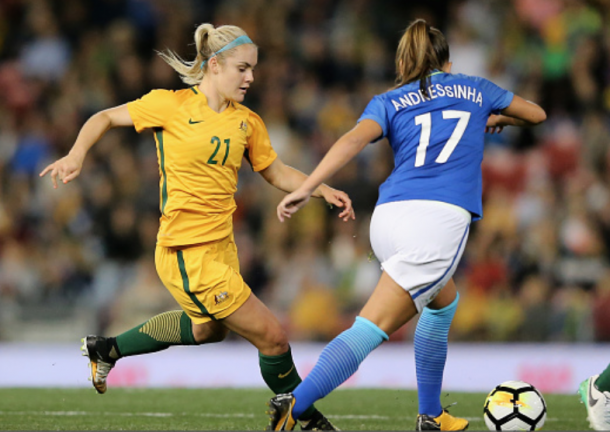 Brazil players to watch: Marta is a player that makes everyone around her better. Forwards Beatriz and Thaís are a dynamic duo for their club team in South Korea. Midfield will be controlled Andressinha, Debinha and the return of Orlando Pride's Camila. Mônica will lead the backline with fellow Orlando Pride teammate Polina, who can take the ball down the flanks with her speed.
Australia brought some youth of their own, four teenagers, two looking for their first cap. Amy Sayer and Mary Fowler were called to the senior squad for the first time. 19 year old Alex Chidiac already has 10 caps and one goal in her time with the Matildas. Finally, 18 year old Ellie Carpenter is making a name for herself with the Portland Thorns FC in the NWSL. She became the youngest player in NWSL history to score a goal. The young woman has 21 caps with one goal for the senior team.
Brazil will bring some youth to their 23 player tournament roster. 22 year old Kathellen played her college soccer at University of Central Florida. Leticia Izidoro is a 23 with one Cap, will probably be the third goalkeeper behind veteran Barbára. 20 year old Daiane plays her club soccer in Norway. Adriana, a 21 year old striker plays her club soccer in Brazil.
Australia are coming off a runners-up finish at the 2018 AFC Women's Asian Cup. The Matildas dropped the Asian Cup final to Tournament of Nations rival Japan. Australia struggled in some of the matches in the tournament but found a way to survive. None more so than when Sam Kerr scored the equalizer in the 86th minute against Japan in group play. The goal would be enough for Australia to qualify for the 2018 Women's World Cup in France. Orlando Pride's Alanna Kennedy stepped up in the semi-final to send the match into extra time by a 91st minute equalizer. The Matildas went on to win by penalty kicks. Leading Australia in goals was Kerr scoring three goals which was good enough for third overall. Kennedy earned second on the team scoring two goals. Orlando teammate Emily van Egmond, Houston Dash's Kyah Simon, Portland Thorn Hayley Raso and Chloe Logarzo tallied a goal each in the tournament.
Brazil recently claimed their third straight (seventh overall) Copa America Femenina Championship this Spring. Striker Beatriz lead the team with six goals which was good enough for second in the tournament. Orlando Pride defender Mônica scored four goals tied for second on the team. Portland Thorns FC Andressinha and North Carolina Courage Debinha scored three goals each. Despite scoring only one goal, Orlando Pride superstar midfielder Marta was on the other side of most of Brazil goals earning multiple assist and creating multiple chances. The Championship also earned Brazil a spot in the 2019 Women's World Cup in France.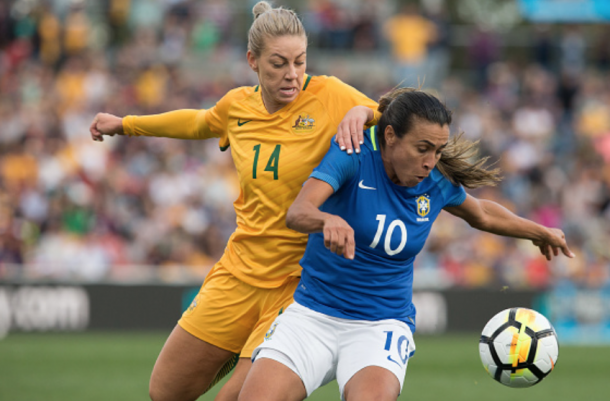 Last year Australia won the inaugural Tournament of Nations, while Brazil finished last earning one point with a negative six goal differential. Australia dominated last year's matchup by a 6-1 final. Striker Lisa De Vanna and Portland Thorn FC Caitlin Foord both earn braces routing the Brazilians. The only Brazilian goal came from Orlando Pride's Camila. Chicago Red Star Sam Kerr and Utah Royal FC Katrina Gorry also registered tallies for Australia.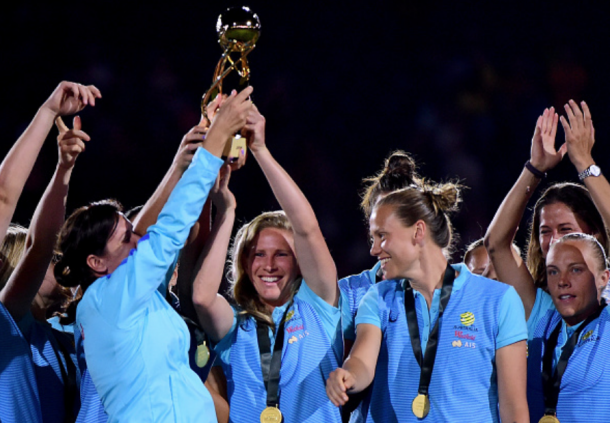 The defending 2017 Tournament of Nations Champion Australia Westfield Matildas will begin their title defense against the 2018 Copa America Femenina Champions Brazil.
Hello and welcome to VAVEL USA's LIVE coverage of the 2018 Tournament of Nations opening matchup between Brazil and Australia. My name is Felix Hernandez and I will be your host. From now until kickoff on Thursday, July 26 at 4:15 EST, I will be keeping you up to date on news and notes. Be sure to come back at kickoff for LIVE updates.