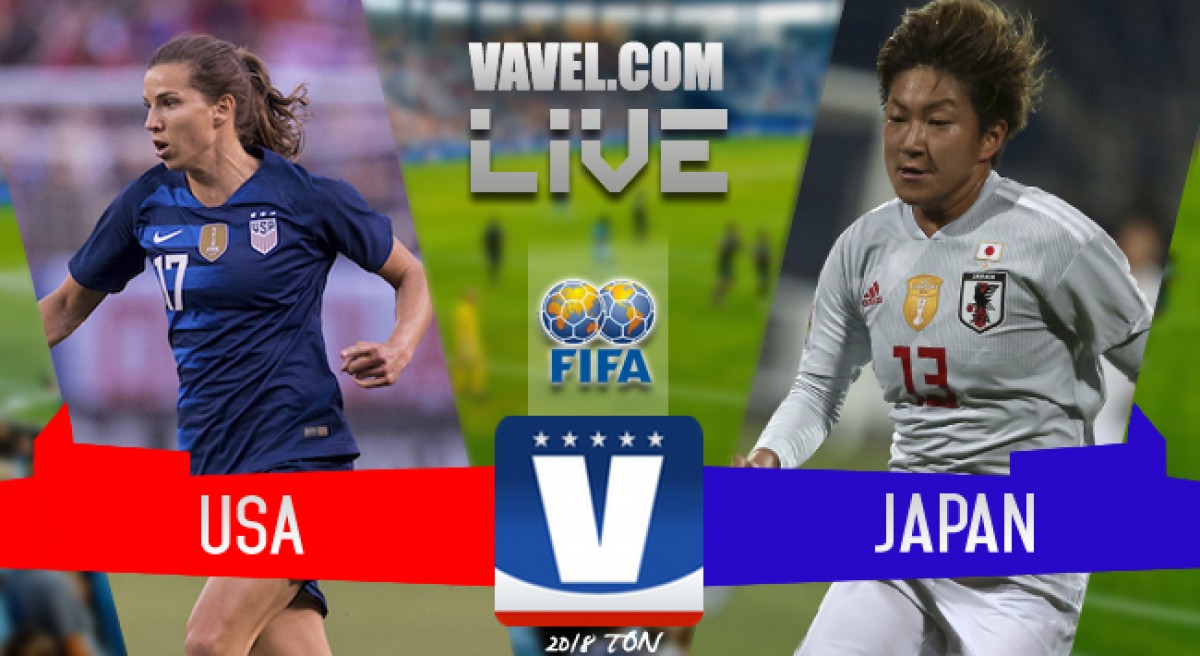 Great start for the USWNT! Thank you for following along tonight. Join me Sunday as USWNT takes on Australia for what looks to be a great match. This is Felix Hernandez for VAVEL USA hoping you enjoyed the match. USWNT 4 Japan 2. So long everybody!
FT: With the win, USWNT pulls even on points with Australia for the top spot in the standings. Setting up a big match on Sunday in Hartford when USWNT takes on Sam Kerr and Australia.
FT: Alex Morgan's hat trick lifts the USWNT over Japan.
Fulltime: USWNT 4 - Japan 2
90+5: Referee blows the final whistle of the match!
90': 3 minutes of stoppage time will be added on.
86': Japan substitution: Sumida IN, Ariyoshi OUT
83': Play is stopped for an McCall Zerboni injury. Zerboni is up on her own. Play resumes.
79': Japan takes a shot from outside the right side of the box. Shot goes wide. Japan now playing on the front foot.
USWNT 4 - Japan 2
76': GOOOOOOOOAAAALLL! Sakaguchi takes one back! Sakaguchi beats Heath one on one. Take a beauty of a shot over the outstretched hand of Naeher into the side netting.
74': USWNT substitution: Rapinoe OUT, Short IN.
74': USWNT substitution: Horan OUT, Mewis IN.
​73': USWNT Substitution: Morgan OUT, Lloyd IN.
72': Near breakaway for Japan but USWNT defense recovers and gets the ball away.
71': Good chance from Japan. Kawasumi cross finds Yokoyama but her volley goes over the crossbar!
70': Save by Naeher! Japan shot from the right side of the box is punched away by Naeher!
USWNT 4 - Japan 1
66': GOOOOOOOOAAALLLL! Megan Rapinoe! Great combination from Rapinoe and Lavelle. Then Rapinoe finishes it off with a right footed shot from the center of the box!
64': USWNT substitution: Lavelle IN, Ertz OUT.
​59': Japan substitution: Masuya IN, Iwabuchi OUT.
59': Japan substitution: Kawasumi IN, Nakajima OUT.
58': Japan substitution: Yokoyama IN, Tanaka OUT.
57': Heath creates chances out of nothing. Taking on defenders one on on.
USWNT 3 - Japan 1
56': GOOOOOOOOOOOOOOOAAALLL! HAT TRICK for Morgan! Tobin Heath dances around two Japan defenders near the end line. Heath's cross bounces in the box and finds Morgan. Morgan's shot goes in off the crossbar over the head of Yamashita.
54': USWNT substitution: Press OUT, Heath IN
53': USWNT earns a corner. Rapione corner nearly finds the back of the net. Yamashita misses the ball, Press shot is cleared off the line by Japan defenders.
50': Good save by Yamashita! Japan turns the ball over. Zerboni passes to Press on the right side of the box. Press cross finds Horan's shot and Yamashita catches falling to her left.
45': USWNT substitution: Brain OUT, Zerboni IN.
45': Second half kickoff! We are underway!
Moments away from the start of the second half!
Halftime: USWNT 2 - Japan 1
45': No extra time added. Referee blows the whistle for halftime.
42': Big save by Yamashita on Ertz! Davidson chips one to Morgan heading it into the box. Ertz collects it all alone but her close range shot is kicked away by Yamashita.
40': Press finds the ball on the right side again. Juggles around one defender. Her right footed shot is collected by Yamashita.
37': Rapinoe sends another long ball. This time finding Press on the right side of the box. Press tries to dance around the defenders but Japan clears
35': Horan sends in a long ball. Finds Morgan at the top of the box. Morgan fires it off the bounce just wide left of the Japan net. Goal kick.
32': Shimizu open on the right side. Her cross is blocked away for a Japan corner. Nothing comes out of Japan's short corner.
31': Rapinoe sends a long ball towards Press at the top of the box. Japan goalkeeper Yamashita intercepts.
USWNT 2 - Japan 1
26': GOOOOOOOOOOAAALLLL! Alex Morgan has two! Dunn crosses from the left side. Finds Emily Sonnett who lifts it over the Japan defense to find Morgan's head! USWNT back on top.
USWNT 1 - Japan 1
20': GOOOOOOOOOOOAAAALLLL! Japan answers as Tanaka finds it on beautiful connection passes. She chips it over Naeher to equalize.
USWNT 1 - Japan 0
18': GOOOOOOOOOAAAALLL! Megan Rapione finds Alex Morgan on the left side post, Morgan touches it home for the early lead!
17': USWNT has a chance on a cross but cleared away. Japan counters which ultimately leads to an offside call.
13': Japan Tanaka whistled for offside.
12': Makajima try a shot from distance but is block by USWNT defense.
11': Japan found a way past USWNT defense but are whistled for an offside.
9': Brain commits the first foul of the match.
7': Dunn and Brain connect for a half chance. Horan eventually heads the ball over the net.
3': USWNT and Rapinoe pressing but the ball goes out for a goal kick.
1': Kickoff! We are underway!
National Anthems are done. We are moments away from kickoff!
Teams are coming out for the National Anthems!
Japan starting XI: Yamashita; Ariyoshi, Sameshima, Hasegawa, Sakaguchi, Miura, Nakajima, Iwabuchi, Tanaka.
USWNT starting XI: Naeher; Dunn, Davidson, Dahlkemper, Sonnett, Horan, Ertz, Brian, Press, Rapinoe, Morgan.
Here come the starting lineups!
Teams are out for warm ups! Starting XI coming soon.
Its game day!
Be sure to check back here as new information such as injuries, replacement and starting lineups become available. Then join me Thursday night for live game updates.
Recently the USWNT had cut their roster down to 23 players. Houston Dash Kealia Ohai and North Carolina Courage Jaelene Hinkle were cut from the roster.
The USWNT have yet to compete in World Cup Qualifying and are the only team not qualify for the 2019 Women's World Cup. Tournament of Nations will serve as a helpful tune up to prepare for the 2018 CONCACAF Women's Championship in October. Top three finishers in the tournament will qualify for the Women's World Cup while fourth place will compete in a CONCACAF - CONMEBOL playoff against Argentina. Winner of the playoff will earn the last spot in the Women's World Cup.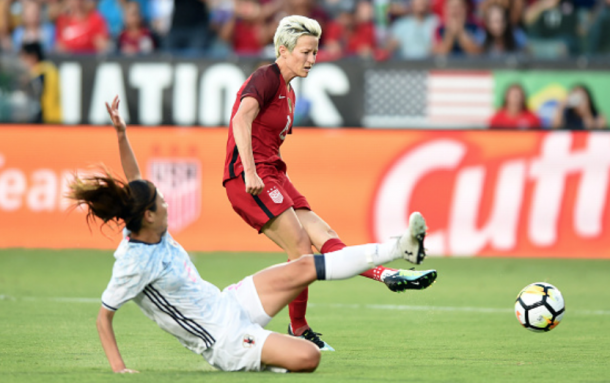 Japanese players to watch for: Seattle Reign FC striker Nahomi Kawasumi, teammate of Megan Rapinoe, is close to earning 90 Caps with her National Team (87). The USWNT will have to be aware of the dangerous Mana Iwabuchi at all times. On defense, the veteran duo of Aya Sameshima and Saori Ariyoshi will try to make life difficult for the dangerous US attack. They also hope to create some chances on the counter attack. Saki Kumagai, a finalist for FIFA's best Women's Player, was surprisingly not selected for the Tournament of Nations roster. Kumagai served as the Captain of the team in their last friendly against New Zealand.
The last three World Championship Finals the USWNT were involved in were against Japan. The first of these meetings Japan defeated the USWNT in the 2011 Women's World Cup final. The USWNT would take the next two. First in the 2012 London Olympics final then in the 2015 Women's World Cup in Canada.
Japan finished last year's tournament in the third position. They earned one point in the tournament finishing ahead of Brazil by goal differential. If Japan are going to make a run for the championship, they will have to finish their chances as Japan always bring a strong defense to international play. Recently, Japan are unbeaten in their last seven matches (5W-0L-2D). Five of those matches coming in the Asian Cup tournament. Two of those matches against their Asian Confederation rival Australia. In the final match Japan clinch the Asian Cup in a 1-0 win against Australia. The result of the tournament also clinched a spot in the 2019 Women's World Cup in France. Japan traveled to and beat New Zealand 3-1 in a international friendly in early June.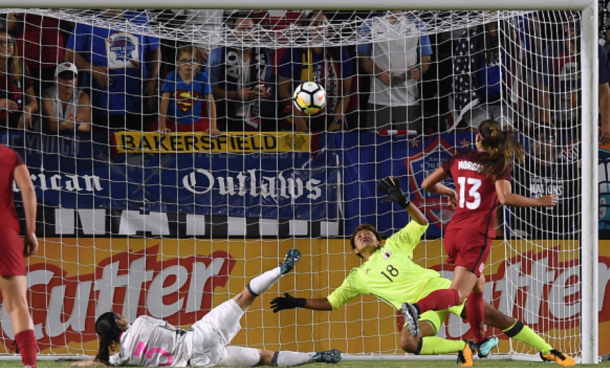 Last year USWNT took down Japan 3-0 in the final match of the tournament. The US registered goals from Megan Rapinoe, Mallory Pugh and Alex Morgan. USWNT finished second behind Australia in the final standings. Rapinoe was just selected to the 10 player shortlist for The Best FIFA Women's Player. Orlando Pride forward, Morgan makes her return to the USWNT roster while Mallory Pugh did not return as she is recovering from injury.
This is the second time USA soccer will host the Tournament of Nations contest. The World Cup Champion USWNT will open up the tournament against the 2018 AFC Asian Cup Champions Japan.
Hello and welcome to VAVEL USA's LIVE coverage of the 2018 Tournament of Nations matchup between the United States Women's National Team and Japan. My name is Felix Hernandez and I will be your host tonight. From now until kickoff on Thursday, July 26 at 7 PM EST, I will be keeping you up to date on news and notes. Be sure to come back at kickoff for LIVE updates.