The U.S. Women's National Team is going for first place in the 2018 Tournament of Nations. The USWNT will face the same three teams from last year's Tournament of Nations: Brazil, Japan, and Australia. Last year the USWNT came in second place to Australia, after losing to the Matildas but beating Japan and Brazil. Japan, Brazil, and Australia fall on the FIFA rankings fifth, sixth, and seventh respectively. First, they will play Japan in Kansas City, Kansas on July 26th. Then the USWNT will face the Matildas on July 29th in East Hartford, Connecticut. On the final day of the tournament, August 2nd, in Bridgeview, Illinois the USWNT will compete against Brazil. All USWNT will be aired on Fox Sports 1.
The USWNT has not lost a match since playing Australia in the 2017 Tournament of Nations. Since then the USWNT have played top teams like Canada, Denmark, Germany, France, England, China, and Mexico. The Tournament of Nations is the USWNT last big test before CONCACAF World Cup qualifying in October.
Keys to winning the Tournament of Nations and France 2019
Alyssa Naeher seems to be the top goalkeeper going forward, but Adrianna Franch deserves a start. Franch has been better at the club level than Naeher and has been called into National camp multiple times, but has never been capped. Franch should be given a chance this tournament especially with three games, Jill Ellis can test each keeper she has called in.
As for the backline, newcomer Tierna Davidson has been the best center back in recent matches for the USWNT. Veteran Becky Sauerbrunn is still a solid force but has struggled with injuries this year. In January she was ruled out of camp with a stress reaction in her left foot. She has missed her clubs last two games out with a left tibial stress reaction. Emily Sonnett has been and out of camp but is a very capable center-back as well as Abby Dahlkemper. Other defenders called in were Casey Short who is just coming back off injury, Merritt Mathias who has never been capped. For now, the USWNT will have to deal with Kelley O'Hara being out, but she will be vital in France if the USWNT want to win their fourth World Cup.
An injury prone midfield has severely plagued the USWNT since the start of 2017. Rose Lavelle, Julie Ertz, Samantha Mewis, Morgan Brian have all had their share of injuries. That could be a scary thought considering that is half of the midfielders that were called in for the Tournament of Nations. The other four called in are Carli Lloyd, Lindsay Horan, McCall Zerboni, and Allie Long. Ertz is the most dangerous set-piece target the USWNT has, so they will want to make sure she stays healthy, along with Mewis who can orchestrate the midfield despite her young age.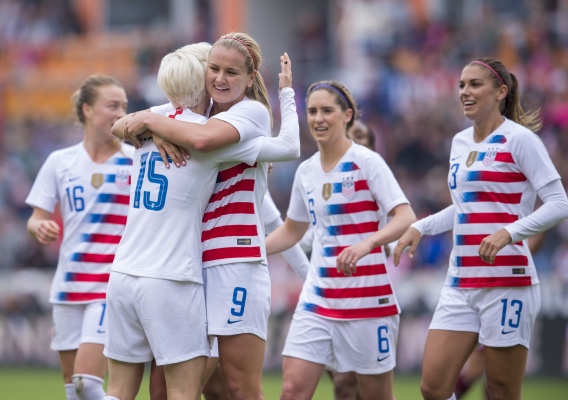 Besides Tobin Heath and Mallory Pugh, the USWNT forwards have maintained relatively good health. The problem that plagues the front line is having many talented goal scorers, but none of them having seamless chemistry. The best pairing we have seen recently has been Megan Rapinoe, Alex Morgan, and Pugh. With Pugh out it will be interesting to see if Ellis experiments with a different three up top or keep Rapinoe and Morgan up top by themselves. Ellis should experiment because Christen Press, Crystal Dunn, Amy Rodriguez, and Heath are all experienced at scoring goals and creating chances.
The full roster for the 2018 Tournament of Nations can be found here.
Injuries
Two USWNT regulars will miss the Tournament of Nations due to injuries: Kelley O'Hara and Mallory Pugh. O'Hara has not played since May 9th when she re-injured her right hamstring, initially she was expected to return in July. However, Utah Royals FC has played all their July games and O'Hara has not seen the field. O'Hara played six games where she tallied one goal. O'Hara's health will be especially important with an already sparse defender pool. O'Hara is best right back the USWNT had so hopefully she can recover and stay healthy for October and June of next year. Their next match is August 5th against the Houston Dash. Pugh suffered a posterior cruciate ligament sprain in her right knee on May 27th. She was expected to be out 8-10 weeks, but the eighth week just passed this past weekend and she was still listed as out on the injury report for the Washington Spirit. Pugh played in 10 games scoring two goals and tallying one assist.