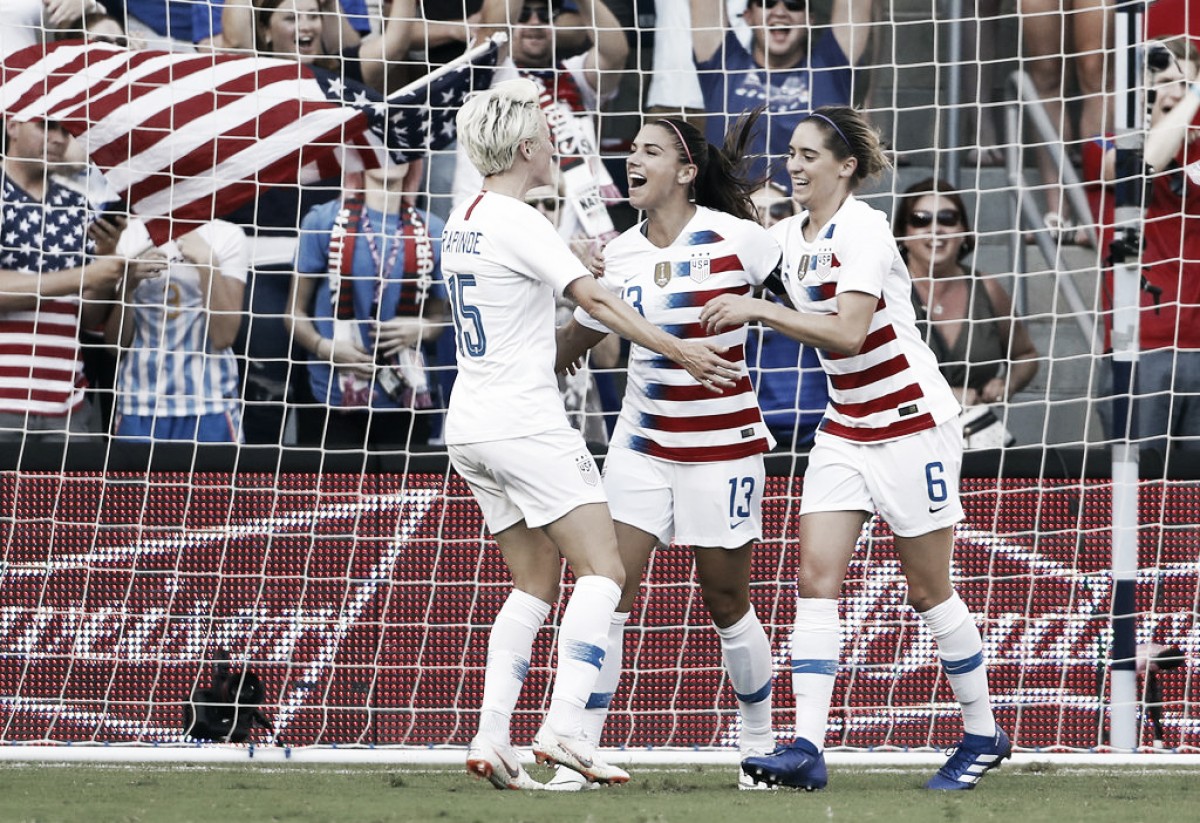 The United States Women's National Team opened up the 2018 Tournament of Nations on a better foot than last year as they defeated the Japanese side 4-2 in front of a sell-out crowd at Children's Mercy Park in Kansas City, KS. Alex Morgan had a hat trick to give her 90 career goals and Megan Rapinoe added the fourth for the US. Japan saw goals from Mina Tanaka and Moeno Sakaguchi to keep it a close match.
US scores but Japan answers quickly
Morgan put the US on the scoreboard in the 18th minute thanks to Christen Press. Press started on the right wing but dribbled the ball through the midfield to the left, slipping the ball through to Rapinoe on the left who crossed it into Morgan who put it in the back of the net.
However, the celebration was short lived as Japan equalized two minutes later. Yui Hasegawa sent the ball to Tanaka who lost the two centerbacks and chipped the ball over a retreating Emily Sonnett and goalkeeper Alyssa Naeher to make the match 1-1.
The US responded in the 26th minute to go up 2-1. Crystal Dunn dribbled up the left side and crossed the ball into the box where Sonnett brought it down before chipping it to Morgan who headed it in for her second goal of the match.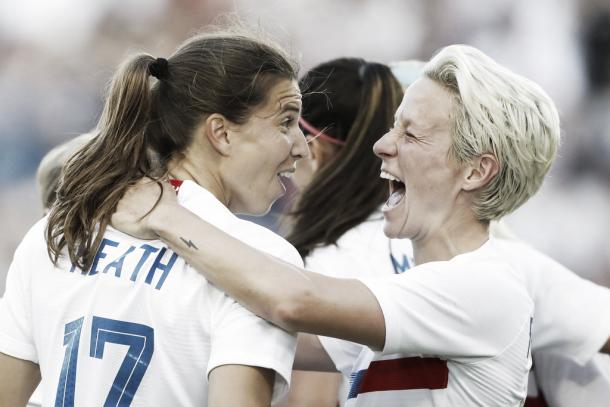 Japan has a screamer, but falls short of a comeback
Tobin Heath came on in the 54th minute and immediately made her presence known. Heath dribbled down the right side and danced around two defenders and sent the ball into the box. Japanese defenders failed to clear the ball and Morgan took advantage, putting the ball into the back of the net for her third goal of the game. Morgan scored her 87th, 88th and 89th career goals during the match.
10 minutes after Morgan completed her hattrick, Rapinoe came up to but a dagger in the game. Rapinoe passed the ball off to second-half substitute Rose Lavelle who dribbled up the field and tried to send a through ball to Rapinoe. The ball bounced off of a Japan defender and landed at Rapinoe's feet who put it in the back of the net for her fourth goal of 2018.
Japan answered back in a big way in the 76th minute. Risa Shimizu passed the ball to Sakaguchi who took a shot from out the box. The ball curled into the upper right corner out of the reach of Naeher, cutting the score to 4-2.
Japan will take on Brazil in the early game on July 29 in Hartford, CT before the US faces Australia in the later match. Japan will finish the tournament by facing Australia on Thursday August 2 in Bridgeview, IL before the US takes on Brazil in the later match to end the 2018 tournament. The US matches will be aired on FS1 while Japan's matches can be seen in the United States on ussoccer.com