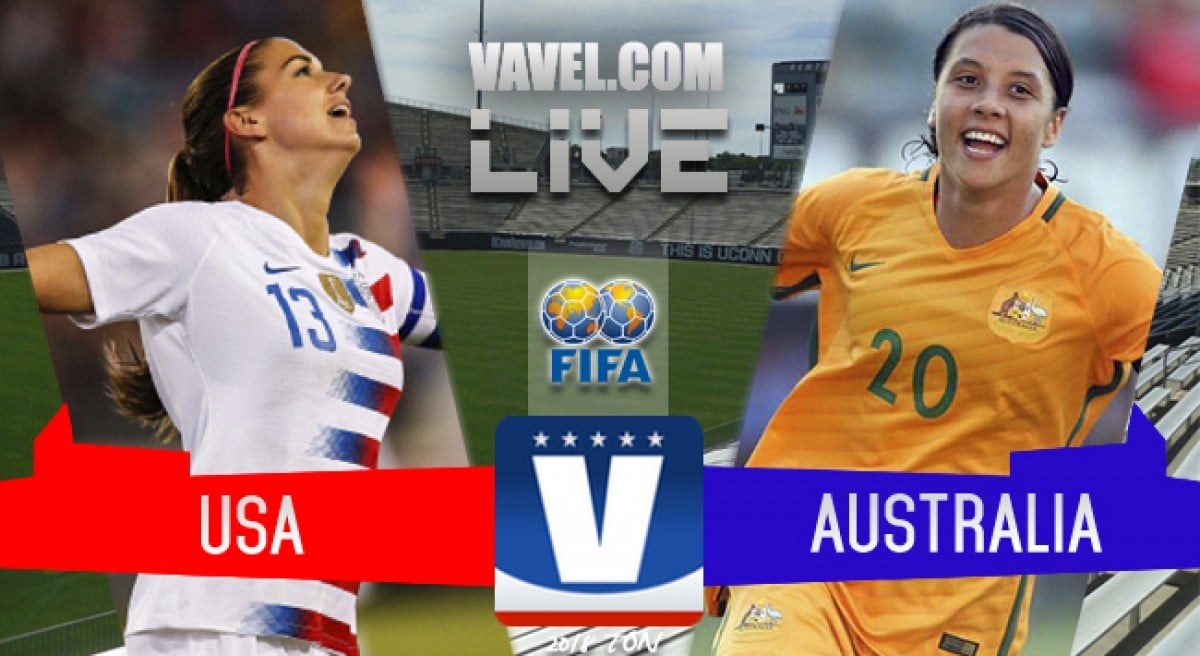 That was a great match and an exciting finish! Thank you for following along tonight. This is Felix Hernandez for VAVEL USA hoping you enjoyed the match. USWNT 1 Australia 1. So long everybody!
FT: With the draw. USWNT and Australia are still tied at the top of the standings with 4 points each. USWNT have the more goals scored tie breaker. Brazil is nipping at their heals with 3 points. USWNT will play Brazil in Chicago on Thursday. Australia will face their Asian confederation rivals Japan.
Fulltime: USWNT 1 - Australia 1
90+6': Referee looks at her watch and blows the final whistle for full-time.
90+5': Australia substitution: Glenik IN, Raso OUT.
90': Australia substitution: Gorry IN, Kerr OUT.
5 minutes extra time added
USWNT 1 - Australia 1
90': GOOOOOOOOOOOOOOAAAALLLL! Lindsey Horan! Rapinoe's corner finds Horan at the right post and heads the ball home!
90': Another corner for USWNT.
89': Rapinoe beats Carpenter again. Sends the ball to Morgan's head. Header goes over the bar. Australia goal kick.
​87': USWNT substitution: Lloyd IN, Dunn OUT.
85': Australia substitution: Foord IN, Logarzo OUT.
85': Kerr brings the ball down the center. Gets a shot off but is block by Ertz for a Australia corner.
83': Yellow card to Van Egmond for pulling down Press.
81': Press earns a corner kick for USWNT. Ertz is whistled for a foul.
​79': USWNT substitution: Short IN, Sonnett OUT.
​78': USWNT substitution: Lavelle IN, Dahlkemper OUT.
74': USWNT substitution: Press IN, Heath OUT.
74': Heath earns a corner kick for USWNT. Sent in the box but Australia clears.
71': Delay for a hard collision by Kellond-Knight and Horan. Both players get up on their own.
70': Rapinoe holds on to the ball at the top of the box. Rapinoe's shot on net is stopped by Williams.
68': Kerr finds a ball down the left side into the box. Kerr does not get a lot on the shot and Naeher is there to collect.
67': Corner kick goes through the six yard box out for a goal kick. Couple USWNT players had a chance to touch it home.
66': Good defensive play by Kennedy as she recovers and gets the ball away from Rapinoe. Corner kick USA.
65': Another corner for USWNT. Williams intercepts Rapinoe's corner kick.
64': Zerboni enters the match and earns a corner for the USWNT. Australia able to clear.
63': USWNT substitution: Zerboni IN, Brian OUT
62': Horan drives a ball into the box. Rapinoe heads to Morgan, Morgan's header goes over the crossbar.
61': Rapinoe earns a corner kick. Australia clears.
58': Australia substitution: Simon IN, De Vanna OUT.
57': Yellow card shown to Lydia Willams for wasting time on her goal kick.
57': Horan with a decent look on goal but she shanks her shot wide right.
53': Rapinoe and Carpenter battling each other all night. Rapinoe getting the better of Carpenter this half. Rapinoe's shot goes wide.
51': Rapinoe tries to get around Carpenter one on one. Does not connect with Heath, Australia get it away.
49': USWNT connect on dangerous ball in and around the box. No clean looks for a shot. Williams ultimately collects the ball.
46': The second half is underway!
Halftime: USWNT 0 - Australia 1
45+4': Referee blows the whistle for halftime.
45+3': De Vanna finds Butt at the top of the box. Butt's shot goes just wide of the right post.
45+2': Rapinoe fires a knuckle ball on Williams but Williams collects after a slight bobble.
45': 3 minutes extra time to be added.
45': Australia connects on passes from a deep throw in. Raso sends a ball to left post to De Vanna. De Vanna's volley goes high and wide.
43': USWNT picks off Australian pass. Ball finds Morgan in the box but she is called offside.
40': Australian set piece near midfield almost finds Kerr in the box. Ball goes out for goal kick.
39': Horan sends a ball into the box. Williams is there to collect.
37': Yellow card earned by Chloe Logarzo on a hard foul on Horan.
31': Carpenter up on her own and play resumes.
28': Delay due to an injury to Carpenter. Carpenter takes a ball to the face.
25': Heath tries to answer quickly but her shot is wide left.
USWNT 0 - Australia 1
22': GOOOOOOOOAALLL! Logarzo goes one on one with Naeher and finishes! De Vanna takes the ball down the field and sends Lagarzo in alone on Naeher.
22': Australia clears on USWNT short corner
20': Polkinghorne called for the foul on Morgan left side of the box. Rapinoe to take the free kick. Low kick is out for a corner.
18': Australia fell asleep on a USWNT throw in. Rapinoe throws to a wide open Morgan but Williams comes out to collect in front of Morgan.
18': Tobin Heath takes a shot from outside the box. Shot goes wide.
17': Morgan sets up Rapinoe into space but her shot is wide and over the bar.
15': Rapinoe gets behind the Australia defense but is called for an offside
9': USWNT threaten as Morgan crosses into the box. Horan gets a head to it. Almost deflects off Kennedy into her own net.
7': Rapinoe earns the first corner for the USWNT. Nothing doing on the corner. Ball goes out for Australia goal kick.
4': Australia threatening in the box but USWNT are able to clear.
2': Australia earns the first corner of the match. Nothing comes of it.
1': USWNT kickoff and we are underway!
Anthems all finished and we are moments away from kickoff!
Teams are walking out for the National Anthems.
The teams are out for warm-ups!
USWNT starting XI: Naeher, Sonnett, Dahlkemper, Sauerbrunn, Dunn, Brian, Ertz, Horan, Heath, Rapinoe, Morgan.
Australia starting XI: Williams; Polkinghorne, Logarzo, Kellond-Knight, Van Egmond, De Vanna, Butt, Kennedy, Raso, Kerr, Carpenter.
Starting lineups are coming soon as we are less than an hour away from kickoff!
It's game day in Hartford, Connecticut!
Be sure to check back here as new information such as injuries and starting lineups become available. Then join me Sunday night for LIVE updates.
Australian defender Steph Catley will not be available for the rest of the tournament. She is back in Australia with her family due to the passing of her father.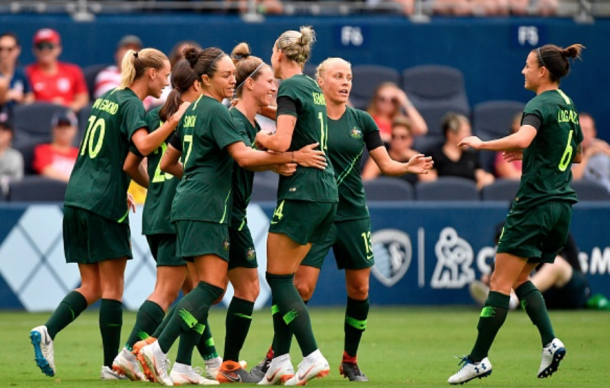 In Australia's match against Brazil, Sam Kerr and Tameka Butt registered a goal each. Australia's first goal came on a 'own goal" from Brazilian defender Polina. Butt added an assist on Kerr's goal with a great ball behind the Brazil defense to spring Kerr. Midfielder Elise Kellond-Knight was dangerous as well. Her corner lead to the own goal by Polina and created several quality chances from set pieces.
In the first match, Alex Morgan recorded for fourth career international hat trick and Megan Rapinoe registered a goal and assist in her 138th USWNT appearance. Defender Emily Sonnet added an assist of her own on Morgan's second goal.
The Australians also have an impressive record since last year's Tournament of Nations. The Matildas have gone 12W-2L-4D since their victory against the USWNT. The only losses coming from Japan in the Asian Cup final and Portugal.
USWNT have not lost a match since losing to Australia in last year's Tournament of Nations for a total of 17 matches. Opponents have managed two draws in that time. Canada in November of 2017 and France in March of this year.
The last time these two teams faced off was in the 2017 Tournament of Nations where Australia Westfield Matildas finally beat the USWNT. A goal by Tameka Butt in the 67th minutes from a failed clear by the USWNT defense was the only goal of the match. Australia hung on to win 1-0. This was the first step in a 2017 Tournament of Nations Championship for the Matildas. USWNT would finish second in the tournament.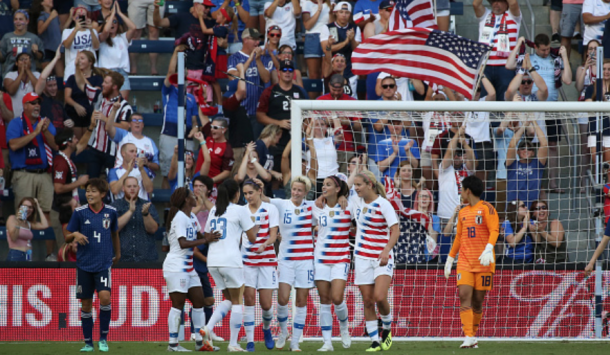 Both USWNT and Australia won their first matches and are tied atop the standings with three points. USWNT defeated Japan 4-2 while Australia beat Brazil 3-1. USWNT have the tie breaker by scoring four goals to Australia's three goals. With both squad tied atop the group on points and goal differential, this match will be even more vital. Who will be atop the group at the end of Sunday?
Hello and welcome to VAVEL USA's LIVE coverage of the 2018 Tournament of Nations matchup between the United States Women's National Team and Australia. My name is Felix Hernandez and I will be your host tonight. From now until kickoff on Sunday, July 29 at 7 PM EST, I will be keeping you up to date on news and notes. Be sure to come back at kickoff for LIVE updates.