On Sunday night, Olympique Lyonnais Women and the North Carolina Courage will face off to determine the first champion of the ICC Women's Tournament. In the opening match of the tournament, the Courage punched their ticket to the final by earning a 2-1 victory of Paris Saint-Germain Women. Lyon won the second match of the semifinals when they dismantled Manchester City Women to the tune of 3-0.
Another feather in the cap of Lyon
At present, you'd be hard pressed to find anyone in the women's soccer world who didn't think Lyon was the best women's side on the planet. The team is on a run of three consecutive UEFA Women's Champions League titles, and their roster contains many of the best women's soccer players from around Europe and the world. With the combination of so many amazing players, Lyon is certainly the odds-on favorite to win the ICC Tournament as well.
In the upcoming match against North Carolina, Lyon will certainly have the advantage mechanically, but they will be at a deficit in terms of fitness. Lyon is just beginning training for the upcoming French league season, so they will try to control possession and keep the ball moving to even the playing field. They should be able to quickly figure out how to solve the press of North Carolina, and it will be important for them to pick their shots quickly if they want to beat the Courage defense. Their own defense is one of the most talented in the world, so the focus for Lyon will be breaking their forwards free to run at the back line.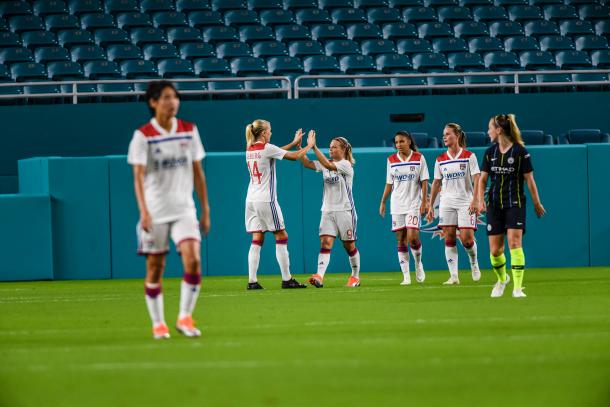 The toughest test in NWSL history
The Courage would have a difficult time competing with Lyon if they had their full lineup, but when these teams face off on Sunday night the Courage will be missing six of their most valuable players due to the Tournament of Nations. The Courage do have one major advantage over Lyon, their fitness. While Lyon is just starting their preseason, the Courage are in mid-season form and are accustomed to play in heat like they will experience on Sunday night in Miami.
If they want to secure an upset win the Courage will need to use this advantage. They should be the better team very early in the game while they press keeps Lyon off their game. They will also have an advantage toward the end of the game when the Lyon players are feeling fatigued. They are going to have to hope that they can hold the defensive line in the middle of the game while Lyon in on their game, and maybe they will be able to create a few dangerous counter-attack opportunities.
How to watch
This game is the only one of the tournament that will be broadcast on national television. The game will take place at 9:00 pm ET on ESPN2.