It wasn't the game either team wanted to be playing in, but that didn't stop Manchester City and Paris Saint-Germain from giving it their all on Sunday night when they faced off in the third-place match of the inaugural ICC Women's Tournament. Manchester and Paris had already played a scrimmage match in Portland just five days earlier, so the two sides were well prepared to play against one another. In the scrimmage, City bested PSG 1-0.
The night started out perfectly for PSG. Forward Kadidiatou Diani dribbled down the right side of the pitch and sent a cross into the box and it was played poorly by a Manchester defender. Turkish forward Melike Pekel had made a run into the box anticipating the cross, and the poor clearance fell right to her feet. The striker was able to easily finish from close range to beat Man City goalkeeper Karen Bardsley in the second minute of play.
Manchester responded differently in this match than their previous one. After falling apart and allowing three goals in the first twenty minutes of their semifinal match against Olympique Lyonnais, the team banded together and scored a pair of goals before the halftime whistle blew. The first goal came in the 40th minute when a corner kick from Caroline Weir found the head of Jill Scott. The header beat PSG goalkeeper Christiane Endler and drew the game at 1-1. The second goal for Manchester came deep in stoppage time in the first half. Weir set up a free kick from about 30 yards out that found the head of Mia Jans to beat Endler again. It was the first goal by Jans for Manchester City.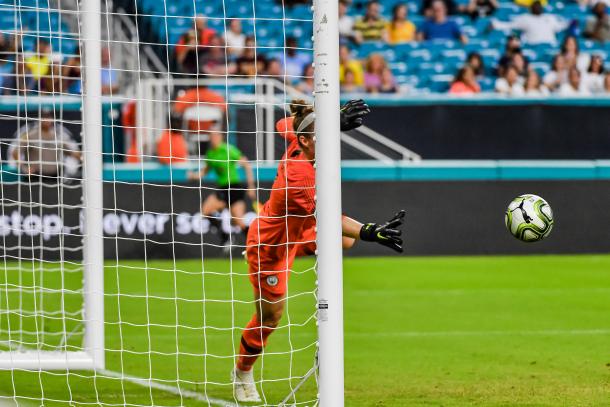 The second half started out on even footing, but as the match wore on PSG became desperate to score. It took nothing less than a world-class effort from Bardsley to maintain the one-goal lead, as she made a diving save just seconds before the final whistle blew. Manchester City bested PSG twice during their time in the United States, suffering their only defeat to Lyon in the semifinal. PSG lost all three of their matches during the trip.
Both squads will head back to Europe to prepare for the start of their respective seasons later in the year. Both leagues will begin play following the final round of Women's World Cup qualifying in the window from August 30th to September 4th.