Depending what occurs in the earlier game between Australia and Brazil, this match between the United States and Brazil, could end up being a winner take all for the 2018 Tournament of Nations.
Brazil looking to avenge last year
When these two teams met in last year's tournament, the United States scored three goals in the last ten minutes to snatch a 4-3 victory over the Brazilians. This result was then followed by a 6-1 pounding by Australia which vaulted them to the top, and Brazil to the bottom, Brazil will want to make sure this doesn't happen again this time around, and I have every reason to believe it will not. Unlike last year, Brazil is coming off of a win vs Japan. They will also more than likely be a little more organized come the end of the game this year.
This Brazil team has managed to win a game this year, something they weren't able to do at last year's tournament. This combined with the fact that the World Cup is on the horizon, I would expect Brazil to start to play their best soccer and figure out what their best lineup is. They might be starting to figure things out, which is not only scary for the United States on Thursday, but if they really do figure things out and have a plan going forward, it will be scary for everybody come 2019.
United States looking for better performance in final game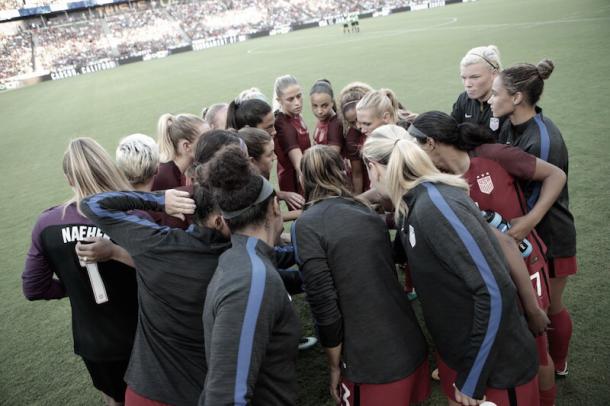 Despite earning a draw against Australia on Saturday, they did not play a good game. Nobody really had a standout performance, and yet despite this, they were able to hold a very very good Australia team to a 1-1 draw. This may not seem like it, but that's a very important result not just for this tournament but in their preparations for next Summer's World Cup. Finding ways to win or get a result against good opposition when you don't play your best game is something that every team needs to be good at, because one bad game that results in a loss at the World Cup will either completely shatter your hopes of winning it, or significantly hurt your chances of doing so. That being said however, you can't let yourself have two bad performances in a row. It would be even more encouraging for Jill Ellis and the united States if they are able to bounce back against Brazil with not only a win, but a really good performance as well.
One final note, this may be the last Tournament of Nations that we see until 2021. With both the World Cup and the Olympics taking place at around this time of year in 2019 and 2020 respectively, it either won't be worth, or even possible to have this tournament at this time the next two years. US Soccer could possibly schedule it for later in the year, but I personally think it would be best for these teams to not take part in these tournaments in years where other, bigger tournaments of much larger consequence are taking part.
The United States take on Brazil on Thursday, August 2 at 8:30 PM EST, at Toyota Park in Bridgeview, Illinois. The match will be broadcast on Fox Sports 1 and streamed on the Fox Sports Go app.