Both Sky Blue FC and the Orlando Pride desperately want to win this game. This despite the fact both teams sit at opposite ends of the table. Orlando sits in fourth place, tied on 29 points with the Portland Thorns, and one point behind second place Seattle Reign. Sky Blue on the other hand are currently sitting at rock-bottom of the table, with three points and zero wins. Despite this season being a write of for them, Sky Blue would still like to win at least one game this year.
Orlando in middle of tight playoff race
Orlando are on thin ice right now. Even though they are currently in a playoff spot, nothing is certain with this team. Their form of late has not been all that consistent or spectacular, and a run of even just two bad results, may cause enough damage for them to be not just out of a playoff spot, but maybe out of the running entirely. Not only are they one point behind the teams n front of them, they are also one point ahead of the team behind them. Even though that team, the Chicago Red Stars, don't have a game this week, if Orlando were to lose this week, they would be one point ahead of Chicago, having played two more games than them. This could put Orlando in a very difficult situation as their playoff chances would almost be completely out of their hands at that point, which makes a win this weekend all the more important.
INJURY REPORT:
QUESTIONABLE: Sydney Leroux (illness)
A win is a win and they don't care how it comes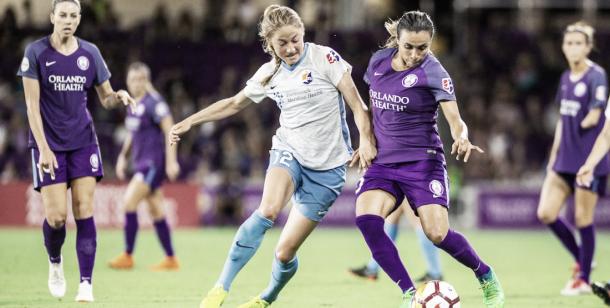 After having their match last week against Chicago due to travel problems, and reportedly having a few more travel issues on their way to Orlando, the season from hell continues for Sky Blue FC. With their off the field struggles publicly known, and their terrible season which many fully expect to be the worst in American professional women's soccer history, a win this weekend or at least before the season ends would take the sting out of it just a little bit, and lift an absolutely huge weight off of the shoulders of everybody at the club.
That being said however won't be easy. Despite Orlando not playing very well as of late, and Sky Blue giving them a really competitive game he last time these two played each other in June, getting a result against Orlando in Orlando is still a very difficult thing to do. But this is NWSL, where we all know that nothing makes any sense, crazy usually happens on a weekly basis, and if it can happen, more than likely it will happen.
INJURY REPORT:
QUESTIONABLE: Domi Richardson (left foot sprain)
The Orlando Pride host Sky Blue FC this Sunday, August 5, at 7:30 PM EST. The game can be streamed at nwslsoccer.com (not go90) as well as the NWSL app.