Seattle Reign FC looked dominant on Sunday night as they easily beat the Washington Spirit 2-0. Goals by Jasmyne Spencer and Jodie Taylor highlighted the match. The Reign (9W-6D-4L) are now comfortably in second place on the league table as they sit three points clear of the Orlando Pride with a game in hand.
The Spirit (2W-4D-13L) are in a deep rut right now. They have scored just one goal in their last nine matches dating back to June 2nd. No team in league history has suffered such a prolonged goal-scoring drought, although they did not break the record for most consecutive game minutes without a goal during that stretch. The team is already looking ahead to 2019 as they have been eliminated from playoff contention.
A pair of chips to win the match
Washington head coach Jim Gaberra has taken to erratically altering his lineup with nothing going right for the team, and he opted to start Didi Haracic in goal on Sunday over Aubrey Bledsoe. Gaberra also opted to go with a 3-4-3 formation.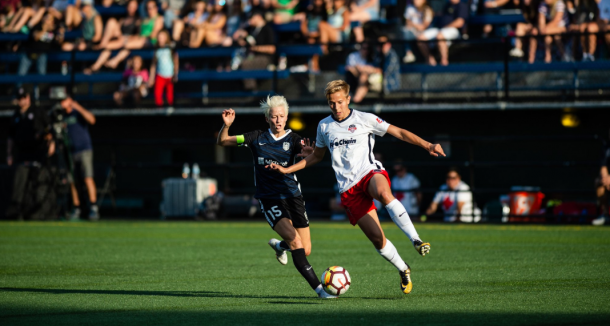 Seattle was knocking on the door for much of the first half until they finally broke through just before halftime. Midfielder Allie Long played a perfect ball in to Spencer who slowed the ball down with her first touch and hit the shot with her second. Haracic could only flail as the ball passed over her outstretched arms and landed at the back of the net. The goal was Spencer's first as a member of the Seattle Reign after she played with Orlando last season.
The second goal came from a lack of awareness on the part of the Spirit. Washington defender Taylor Smith kicked the ball out for a throw in, and Seattle's Megan Rapinoe quickly threw the ball in to forward Jodie Taylor. The entire Washington back line was caught flat-footed as they watched Taylor take a single touch to beat their keeper for the second time in the match.
Washington will go on the road on Wednesday night to challenge Utah Royals FC. Seattle's next game comes on Saturday, when they too will travel to Sandy, Utah to face the Royals.