Even though they were never fully in the hunt, the Houston Dash need a win this weekend if they want to hold on to any chance of making the playoffs. They take on still winless Sky Blue FC, who were able to take their first lead, and almost their first win of the season last week against the Orlando Pride.
Points now become even more important
With Houston now with only five games left, points in an already very tight playoff race become even more important. Currently six points behind the Portland Thorns who currently sit in the playoff cut-off line in fourth place, the Dash's slim, but possible chance of making the playoffs for the first time in team history remains. They are in the midst of an inconsistent run, alternating wins and losses over the course of the past seven games, if they want even a chance of competing for the playoffs, they need to finish these last five games of the season, of which only two are at home, very strong. They will most likely need to finish the season unbeaten, winning their three remaining games against Sky Blue and the Washington Spirit, and then have to get two very tough road points against the Seattle Reign on a short week with travel, and then one away at the end of the season against the shield winning North Carolina Courage. This will give them 34 points and their best chance of a playoff spot.
INJURY REPORT:
OUT: Bianca Henninger (left hand fracture), Kristie Mewis (left ACL sprain – SEI), Meleana Shim (left ankle sprain), Kyah Simon (left ankle sprain)
QUESTIONABLE: Kimberly Keever (left knee sprain), Janine Van Wyk (right ankle sprain)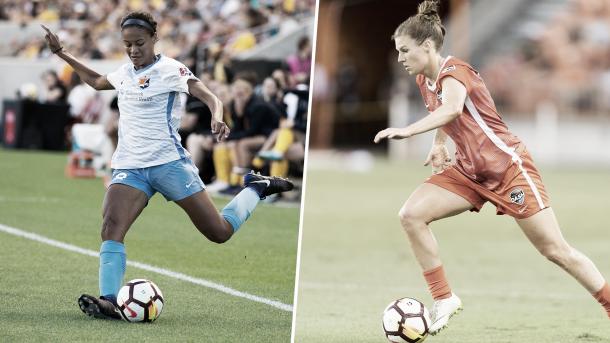 Win, that's it basically
Well, here we are again, another game preview and another instance of Sky Blue both wanting and needing their first win of the season. However, looking at their remaining schedule, this probably ends up being their best chance at grabbing that seemingly elusive first win of the season that they'll have. They have looked relatively competitive in their previous two matches against far superior opposition, and they'll need to carry on this momentum. They will be without Janine Beckie however, has she has left the club to sign with Manchester City in the FAWSL. Despite not having her best season, she was a large part of that locker room and will be missed by the team as she was a true professional who put on a brave face this season and tried to push on a persevere with this group, and make the best of what it a terrible and tough situation. She will be missed by players, coaches, and fans alike.
INJURY REPORT:
OUT: Shea Groom (concussion protocol)
Sky Blue FC host the Houston Dash this Saturday, August 11, at 7:00 PM EST. The game can be streamed on nwslsoccer.com, as well as the NWSL app.