Portland Thorns FC and the Chicago Red Stars will face off for the final time this regular season in a match that is sure to have serious playoff implications. The Red Stars will travel to Portland for the first time this season after losing 3-2 to Portland in their first meeting. The two teams drew 1-1 in the second match of the series. The Thorns will hold the tiebreaker with a win or draw should the two teams finish level on points at the end of the season, but, if Chicago wins, the tiebreaker would come down to goal differential.
A playoff spot is still not a certainty for the Thorns
Portland (9W-5D-6L) currently sits in third place with 32 points after securing a big 2-0 win last weekend against the Orlando Pride. Midfielder Lindsey Horan has stepped up in a big way for the Thorns this season as she leads the league with 11 goals scored. Defensively, Portland has been much improved with Adriana Franch coming back from a knee injury that kept her out for about two months of play. The reigning Goalkeeper of the Year will be looking for her second consecutive shutout. If Portland wins on Sunday night they will be almost assured of making the playoffs with matches against Sky Blue FC and the Washington Spirit just ahead on the schedule. With the championship set to be played in Portland on September 22, the Thorns are definitely hoping for a shot at winning a second-straight title in front of their home fans.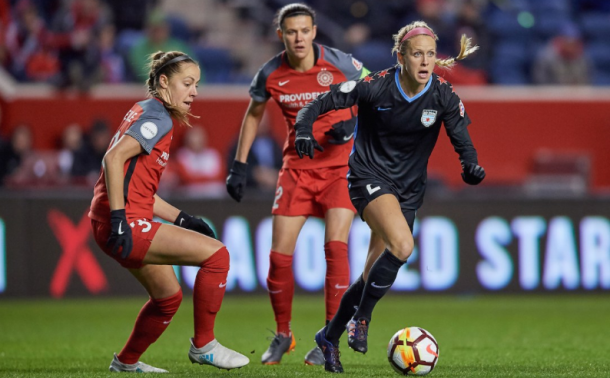 The Red Stars look to slip into a playoff spot with a win
Chicago (7W-9D-4L) is within shouting distance of the playoffs as they sit in fifth place. If the Red Stars could muster a win this weekend they would leapfrog Portland in the standings, but they have a much tougher remaining schedule. With two draws in the rearview mirror, Chicago is starting to feel crunched for points. Forward Samantha Kerr has been excellent, but nowhere near the record-setting form of 2017 when she scored 17 goals. Julie Ertz has been moved from the midfield back to defense, which has helped the team prevent goals but has also slowed down their scoring. Defender Casey Short and midfielder Vanessa DiBernardo have both worked their way back from injury, so if this team is going to put everything together now is the time. This should be the marquis matchup of the weekend.
The game will kick off at 10:30 pm ET from Providence Park in Portland, Oregon. The game will be broadcast live on NWSLsoccer.com.