Despite a late goal from Sarah Killion, Portland Thorns FC held on for a 2-1 win over Sky Blue FC. With this victory, Portland locked up the third of four available playoff spots, joining the North Carolina Courage and Seattle Reign FC.
Portland punch playoff ticket
As said before, with this result Portland clinches a playoff spot. While it may be tough for them, if they can leapfrog Seattle in the National Women's Soccer League standings, this would give them home field for the playoffs, with the final location being announced as Portland earlier this season.
Despite the scoreline, Portland was seemingly in control for most of this match. Even though chances were shared throughout the match, Portland had more chances, and the more dangerous ones as well. The game ended up being choppy and hard to find a flow in play for both teams with the stoppages every fifteen minutes due to the air quality. Portland were also able to exorcise some Sky Blue demons from earlier this season. They drew 1-1 n their first meeting in Portland when they were arguably outplayed, and then despite winning 2-1 in New Jersey, they were arguably outplayed once again. Thus time however, they were not only able to get the win, but also do so with a solid performance that showed they were the better team on the night.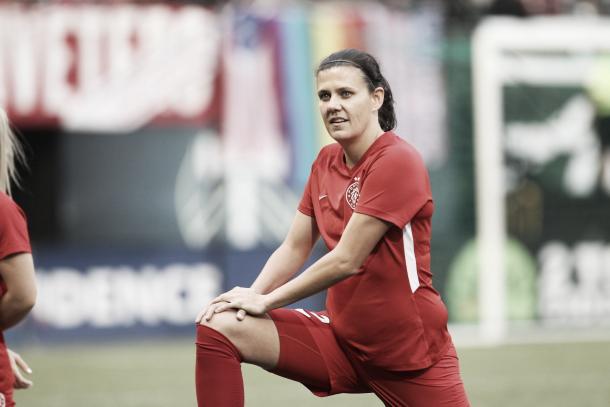 Sky Blue still searching for win
Despite playing a decent game, Sky Blue were still unable to get their first win of the season. Despite this, they still played a pretty good game with all things considered. Traveling cross-country and playing mid-week on short rest after an emotionally and physically draining game Saturday night made it near impossible for them to get a win tonight against an obviously superior opponent. This is the start of four consecutive games on the road before their last game of the season at home. I do still believe a win or even two is more than possible, but the odds are still stacked against them with the schedule they have to end the season. They are building momentum however, and have put in some very good performances in games over the past month or so, and things are starting to look up, so maybe that elusive first win is not very far off at all.