As preparation for the 2019 Women's World Cup continues, The United States will welcome The Chilean Women's National Team for a set of friendlies, the first time these two nations have ever faced one another.
Chile reaching uncharted waters
Over the past couple of years, we have started to see more and more federations put more and more resources into their women's program. Examples of this can be seen with Mexico starting their own women's league, England moving the FAWSL to the winter in order to synchronize with the rest of Europe, and the Netherlands winning their first major piece of silverware with the 2017 Euro's on home soil. All of this really started to kickoff when FIFA expanded the World Cup from 16 to 24 teams. This gave many more nations hope and belief that they could make the tournament and maybe actually do something once they get there. One of those nations is Chile. They are currently ranked 39, only one spot below their best ranking ever, they have qualified for the 2019 World Cup, their first in program history, and they also finished second in the 2018 Copa America Femenina on home soil in Chile, their best finish in the competition since 1991. This is a nation that is really starting to take itself seriously on the women's side, shortly after their men's side started to become a real threat internationally as well, despite missing this past summer's Men's World Cup. Their most recent results saw them play Costa Rica twice, beating them 4-0, and then drawing 2-2. They will now take on the United States for the first time ever. Even though the United States are no longer this all conquering, destroy everyone in their path kind of team anymore given that a lot of teams from around the world have already or are starting to catch up, they are still viewed as the gold standard in women's soccer. So while their is a very good chance Chile ends up losing pretty badly at least once over these two games, they will view it as progress regardless of outcome as they continue to grow into what they hope is a team that will contend for World Cup titles and Olympic Gold Medals for years to come.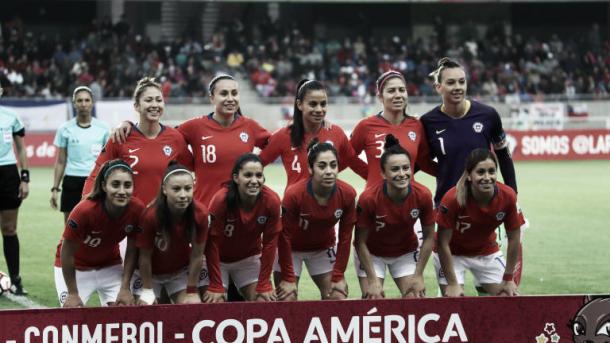 Last friendlies for USWNT before World Cup Qualifying next month
Even though they will more than likely qualify for next year's World Cup, this is a tournament they can't take lightly. One mistake and that could be that when it comes to qualifying. Which makes this set of friendlies slightly more crucial than usual as it will be Jill Ellis' last chance to see these players in the National Team environment. She'll want to get one last look at players such as Kelley O'Hara, whose been injured since June, Rose Lavelle who has missed half the current NWSL season, backup goalkeepers Ashlyn Harris and Adrianna Franch should be given looks in these two games, and fringe players such as Hailie Mace, Emily Sonnett, McCall Zerboni, and Amy Rodriguez will also want to impress as well. This will be a lot of these players last chance to make an impression on Jill Ellis to make this World Cup qualifying roster. Megan Rapinoe was also a late scratch from the roster after suffering a rib injury vs the Houston Dash on August 21.
The United States Women's National Team host the Chilean Women's National Team this Friday, August 31, 2018 in Carson California. The match will be broadcasted on ESPN2, and streamed on the ESPN app.