In what will be the last match for the United States Women's National Team to test themselves ahead of the CONCACAF World Cup Qualifying, they will play the Chilean Women's National Team for the second time in five days.
Chile taking important steps forward in their development
For a team that has just qualified for its first ever World Cup, Chile will be taking this opportunity to play against the USWNT as a learning experience. Chile is a team that has progressed quite a lot over the last decade. They finished as the runner up of the 1991 Copa America Femenina and the third-place winner of the 1995 and 2010 tournaments, narrowly missing out on the World Cup each of those times. Their determination paid off earlier this year when they again finished runner-up at the Copa America Femenina, but this time, their second place finish was enough to clinch them a World Cup berth. As the 39th ranked nation, Chile has benefited from FIFA expanding the Women's World Cup from 16 participating teams to 24. There were a handful of debutantes at the 2015 World Cup – the Netherlands, Spain, and Costa Rica to name a few. The qualifying success of those teams was a result of their federations investing more into the women's game over the last several years. Chile can now be added to that list of teams for 2019. The willingness of the Football Federation of Chile to take its women's team seriously has produced consistent results from them this year – with wins over Uruguay, Peru, Argentina, and Costa Rica. After a respectable performance in their first meeting against the USWNT, they now face them again for their second friendly in this series. Their captain and goalkeeper Christiane Endler made some outstanding saves against the United States attack, and their field players caused the USWNT to struggle in open play for most of the match. If Chile's mental strength and toughness can help them put in a solid showing, they can view these friendlies as a big step forward in their development.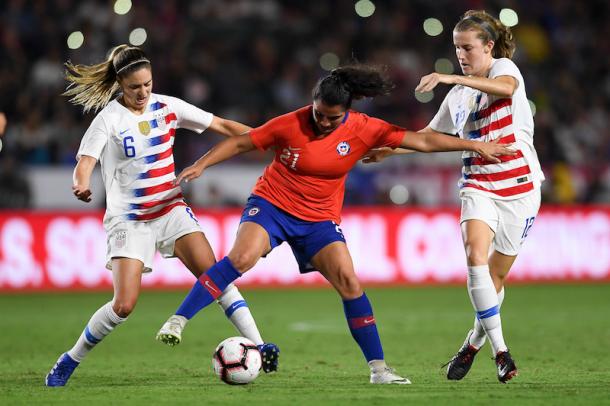 Jill Ellis' coaching decisions and their World Cup Qualifying implications
The fact that this will be the last match for the USWNT before World Cup Qualifying increases its importance. Jill Ellis will get her final chance to evaluate her players in a match. This means that she may want to give players who have recently recovered from injuries – Rose Lavelle, Samantha Mewis, Kelley O'Hara, and Mallory Pugh – more playing time. Alyssa Naeher has probably secured the USWNT's starting goalkeeper spot for its upcoming tournament, but it would benefit backup goalkeepers Ashlyn Harris and Adrianna Franch to get some looks ahead of next year's World Cup (which they are more than likely to qualify for). Players who are not yet USWNT regulars (Hailie Mace, Amy Rodriguez, Emily Sonnett, and McCall Zerboni) will need a strong performance to make the qualifying roster. Megan Rapinoe's rib injury could keep her out of that tournament, so whoever starts in the front three for the USWNT (most likely Tobin Heath, Alex Morgan, and either Christen Press or Pugh) will want to have a strong chemistry with each other. Julie Ertz and Lindsey Horan have earned consistent playing time in the midfield and will likely be joined by Lavelle, Mewis, or Zerboni. The team's defense is its most inconsistent part, for neither of their starting outside backs on Friday were playing in their natural positions. Their only true wing backs are Casey Short and O'Hara, both of whom have missed significant time this year with injuries. Will Crystal Dunn and Emily Sonnett be the outside backs going forward? Or will Short or O'Hara throw their names back into the mix? The decisions Ellis makes on who starts where and who comes off the bench for whom will have implications on how her team will line up next month in Texas.
The United States Women's National Team host the Chilean Women's National Team this Tuesday, September 4, 2018 in San Jose, California. The match will be broadcasted on ESPN2 and UDN.