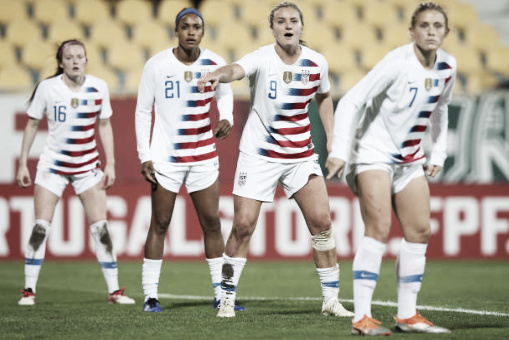 The United States Women's National Team is 17-0-2 (W-L-D) so far in 2018 with just one game left on the docket. On Tuesday the USWNT will face off against Scotland WNT in the second match of their European trip in preparation for the 2019 Women's World Cup in France. Scotland unexpectedly qualified for the World Cup as well, and they will join Chile and Jamaica as first-time Women's World Cup participants. A home match against the United States will be a tough test as Scotland prepares for their tournament debut.
A miracle week in WWC qualifying for Scotland
The UEFA Women's World Cup qualifying tournament divides 35 participating countries into seven different groups, and they each play a home-and-away derby against the other four members of the group. Scotland entered the final week of qualifying with matches against group-leading Switzerland and a weak Albania team.
If they lost or drew with Switzerland in the first match they would automatically be denied the automatic qualification that comes from finishing first in the group. In front of 4,098 home fans, Scotland secured the first of two victories with goals from Erin Cuthbert in the 2nd minute and former Seattle Reign FC forward Kim Little in the 6th minute. The Swiss were able to pull within one goal of Scotland in the 7th minute, but the final 83 minutes would tick away without changing the scoreline.
Despite the victory, it still seemed like Scotland was destined to finish second in the group. Switzerland held the tiebreaker, so they would have to draw or lose in their match against Poland for Scotland to have a chance at qualifying. When Switzerland finished with a 0-0 draw against the Polish spoilers it was down to a road match against Albania. The whole thing ended up much closer than expected, but Scotland squeaked out a 2-1 win to stamp their ticket to France.
American fans of the National Women's Soccer League were overjoyed that their favorite Scotswoman, Kim Little, would be earning a World Cup berth before retiring. Unfortunately, Little will be unavailable for the upcoming match after breaking her leg in club play. Scotland will still be dangerous with Erin Cuthbert and Jane Ross each scoring four goals in WWC qualifying.
A frustrating match in Portugal
The United States will take the pitch in Scotland with a bit of a chip on their shoulder. The Americans, after finding their offensive form and dominating the CONCACAF Women's Championship, found themselves impotent against Portugal on Thursday. With Jess McDonald earning her first USWNT start and a group of players unfamiliar with one another, the game felt like a slog from beginning to end. Portugal even led the United States in shots for big portions of the match, something that never happens in international play. The team will be happy to put that disappointing match behind them as they look to go unbeaten in 20 matches this year.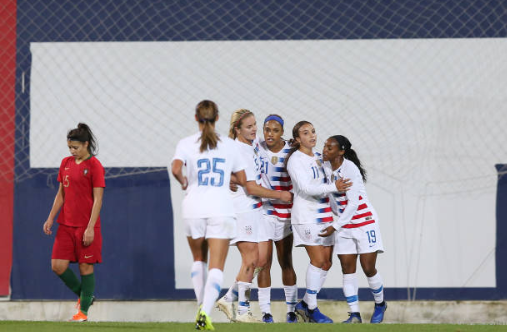 This trip was always going to be a bit of a mixed bag. Jill Ellis decided to call in an eclectic group of players, and the late scratches of Christen Press and Tobin Heath left the team a bit short-staffed. Yet again, it seemed like the USA was unable to break down a bunker defense, and it left fans with flashbacks to the shocking 2016 Rio Olympics loss to Sweden in the quarterfinals. A team with a bit more attacking presence might have tied or beaten the United States on Thursday night.
Ellis and the team will hopefully get more production out of the outside backs and the midfield on Tuesday, and it would be surprising to see Emily Fox get her second start after a shaky performance against Portugal. Similarly, Sam Mewis will probably get the nod over Andi Sullivan who worked her way back into the lineup after missing the last few camps. She was unimpressive on Thursday and seemed lost at times. She is still a young player, but with France just seven months away there isn't much time left to prove yourself.
How to watch
Once again, if you want to watch this match live you'll need to be available in the middle of the day. Kickoff is scheduled for 2:15 ET in Paisley, Scotland. The game will be broadcast live on FS1.