The Washington Spirit have re-signed forward Estefania Banini. Banini, who plays for Argentina's National Women's Soccer Team and their National Women's Futsal Team, is one of the Spirit's best playmakers when she is healthy. Unfortunately, her last few seasons have been plagued with injuries that have kept her from reaching her full potential. Argentina made the 2019 Women's World Cup, so Banini will miss at least late-May through mid-June if not a bit later.
Retaining talent on a struggling team
The Spirit are coming off their second miserable season in a row. They finished the 2017 season in last place, which allowed them to take midfielder Andi Sullivan with the first-overall pick in the 2018 NWSL College Draft. Then, after the Boston Breakers folded, they were able to nab midfielder Rose Lavelle in the Dispersal Draft. Despite the influx of talent, Washington suffered through another rough season in 2018. The Spirit finished second-worst last season, but they actually won fewer points than they did in 2018.
The fallout from the second bad season in a row fell on former head coach Jim Gabbera, who lost his job before the end of the season. Banini, for her part, was able to put a good product on the field when she was healthy. She played in 12 games in 2018, starting 11 of them, and she scored one goal. She took 16 shots, nine of which were on target. That level of production was emblematic of the Spirit's season in 2018. They scored just 12 goals all season.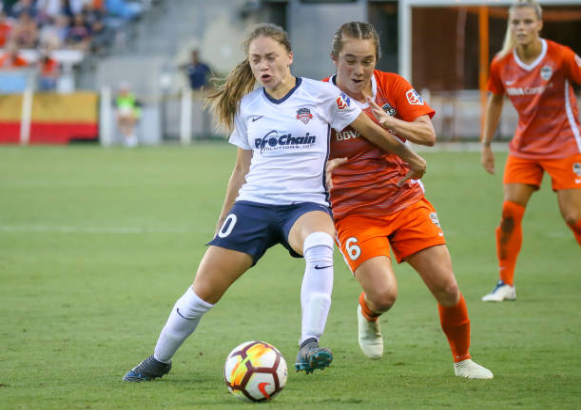 The Spirit are looking forward to more team chemistry in 2019. With a trade for defender Taylor Smith and forward Ashley Hatch happening during the offseason and the influx of talent, the Spirit never seemed to find their footing in 2018. Retaining talent is the best way to build chemistry, and hopefully, they can add a good coach to complement their creative talent.
Missing in a World Cup year
The Spirit, like every other team in the league, will struggle through the middle portion of the schedule without many of their premier players. In addition to Banini and Lavelle, Washington will likely be missing Rebecca Quinn with Canada and Francisca Ordega with Nigeria. That is still far fewer than many other teams will be missing come World Cup time. Hopefully, the 2019 season will be more fruitful than 2018 for the Spirit.