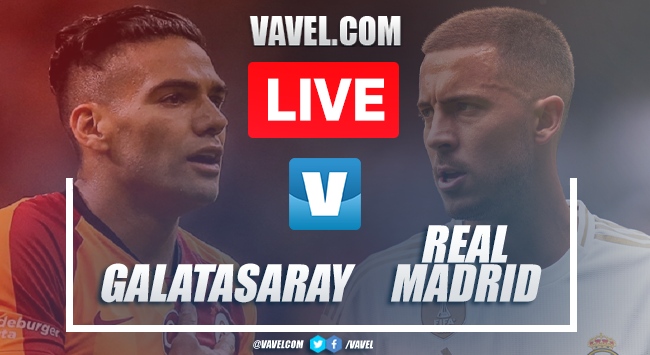 Final time
+4
89'
86'
83'
Substitution Real Madrid
79'
73'
71'
68'
66' | Substitution in Galatasaray
64'
60'
58'
57'
56'
52'
51'
46'
46' | Substitution in Galatasaray
Second Half Begins: Galatasaray 0-1 Real Madrid
Half-Time: Galatasaray 0-1 Real Madrid
45'
43'
39'
37'
33'
31'
27'
24'
22'
17' | Real Madrid GOOOOOAL!
14'
13'
11'
10'
9'
4'
1'
Kick Off | Galatasaray 0-0 Real Madrid
Ready for kick-off!
Everything ready at Istanbul!
Welcome to "Istanbul's Hell"!
Warm-up time!
Galatasaray not doing will in Europe
'Los Merengues' have arrived at the stadium!
Real Madrid: Starting XI
Galatasaray: Starting XI
Tonight's Officiating Team
Their most recent meeting in Istanbul
Group A standings before Matchday 3
Tonight's kits
Galatasaray is also set for action!
Our LIVE coverage begins!
A look at today's venue!
How to watch Galatasaray vs Real Madrid Live TV and Stream
Real Madrid : Last Champions League Lineup
Galatasaray: Last Champions League Lineup
Galatasaray's absences
Real Madrid's injury less is extensive
Galatasaray will put Real Madrid trough hell
Real Madrid is in serious trouble
Kick-Off Time