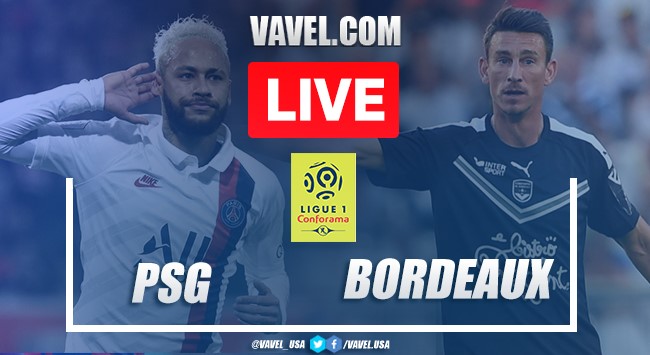 Praise all around for Cavani
Drama in Paris
Full Time| PSG 4 - 3 Bordeaux
90+1| RED CARD PSG
NO GOAL
VAR
88| GOALLLLLLLLLLLL PSG
84| Yellow Card
84'
83| GOALLLLLLLLLL BORDEAUX
80'
79'
77| Substitution
73' Substitution Bordeaux
73| Double Substitution PSG
73'
72'
71'
67| GOALLLLLLLLLL PSG
66'
65'
PSG Twitter is Delighted
63| Yellow Card
63| GOALLLLLLLLLLLL PSG
62'
60'
57'
55| Yellow Card
51'
51'
48'
47'
45 | Second Half Begins
Bordeaux Half Time Subsitution
Milestone for Cavani
2 Yellow Cards
200 for Cavani
Half Time| PSG 2-2 Bordeaux
45+6 | GOALLLLLLLLLLL Bordeaux
GOAL STANDS
VAR
45+2 | GOALLLLLLLLLL PSG
45+1' | Yellow Card
44'
42'
41'
39'
37'
34'
33'
30'
29'
28'
27'
25 | GOALLLLLLLLLL CAVANI!!!
22'
20'
17 | GOALLLLLLLLL BORDEAUX
17 | Substitution
16'
14'
14'
13'
11'
10'
9'
5'
3'
1'
0 | Kick Off!
PSG attackers warming up
Tennessee Titans Linebacker Jayon Brown in Attendance Tonight
Bordeaux's Full Team Warming Up
Bordeaux's Goalkeeper Entering the Pitch to Warm-Up
PSG Official Starting Line-up
Bordeaux Official Starting Line-up
Match History
PSG forward Edinson Cavani looks ready for tonight's match!
Bordeaux players are in the stadium and look ready for tonight's huge game!
PSG show support for China on their kit tonight.
Don't Move From Here
How to watch PSG vs Bordeaux Live TV and Stream
Bordeaux: Predicted Line-up
PSG: Predicted Line-up
Bordeaux: Team news
PSG: Team news
Watch the highlights from the last time meeting of these teams
Bordeaux needing a miracle in Paris
Neymar in-line for first Ligue 1 star since January for PSG.
Kick-off Time
Welcome to VAVEL.com's LIVE coverage of the 2020 Ligue 1 match: PSG vs Bordeaux!