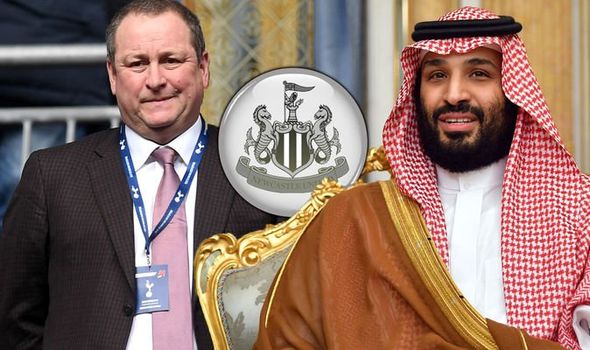 Any time a new ownership group comes in, they want to make a big splash and set the tone for their reign. And the Saudi Arabian consortium set to buy Newcastle United for £310 million will not be an exception.
The much maligned current Magpies owner, Mike Ashley, has tried to sell the team on several occasions. In fact, many on Tyneside have encouraged it. Some even begging for it. And finally, they have their wish granted.
But will the grass be greener on the other side? It's not guarantee, of course. But it certainly can be. That is to say, if the new owners act like Manchester City and not Everton, then they can restore the glory days of Newcastle.
Where do they start?
It has to start with a manager. The current City project began with installing Pep Guardiola as manager. And then they backed him with money to build his ideal squad piece by piece.
It sounds simple on paper. But plenty of clubs have spent tons of cash, yet gone nowhere after (see Everton's transfers the past few seasons).
Newcastle may not go after, let alone sign, a world class manager like Pep, although money will NOT be an issue. They need someone with a plan, an identity, and the cojones to stick to the plan. Even it it doesn't work out in the beginning.
Hell, City struggled to learn Pep's style of play and suffered from tons of mistakes in his first season. After that of course, they went on to become one of the greatest teams in Premier League history.
Newcastle must follow in City's footsteps and start with a manager. Steve Bruce likely won't stay beyond this year and even he knows it. So, who will fill the void?
Big names like former Spurs manager Mauricio Pochettino, former Juventus boss Max Allegri, and even former Newcastle manager Rafa Benitez are all in the running.
Pochettino reached a Champions League final. Allegri won Serie A every season he was at Juve. And Rafa has won the Champions League and Premier League, albeit not at St. James' Park, and got Newcastle promoted with virtually no money while constantly fighting with the Magpies front office about funds.
All the managers have their benefits and drawbacks. Expecting the new owners to go big, expect Pochettino to get the nod (although I don't think he should go to Newcastle, but that's a different discussion). Even Borussia Dortmund's Lucien Favre is reportedly in the running.
If Newcastle want to play an open, attacking, exciting style of play, look no further than Favre's Dortmund. They can't defend to save their lives, but boy are they fun to watch going forward, regularly scoring three and four times a match.
Hiring someone like Favre, most importantly, would signal the new owners' intent to overhaul the club and create their version of a new Newcastle, one with the negative, parking the bus attitude in the rear view mirror.
Building The Squad
The owners haven't even taken over and yet, the rumor mill is running at full capacity. Reports say PSG's Edinson Cavani is the main target to buy at striker. Not only is he a world class striker, but he's free when his contract expires at the end of this season.
After that, take your pick of rumors to believe or scoff at. And of course, it depends on who the manager is and his style of play as to whether any of these players will join the Magpies.
Kylian Mbappe would be the biggest splash ever and make fans go nuts. In a good way. Kyle Walker could reunite with Pochettino from their Tottenham days.
Antoine Griezmann's time at Barcelona has been nothing short of a bust and could move on, potentially to Newcastle who now have money. Chelsea's Willian will likely leave after this season and a move north the Newcastle wouldn't be far fetched.
Even more modest additions like Aston Villa's John McGinn or Burnley's youngster Dwight McNeill are still on the table.
Newcastle may have penny-pinched under Mike Ashley. But those days are a thing of the past with the new owners. Of course they'll want bang for their buck, but they won't have to check the price tag twice before heading to the register.
Without a manager and vision for their style of play in place, it's impossible at this point to guess who the club will buy. The one thing that won't stop them, though, is money. If Newcastle want someone bad enough, they'll get him.
You may be thinking, "But what about they players Newcastle have? Captain Jamaal Lascelles, the local boys Sean and Matty Longstaff, or even former MLS players DeAndre Yedlin and Miguel Almiron, you never mentioned any of them. What are they? Chopped liver?"
Actually. Yes. The new owners most likely won't toss out the entire first team. At least not in the first transfer window. However, like Steve Bruce, none of them are safe once the takeover happens.
Any new manager always brings in his own players. And sorry Newcastle fans, not many on the current squad will stay under Pochettino, Allegri, or many others.
Premier League's New Big 7?
Newcastle can spend all they want. They can have an amazing plan. But if they have a flawed plan, then they'll have flawed results.
What is certain, though, is that Newcastle can return to the glory days of (almost) winning the Premier League. They have the money to do it and Man City shows that any team can rise to the top if done right.
Since the Abu Dhabi takeover of City in 2008, they have won four of the club's First Division/Premier League titles. They've also won two FA Cups and five League Cups. And they won the first domestic treble in English history last season. However, the big one, the Champions League, has still evaded them.
Man City's ascendancy turned the Premier League's Big 4 into the Big 5. And under Pochettino, Spurs grew it to the Big 6. Newcastle have everything needed to increase it once again to the Big 7.
After several "fakeovers" of Newcastle United in recent seasons, it would be remiss of fans to blindly believe all the rumors and get too excited that they'll be the next Man City. Even being the next Everton, comfortably mid table every year, would be a step up and one the fans would likely accept.
Ultimately, will the £310 million purchase reinvigorate the sleeping giant that is Newcastle? Will it stiffen up the Premier League's best of the rest after Manchester City and Liverpool? Or will the takeover be an expensive, massive flop on Tyneside?
That is the billion dollar question. And yes, billion with a 'b'. A big, fat capital 'B'.