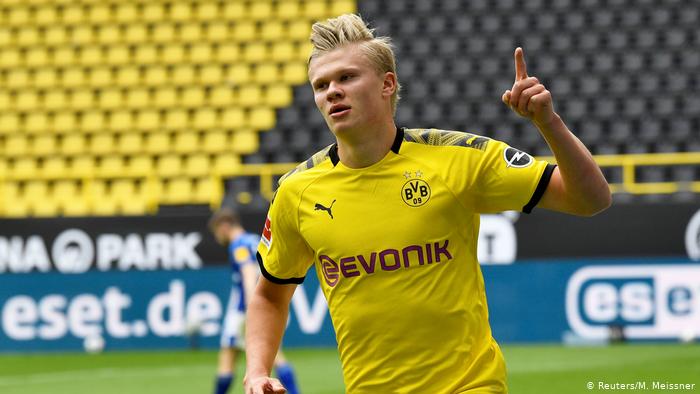 Soccer is back! The Germans are the first to restart their professional leagues and fans of the game couldn't be any happier. And Dortmund is especially happy after getting back on the right foot: they put four past the Schalke defense who had no chance in this game.
Dominating offense
Dortmund went on the attack as soon as the game started testing the Shalke defense the whole game. The plan in attack was to simply get the ball to Julian Brandt and he played the ball to the open attackers either Erling Haaland or Thorgen Hazard. They did this the whole game and never slowed down to give Schalke any time to regroup as all four goals were scored in transition. The Dortmund offense has been playing well the whole season scoring 72 goals in the league only Bayern have more.
Schalke looked out of tune and lacked match level fitness as Dortmund dominated in every aspect of the game. Salif Sane was back after a knee injury kept him out for months, and the Schlake youngsters just couldn't pull it together on either side of the field. Between the three Schalke attackers they had three shots all were on target but never really challenged the BVB goalkeeper Roman Burki.
Lack of fitness
Both squads were not at their best match fitness levels, there were times throughout the game where Schalke just didn't have the energy to chase down the ball to pressure the Dortmund players. Dortmund played better and passed the ball more so they didn't have to run as much but it was also evident that some players lacked match fitness as well. The shutdown has its side effects and this is just one of them and the fitness will only improve as the season continues.
Title Race
Currently Dortmund sit four points behind league leaders Bayern Munich with eight matches left to play. With how well this offense is playing they are keeping the pressure on Die Roten to get positive results. Dortmund play Wolfsburg next and after that game is Der Klassiker which is the game all Bundesliga fans look forward to every season. All events are leading to make this another classic match especially with how the Coronavirus has affected soccer. All eyes will be on this match and Dortmund have to get a win to prove that they are worthy of being crowned champions.