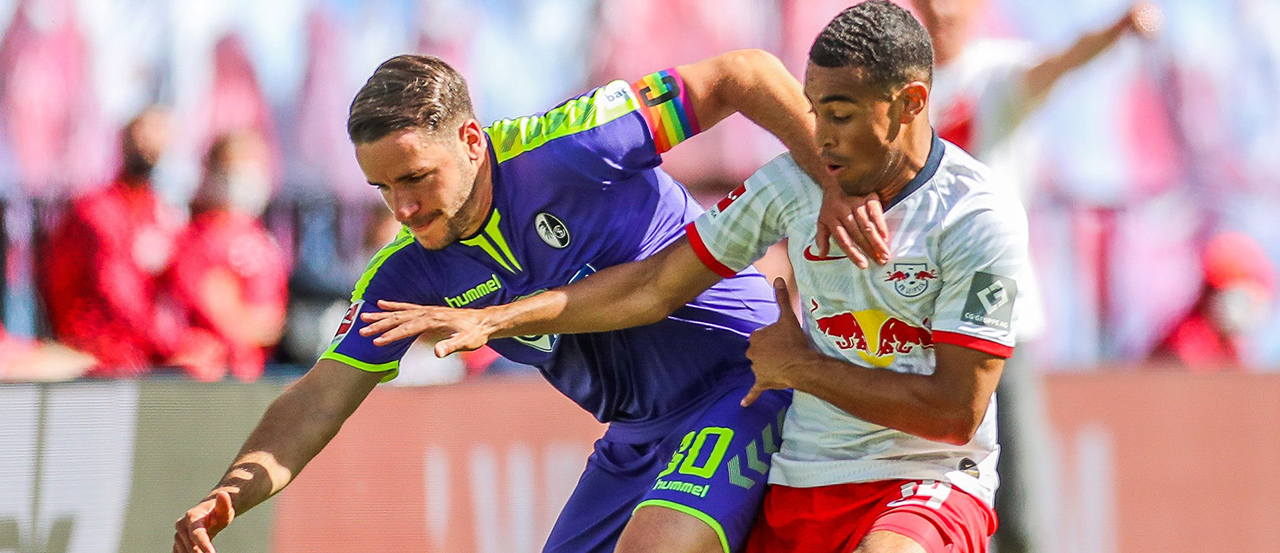 RB Leipzig's Tyler Adams says he feels "100%" safe playing in the Bundesliga upon its return from a two month Coronavirus stoppage. Earlier this week on Grant Wahl's new podcast "Futbol with Grant Wahl," the American midfielder went into detail about his experience after a few weeks of training and one game while lockdowns around the world are still taking place.
Adams Feels 100% Safe
"Do you feel safe as a player in these games?" Wahl asked point blank early on in the interview. And without hesitation, Adams responded. "Yeah. 100%. I think that not only what Germany has done outside of football, but now all the precautions that they're taking when the football is coming back. I mean, it's easy to see on TV with even people on the sidelines being a meter and a half away from each other. You have masks on. There's hand sanitizer things all over the stadium. There's so many little details that you have to follow and each player has gotten plenty of meetings to speed up your knowledge about what's going on."
He continued, "You know, there's still this sense of safety that has to be taking place, no matter if restaurants are open and what not again. Football is important that we have it back, but we're gonna do it in the safest way possible. There's no....[pause trying to find the word] sense of uncertainty within the football world in Germany, which is a great feeling. There's never been panic since Coronavirus has happened and I think that's why everyone is so calm with football returning now."
Different And Strange
On the first weekend with Bundesliga action back, Leipzig drew SC Freiburg 1-1 at home. Adams started as a right wingback, coming off after 68 minutes, and took two shots, neither on target, and had three tackles to his name.
Regarding the game, Wahl asked him what the strangest thing was about his experience. "The weirdest part was, I came off [against Freiburg] and I go to the bench and I'm just trying to grab water. And I have someone come over and say 'can you put your mask on, please?' Normally... I wasn't even thinking, I'm just trying to catch my breath and get a sip of water. And people are telling me to put my mask on."
Still, Adams understands the precautions, even if it does cause some inconvenience. "It's out of everyone's best interest," he added.
Strict Hygiene Protocol
Adams also discussed the Bundesliga's strict protocol for the league's restart. He explained how players are heavily discouraged from celebrating together and giving high fives. And after scoring, there is an emphasis on getting back to the center circle and kicking off again. "Whenever there's no need to touch each other, they [the DFL, the German Football League] don't want us touching each other" he said.
Even before Leipzig's first game back, Adams explained the new requirements for players and clubs. Once the league restart was announced, players have "been tested every two days....I want to say we've been tested almost five or six times" before the first matchday he detailed. "We also have to get tested...I think it's... two days before the matchday, with the results coming in the day before."
At Leipzig, they of course are taking the situation very seriously. At the training ground, Adams went through the new routine for players who now walk straight to their rooms with their training gear outside waiting. They get dressed, train, and go back to their own room to shower. Then, food is outside the door for them to take home.
"Basically, there was no time for sitting in the locker room, talking, joking around. It was basically all business. And that's what it should be during these periods of time" Adams said.
Leipzig's Slim Title Hopes
Adams and Leipzig are in fourth place, seven points behind league leaders Bayern Munich with eight games to play. If they have any hopes of winning their first Bundesliga title this year, they must pick up all three points Sunday when they travel to relegation battling Mainz.