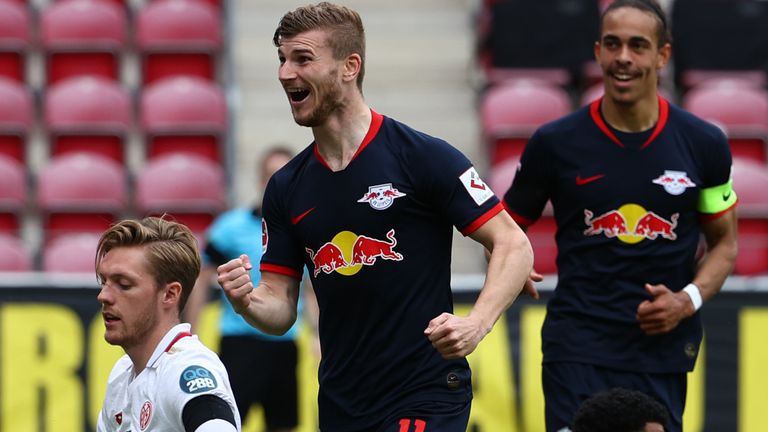 Timo Werner and RB Leipzig laid the smack down Sunday at Mainz with a 5-0 victory at the Opel Arena sending them back into the top four. But no story took over the game as much as the experimental crowd noise pumped in to the TV broadcast on FS1 and others, but not all, throughout the world. Without a doubt, it was a resounding success.
Wonderful Werner
Entering Sunday's match, striker Timo Werner hadn't scored for Leipzig in almost three months! Three months! In fairness, two of those months had no games due to the Coronavirus stoppage. Still, Werner had gone four straight matches without a goal and had only scored four in 12 games across all competitions in 2020.
Sunday, that pent up scoring energy exploded as he opened the scoring in the 11th minute and never looked back. Two second half goals made it a hat trick for the German, breaking both his duck and career high for Bundesliga goals in a season, now with 24 with seven games remaining.
Werner alone had eight shots, five of them on target, and three hit the back of the net. Quite the production and efficiency, and good enough for a perfect 10 rating on WhoScored. On top of that, his movement and combination with Poulsen was on display and at its peak.
Poulsen Powers Attack
Speaking of Poulsen he wasn't too shabby himself, scoring a 9.6 on WhoScored. The Dane was the unsung hero of Leipzig's attack on the day. For the first goal, he made a critical near post run to drag the defender out of position and shielded him, clearing the way for the cutback cross to find Werner, who slotted it home easily.
For the second, Poulsen rose above the defense and powered home a cross from Marcel Sabitzer to double the lead after 22 minutes. The Dane then returned in the favor in the 36th minute, gathering a rebound and centering it to Sabitzer who beautifully went upper 90.
Lastly, in 75th minute. Poulsen quickly took a free kick from behind the halfway line after spotting Werner making a run. Over the top came the pass, one bounce, and Werner volleyed it into the net, making it a hat trick of goal contributions for Poulsen with a critical hand in four of Leipzig's five.
Leipzig Finishing Returns
Like last week against Freiburg, Leipzig dominated the proceedings once again. Unlike last week, this time they were far more critical in front of goal. From WhoScored, the visitors tallied 20 shots with an astounding 10 of those on frame. And SofaScored recorded eight big chances for Leipzig. Count them, eight! And of those, three hit the back of the net.
Leipzig also completed an astonishing 90% of their passes and dominated in the air, winning slightly below 70% of their aerial duals. To add insult to injury, they took 13 shots from inside the box to round out their commanding performance.
Defensively, Leipzig kept the clean sheet and only allowed one unmemorable shot on target. But no one cares about defense. That stuff's boring.
If you want to nitpick, although you shouldn't, Poulsen should've had at least one more, shanking a sitter wide. Werner had a good shot blocked by Mainz keeper Florian Mueller. And Christopher Nkuku will have nightmares over a couple missed opportunities in front of net.
Still, Leipzig scored five, so it's pretty harsh to focus on the negative. They completely outclassed Mainz and were extremely clinical in front of net, improving on their previous outing. They may not be back in the title race yet, but Borussia Dortmund and Bayern Munich play each other Tuesday with Leipzig hosting Hertha Berlin Wednesday. Good results midweek could have them back in the hunt in no time.
Incredibly Successful Crowd Noise Enhances Broadcast
The big story of the game, especially from the fans' perspective, was the crowd noise pumped in to the TV broadcast. According to Fox Sport's Ian Joy, broadcasters have the option to play the crowd noise provided by the Bundesliga in the background during matches.
FS1 decided to use it. And what a wonderful decision it was. It made the viewing experience seem, for lack of a better word, normal. Thankfully and most importantly, it was not simply a constant crowd cheer or chant on repeat for 90 minutes either. That would've turned into a trance-like white noise.
Instead, the crowd noise had moans, groans, cheers, and jeers. Well, it was mainly moans, groans, and jeers as Mainz, the hosts, got blasted. The crowd noise reacted to the game as if fans really were in the stadium.
Fox Soccer's Alexi Lalas said it best on Twitter during the game, "This Bundesliga production, while not perfect, at least approximates look/sound of a "normal" game. So it now becomes the benchmark. Others leagues and sports that come online will have to live up to or improve on it. This is a competition and the compare/contrast continues."
On his podcast last week, The State Of The Union, Lalas compared games on TV without crowd noise to that of a "hard rock band playing an acoustic show." And he couldn't be more correct.
It was easy to forget there were no fans in attendance because the pumped in crowd noise reacted the action and what was happening. It felt real. It felt, again for lack of a better word, normal.
The NFL floated the idea recently of playing fake crowd noise should they also play behind closed doors this fall. Based on the Fox's showing of the Bundesliga, the NFL not only should, but will have to. It really was that much better.
The Bundesliga and Fox scored here, absolutely dunking on eerily quiet broadcasts in an empty, echoing stadium. From now on, every single behind closed door match, especially now with fans banned due to the Coronavirus situation, should have crowd noise pumped in.
Bravo, Fox and the Bundesliga. Bravo.