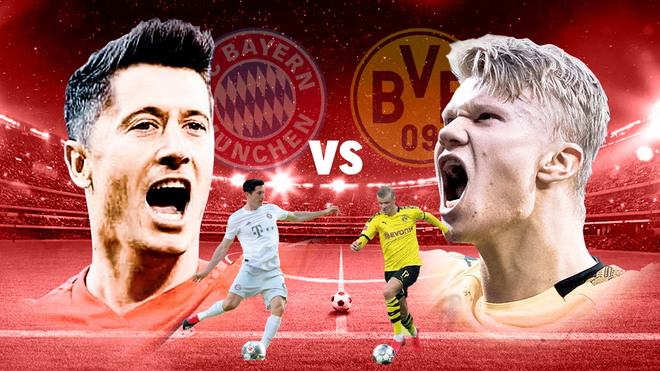 All eyes will be on the Bundesliga on Tuesday, when Borussia Dortmund face Bayern Munich, in a crucial game in the title race. The result of this game could determine who wins the Bundesliga. If Bayern Munich win, then they will extend their lead at the top of the table to seven points. However, if Borussia Dortmund win, then they will cut the gap to just one point and the title race will be blown wide open.
How will three points look for either team?
Borussia Dortmund head into this Klassiker match, knowing they must win, if they are to have any chance of stopping Bayern from winning their eighth title in a row. A Bayern Munich victory would crush Dortmund's title chances as they would extend their lead to seven points. If Bayern are to beat Dortmund, they would need four victories from six fixtures to win the Bundesliga, barring any more Dortmund slip-ups. However, a Dortmund victory would see the gap between first and second close to only one point. Even if Dortmund beat Bayern, they would still need help from another team in the league. Bayern are still to play fourth place Bayer Leverkusen and fifth place Borussia Mönchengladbach, who both were victorious against Munich earlier on in the season, with both games finishing 2-1.
Grandmaster vs Teen Prodigy
The Klassiker on Tuesday will be the first time Robert Lewandowski and Erling Haaland have faced one another. Both players have a natural eye for goal with Haaland netting a goal on average every 62 minutes this seasons and Lewandowski, every 82 minutes.
Haaland has played ten games in the Bundesliga for Dortmund, after signing in the January transfer window, and has only played the full 90 minutes on five occasions. However, this has not stopped him from scoring 10 goals and registering 2 assists. Lewandowski has started 25 games for Bayern this season and has 27 goals and 3 assists. The Pole has on average five shots per game, compared to his opposition, who has two per game. The Norwegian creates on average one chances per game, whereas, Lewandowski sets up on average, two chances per game.
Haaland has already demonstrated to the world his sheer speed and power running forward and this gives him the decisive edge over his opponents. On average this season, 30% of his goals are on the break, but only 4% of Lewandowski's goals come on the break. This is more than likely due to Bayern constantly being on the front foot and always applying pressure to teams. As Bayern always have the opposition defenders dropping deep, this is when Lewandowski comes into his area of expertise. His has five headed goals this season and has a natural ability of finding the tightest areas inside the opposition box. Lewandowski also has 16 goals against Dortmund in the league.
The Norwegian has a lot of catching up to do if he wants to have the numbers and honours Lewandowski possess, but in this Klassiker, Haaland has the chance to ring in a new era.
You can watch: "How Lewandowski and Haaland Compare" here:
Previous Meetings
The last two meetings in the league between the sides have an aggregate score of Bayern 9, Dortmund 0. The reverse fixture this season, saw a Lewandowski double and Jadon Sancho go off injured after 36 minutes, in a 4-0 win for Bayern. Bayern dominated proceedings, having 18 shots during the game and 5 on target; compare this to Dortmund who did not register a shot on target all game.
However, Der Klassiker at this stage last season had a similar meaning of significance in the title race. Dortmund sat in first place, two points ahead of Bayern in second. The match was described as the 'biggest in Europe this season' but Dortmund crumbled under the relentless pressure from Bayern and found themselves 4-0 down at half-time. Dortmund managed to prevent further damage in the second half until the 89th minute, when Lewandowski grabbed his second goal of the game. Bayern Munich would go on to win the title by two points.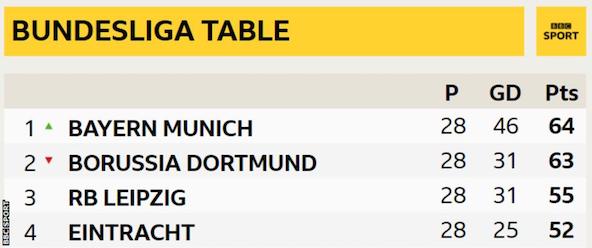 Team News
The biggest team news is surrounding Dortmund heading into this game. Their captain and former Bayern player, Mats Hummels, came off at half time due to an Achilles issue at the weekend during their 2-0 win against Wolfsburg. He was replaced by Emre Can, but it was clear Hummels leadership was missed in the second half as Wolfsburg continued to apply pressure to the shaky Dortmund defence. However, it is rumoured to just be a precaution and he is a possibility to return to the starting XI. Dortmund coach Lucien Favre spoke about Hummels' condition and "he will 99% be there".
Jadon Sancho has come off the bench in the last two games for BVB and in their last outing, his fantastic counter-attacking ability with the ball led to Dortmund scoring their second and ending any Wolfsburg hopes of a dramatic comeback. Many had predicted that Sancho would start against Wolfsburg but his battle to get back to match fitness, resulted him starting on the bench. This could be the first week we see Sancho in the starting XI since the Bundesliga resumed.
16 assists in 24 games 🎯

Jadon @Sanchooo10 is now BVB's single-season assist record holder 🌟 pic.twitter.com/AMhipHEsD6

— Borussia Dortmund (@BlackYellow) May 23, 2020
We could also see the return of Axel Witsel on Tuesday. The Belgium midfielder has been side-lined due to muscular problems. Lucien Favre claimed that Witsel "could be in the squad" after training with the team yesterday.
As for Bayern, their influential midfielder, Thiago, is still battling a muscular complaint. Thiago missed Bayern's 5-2 victory over Frankfurt at the weekend. Bayern manager, Hans Flick, has today confirmed that Thiago will miss tomorrow's all important derby game. Serge Gnabry should start this game on the wing, after beginning the Frankfurt game on the bench. Elsewhere, centre-back, Niklas Süle, is keen to be involved in the remainder of the season, after being injured since October with a knee problem. However, coach, Hans Flick, is very cautious and said "we don't want to rush anything".
🗣 Hansi #Flick with a squad update ahead of #BVBFCB: "@Thiago6 didn't train today. Unfortunately he is ruled out for this game. The final secret regarding the #FCBayern line-up, I'd like to keep to myself." pic.twitter.com/D3xt3PmARG

— FC Bayern English (@FCBayernEN) May 25, 2020
You do not want to miss this game!
You definitely do not want to miss this all important game tomorrow! Both teams will be going into the game and giving it their all, as the result of this game could well and truly decide the 2019/2020 Bundesliga title.
Table check 📊👀#BundesligaMD27 pic.twitter.com/4zX452TgRs

— Bundesliga English (@Bundesliga_EN) May 24, 2020