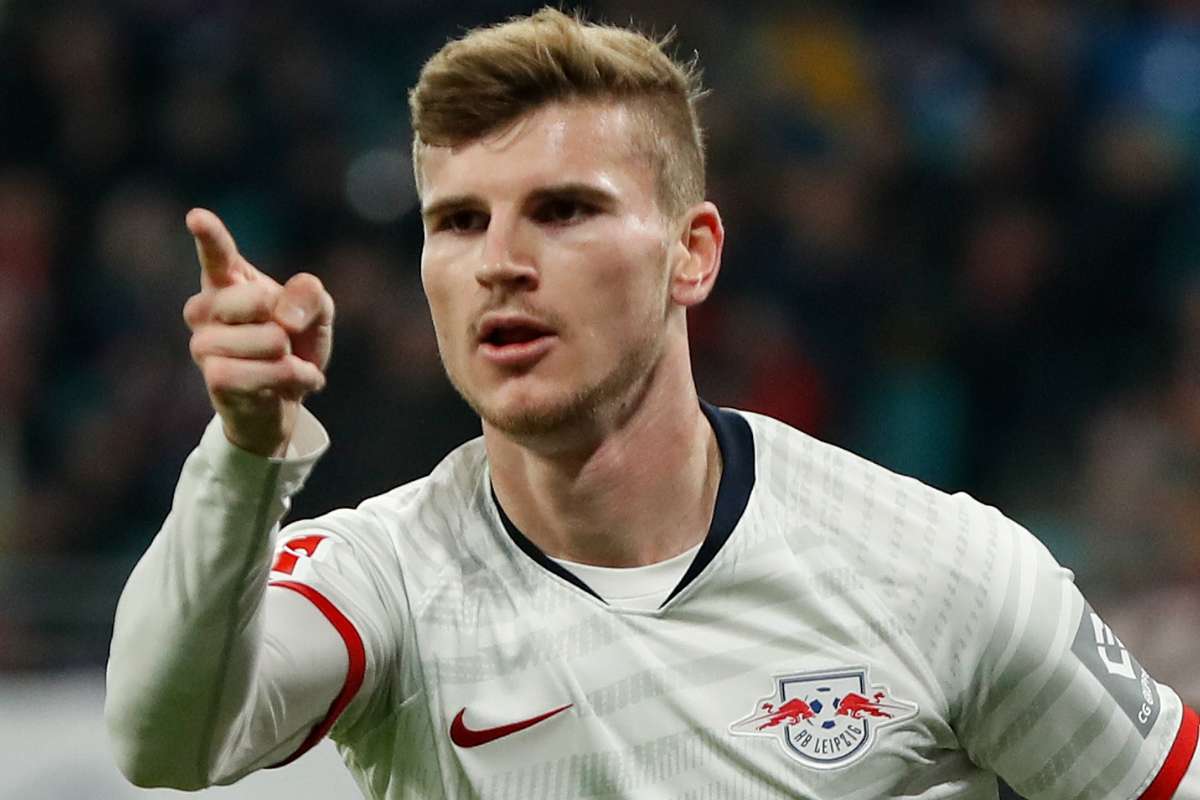 RB Leipzig striker Timo Werner has already seen his name linked to every club under the sun for a potential transfer. And now, his name is being compared to one of the best strikers in the world, Bayern Munich's Robert Lewandowski.
Werner VS Lewandowski In Words
In his prematch press conference Sunday, Leipzig's manager Julian Nagelsmann heaped a ton of praise on his potent goal scorer while addressing the transfer rumors.
"Of course you have conversations from time to time, but I have not spoken to him about that in the recent past," Nagelsmann said, with translation courtesy of Goal.
"I think [Werner] now has 32, 33, 34 goals and assists [this season]. I think you have to mention that I would like to keep him. That is an extraordinary quality."
"If he leaves for the next season there would be a big gap. It's like if Robert Lewandowski leaves Bayern Munich. Nobody shouts 'Hurray!' there either, I think. They're clearly weakened then, and it's the same with us."
"That we'd like to keep him is completely normal. He has an exit clause until a certain date - I honestly don't know when - and if a club comes along and he agrees with them by then, then that's the way it is."
Werner VS Lewandowski In Numbers
Robert Lewandowski is certainly one of the best strikers in the world and playing for one of the best clubs in the world. No one, including Nagelsmann, is saying Werner is on the same level or better. But when you look at the impact they have on their respective teams, Nagelsmann is 100% correct in his comparison, and that Werner's departure would leave a "big gap."
For Bayern, Lewandowski has scored 29 of their 80 goals, good for 36.3% well. And he's added three assists with four man of the match awards on WhoScored.
Werner is right behind him in both measures. He has 24 of Leipzig's 70 league goals on the season, good for 34.3% of them. He also has seven assists and nine man of the match awards according to WhoScored.
In total goal contributions for their respective teams, Lewandowski edges the German by one. But he's also played one more game.
Werner, though, has outperformed his rival in a few important attacking areas. According to SofaScore, Werner has created 12 big chances and averages 1.5 key passes a game. The Pole lags slightly behind in both categories with 11 big chances created and 1.1 key passes a game.
For the league leaders, Lewandowski has taken 100 shots in the Bundesliga this season and missed 22 big chances. At Leipzig, Werner has taken less shots, 84, but also has less big chances missed both in raw numbers, only 17, and as percentage of his shots, 20.2%.
Werner may not have the same production as Lewandoski, but he's not far behind. And in terms of importance to their respective teams, the two are neck and neck, with Werner arguably providing more for his team.
Werner Worth His Weight In Gold
Werner has a release clause of £49.4 million (€55 million, $61.1 million) and Leipzig managing director Oliver Minztlaff is holding firm to that number. "It won't get any cheaper," he told Sport Bild. "We will not sell a player below value if he is under contract for more than a year." And Werner is under that policy, with his contract good until 2023.
So, don't expect Werner to go anywhere at a cut price this summer. Liverpool, Bayern, or another club will have to pay that release clause and not a penny less.
"In general, we always have to ask the following question – can we replace a player if we sell him for less than his market value?" Mintzlaff added. "But, I only think about those things once I have the facts on the table."
Like all clubs right now losing out on revenue because of the Coronavirus, in the boardroom, Leipzig can't afford to sell Werner at a discount. On the field, they can't afford to sell him either and lose his goals.
The fact, supported by the numbers, is that Leipzig losing Werner would leave a big gap like Bayern losing Lewandoswki. Maybe even bigger.