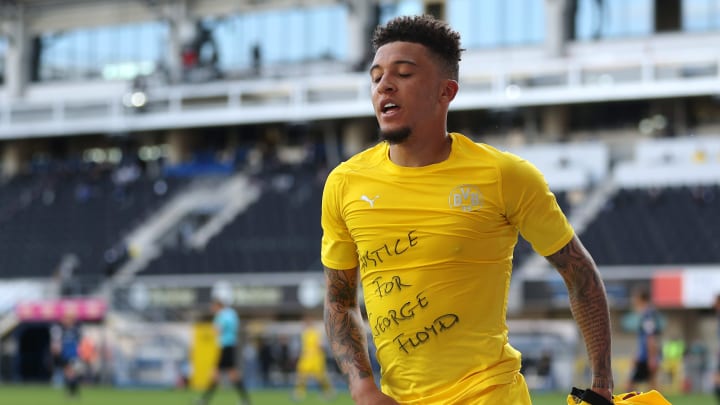 Borussia Dortmund rallied in the second half to score six goals in 45 minutes and the SC Paderborn defense did nothing to try and stop them. With an impressive 3 goals, Jadon Sancho now has 17 goals and 16 assists for the season.
The first goal came from Thorgen Hazard after Paderborn goalkeeper Leopold Zingerle deflected a cross from Emre Can back into the box and Hazard was there to clean up. SC Paderborn equalized after a penalty was awarded for a handball in the box by Can.
The second and third goals were scored by Sancho and it was just to easy from there on for Dortmund to break through the defense. Achraf Hakimi and Marcel Schmelzer scored before Sancho got the sixth goal and the third for a hat-trick but of course, he didn't score a Bundesliga hat-trick.
Dortmund needs to Improve Tactically
In the first 45 minutes of the game, Dortmund were slow to press up the field as SC Paderborn pressed them high up the field. This lead to Paderborn having a good number of shots from the counter-attack. As open as Paderborn were playing, they could've done more to score in the first half. But once the second half began the plan changed and made for an excellent second half.
Lucien Favre must learn to be more aggressive in his tactical set-ups regardless of the opponent. Paderborn could not keep up with BVB's pace and technical quality, but Favre's timidity is why BVB lost to Munich in the midweek game. In order to challenge Bayern for the title, they must come out swinging from the first whistle.
Sancho Must Lead Attack
Jadon Sancho makes his first start since the Bundesliga restart and contributes 3 goals. It was great to see the young Englishman back to form and score his first professional hat-trick. Sancho is now the fastest player to score 30 goals a record set by Kai Havertz.