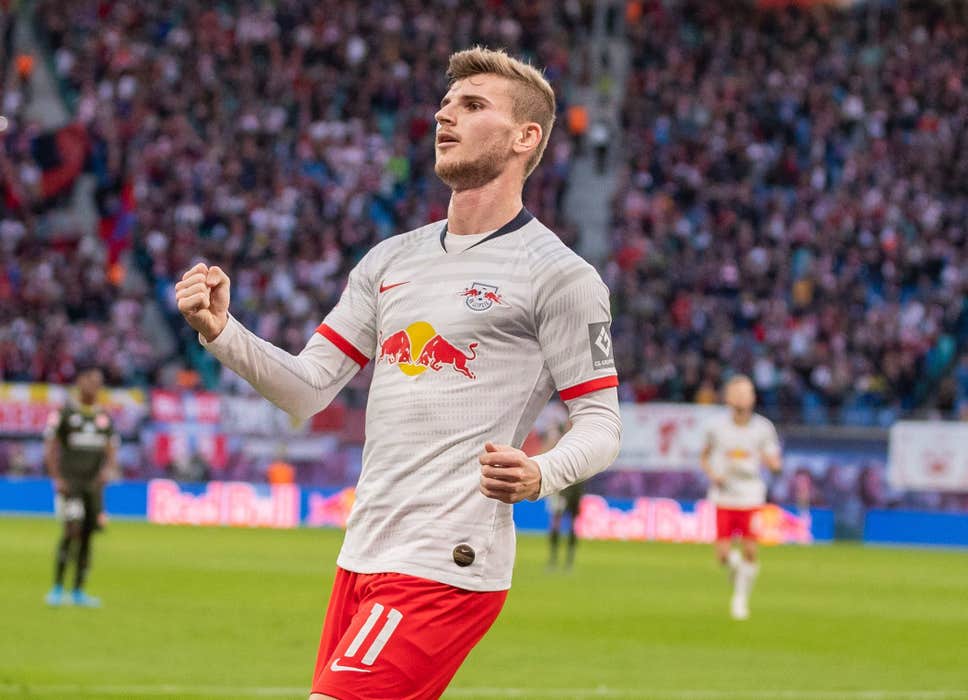 If the latest reports are true, RB Leipzig have agreed to sell striker Timo Werner to Chelsea for $62 million. The Blues won the race for the German by triggering his release clause according to ESPN, Sky Sports, NBC, Goal, The Telegraph, and Sport Bild. With that many outlets confirming it, more than likely, Werner will say 'auf widersehen' to Leipzig and 'hello' to west London this summer.
The Green Numbers
Leipzig's managing director Oliver Mintzlaff said recently they wouldn't sell Werner for anything less than his release clause. And Thursday, he got that price, and not a cent less.
The deal has not officially gone through yet. But, this seems like a major breakthrough in Werner's imminent exit from the Bundesliga side.
For the longest time, Liverpool were the frontrunners to buy Werner, with the Reds interested in him as a great fit for the club and playing style coupled with the player's reverence for and desire to play for manager Jurgen Klopp. However, Liverpool balked at Werner's release clause, which they deemed too expensive, especially at a time with depressed revenues due to the Coronavirus situation.
As for Werner, Chelsea have offered him a contract worth £200,000 a week. In dollars per year, he'll pull in almost $11.5 million, which would make him by far the highest paid player at the club.
The Black And White Numbers
Last week, Leipzig's manager Julian Nagelsmann said potentially losing Werner would create a "big gap," even equating his loss to Bayern Munich losing star striker Robert Lewandowski. In almost four full seasons with Leipzig, Werner has 92 goals and 39 assists in 154 games, amounting to .85 goal contributions per game.
This year, though, has by far been his most prolific. Werner, 24, is a goal scoring machine, having scored 31 across all competitions this year. In the Bundesliga alone, he rippled the net 25 times, only four behind league leader Lewandowski.
But, he's not just a goal scorer, also creating for his teammates as a free roaming second striker. The German has nine assists in all comps, seven in the league, created 12 big chances, and averaged 1.4 key passes a game according to SofaScore.
In goals per 90 minutes this year, Werner is second in the Bundesliga, to Robert Lewandowski, with a rate of .94 goals per match according to FBRef. If he were in the Premier League, he'd be second only to Manchester City's Sergio Aguero.
In terms of Bundesliga goals and assists per 90, Werner averages 1.21 per 90, only trailing Borussia Dortmund's Jadon Sancho. If he were in the Premier League this year, he would again be second. But, only .01 behind Aguero. For all intents and purposes, he's tied with Aguero for first in that category.
If Chelsea and Leipzig have indeed agreed to Werner's transfer, the Blues are getting a top quality, dare I say world class striker. At the same time, Leipzig are losing their best and most important player. Perhaps Nagelsmann understated the "big gap" due to Werner's loss.
Replacing Werner Won't Be Easy
As a second striker, Werner loves to drift out wide, usually left, playing off a central striker who occupies the center backs. And because of it, he finds himself in great positions to both provide for teammates and score in bunches.
Werner is lightning quick and brilliant on counter attacks, never more evident than when he broke free against Cologne on Monday flying past defenders, got on the end of an outlet from keeper Peter Gulacsi, found himself 1v1 with the keeper, and cooly slotted home.
Currently, Leipzig are without striker Yussuf Poulsen due to injury, although it's a short term injury. On-loan striker Patrik Schick likely won't stay at the club next year. And now Werner is all but out the door. Talk about a wild situation at forward for the club.
Leipzig will have a tough task to replace both Werner and find a big, hold up type of Number 9 striker to come in for Schick. $62 million is a huge war chest for the upcoming transfer market, however, other clubs know they have that type of money and won't budge easily when it comes to prices.
Is a move for Kai Havertz (21 years old this month), another Bundesliga second striker currently with Bayer Leverkusen, a possibility? What about Atalanta's Duvan Zapata (29) as a big, strong, fast central striker? These aren't 'confirmed' rumors, just pure speculation on transfers. And pretty expensive transfers at that, $89.1 million and $39.6 million respectively according to Transfermarkt.
Or will Leipzig go for value with less known players like Gent's Canadian forward Jonathan David (20), valued at $24.75 million?
Leipzig have a nice big pile of cash thanks to buying Werner from Stuttgart, developing him, putting him a situation to succeed, and now selling him to Chelsea for a massive profit. Now, it's time to rinse and repeat with his replacement.