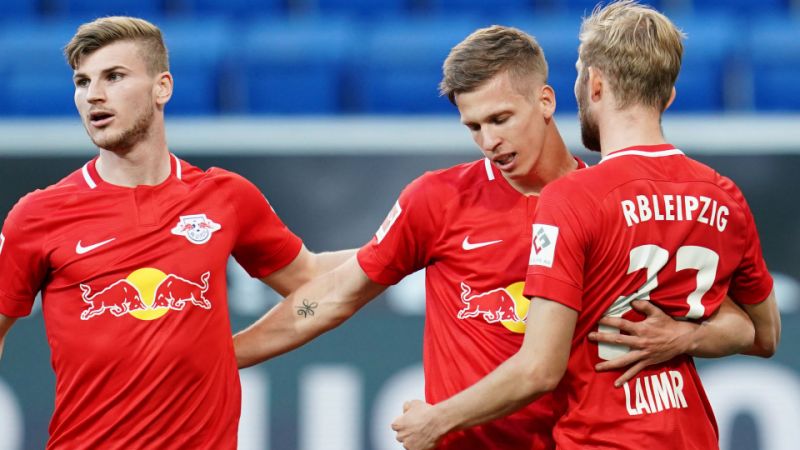 Blink and you missed both goals. Stroll in a few minutes late and you missed all the important moments. RB Leipzig traveled to Hoffenheim Friday night and ran out 2-0 winners thanks to two quick goals in succession from Spanish attacker Dani Olmo and some VAR intervention. Not necessarily in that order.
Olmo El Héroe In Action Packed First Half
The game got off to a bang as Hoffenheim went pedal to the medal dominating the opening exchanges. And if Leipzig weren't on their heels enough after facing multiple shots in the first few minutes, goalkeeper Peter Gulacsi added fuel to fire.
A wicked deflection put Hoffenheim's Munas Dabbor in on goal behind the defense and Gulacsi came flying out, only to cut Dabbor's legs out from under him. Clear penalty and yellow card with no real argument.
But then, VAR stepped in for a period so long it seemed like we were back on another Coronavirus stoppage. Was Dabbor offside? Was the deflection off forward Christoph Baumgartner a handball?
Eventually, the VAR adjudged a handball on Baumgartner, no penalty for Dabbor to take, and no yellow card for the Leipzig keeper. Big exhale of relief for the visitors.
Less than 60 second later, Leipzig gained possession in the middle of the park and went on the break. Right back Nordi Mukiele attacked down the flank before he centered it for Olmo crashing into the box. The Spaniard avoided one defender and toe poked it to the bottom corner for the opener.
What a wild swing. From getting dominated and conceding a penalty in the opening five minutes to on top 1-0 by the ninth.
Two minutes later, Angeliño sent a cross field long ball to the byline. Marcel Sabitzer chased it down and headed it back towards the center of the box. Olmo crashed the box once again and this time blasted it with his right foot into the same bottom right corner of the net for a brace and a 2-0 Leipzig lead.
The game flipped in the blink of an eye thanks to the heroics and insticts of Olmo. Hoffenheim stunned in a bad way. Leipzig stunned in a good way.
Even Game
Even though Leipzig had a two-goal advantage at the half and won by the same margin, it was an even game. And quite possibly, you could say Hoffenheim were the better team on the night, controlling large stretches of the game.
The hosts outshot Leipzig 14 to five (SofaScore) in the first half. The difference, though, is that Hoffenheim only put one on target. In the second stanza, Leipzig did come to life a bit more with five shots on target compared to two in the first half. Plus, substitute Christopher Nkuku rattled the post with a shot in stoppage time. Ultimately, Leipzig couldn't add another and the game was a stalemate in most ways.
In total, Hoffenheim had one less shot on target, six to seven, but more shots from inside the box, 13 to 12. Each team created and missed two big chances. Both sides hit the woodwork once. They had roughly the same passing accuracy, 75% to 74% in favor of the hosts. And they split possession evenly 50/50.
It was just those two moments of creative magic that gave Leipzig the three points. Hoffenheim certainly deserved more than what they got.
Werner's Mind Elswhere?
Not trying to speculate too much, but does Timo Werner have transferitis? It's like senioritis, but instead of slacking off the final few weeks because you're about to graduate, you slack off a bit because you've already agreed to a transfer.
Despite a 7.3 rating on SofaScore and 7.63 on WhoScored, Werner did not appear his usual self in this match, especially the first half. Only 15 touches in the opening stanza and just before halftime, he missed a wide open chance 1v1 with the keeper. He tried to go upper 90 and failed miserably, shooting a million miles too high.
The German lost possession 16 times and only completed 58% of his passes during the 90 (SofaScore). In the second half, he did have an assist chopped off because of offside. And later, he fired a shot from a very tight angle straight at the keeper. So, kudos for improving after the break. But, he had a horrid start to the game and maybe manager Julian Nagelsmann had a very loud word for him in the locker room during intermission.
Champions League Pursuit
With the win, RB Leipzig remain firmly in third place on 62 points with three games remaining. With games against relegation battling Fortuna Dusseldorf, second-place Borussia Dortmund, and mid table Augsburg remaining, Leipzig look destined for another season in Champions League.