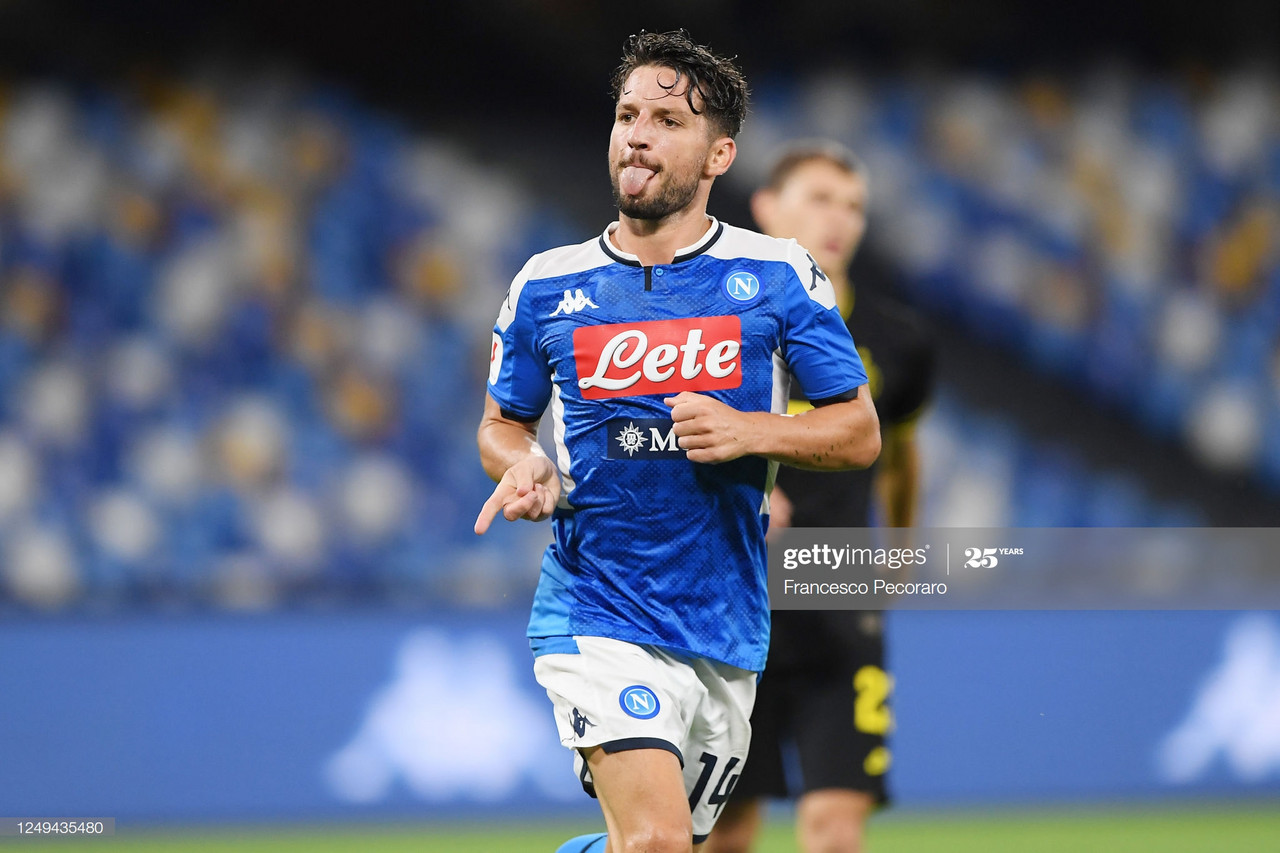 It is the third match in Italian football since the three-month temporary postponement due to the Coronavirus. The final is contested between Napoli and Juventus and it will be played at the Stadio Olimpico, the home stadium of Roma and Lazio. Napoli will be aiming to lift their sixth Coppa Italia trophy, whilst Juventus are aiming for their fourteenth Coppa Italia. Juventus have won the trophy four out of the previous five seasons, with Lazio breaking their remarkable run last season, as they were crowned champions.
🎙️ @Lor_Insigne: "We really wanted to reach the final for #Gattuso"
👉 https://t.co/VUc2iKaBEX
⚽️ #NapoliInter

💙 #ForzaNapoliSempre pic.twitter.com/5IQMGZ1j7k

— Official SSC Napoli (@en_sscnapoli) June 13, 2020
Semi-Finals
It was both sides first match back, since the stoppage and some players were able to get back into the swing of things better than others. Napoli were 1-0 up, going into the second-leg of the semi-finals on Saturday against Inter Milan but they found themselves 1-0 down after two minutes, following a Christian Eriksen goal, directly from a corner. However, Dries Mertens, fired Napoli level and ahead on aggregate in the 41st minute, following a great run and pass by Lorenzo Insigne. Mertens's goal saw him become Napoli's all-time leading goalscorer with 122 goals; he overtook previous record holder, Marek Hamsik (121 goals). Napoli managed to hang on and when the full-time whistle sounded, they had reached their first Coppa Italia final since 2014; this was also the last time they won the cup.
👑 @dries_mertens14: the record goalscorer in SSC Napoli's history!
1️⃣2️⃣2️⃣⚽️
💙 #ForzaNapoliSemprepic.twitter.com/lt7mNxYzBQ

— Official SSC Napoli (@en_sscnapoli) June 15, 2020
Juventus were tied 1-1, with AC Milan, going into the second-leg of their Coppa Italia semi-final. Douglas Costa almost gave Juventus the lead in the first minute, but his shot went agonisingly wide of the post. In the thirteenth minute, Juventus were awarded a penalty, following the slightest of handballs from Milan defender, Andrea Conti. Only one man was going to take the penalty for Juve, Cristiano Ronaldo, but he fired his penalty onto the post. The drama did not stop there, as six seconds later, Ante Rebic was shown a straight red for AC Milan, following a crazy high tackle on captain, Bonucci. The intensity between the players continued for the rest of the match, but Milan were unable to find the back of the net, and Juventus booked their place in the final on the away goals rule.
Maurizio Sarri
Current Juventus manager Maurizio Sarri, will face his former club Napoli on Wednesday. Sarri was the head coach of Napoli between 2015-2018 and although he did not win any trophies during this time, many saw his time in Naples as a success. His performances saw him become the Chelsea manager, where he went undefeated in the Europa League and was crowed champions at the end; however, after only one season in London he moved back to Italy to become the manager of Juventus. This will be only the second time Sarri has faced his formed club Napoli and he will be hoping it will end in his favour this time around. Napoli beat Juventus 2-1 in the second meeting between the sides this season. Sarri will be aiming to claim his first major trohpy in Italian football.
Road to Final
Round of 16
Napoli 2-0 Perugia
Juventus 4-0 Udinese
Quarter-Final
Napoli 1-0 Lazio
Juventus 3-1 Roma
Semi-Final
Napoli vs Inter Milan (1-0 / 1-1) (2-1 aggregate)
Juventus vs AC Milan (1-1 / 0-0) (1-1 aggregate – Juventus won on away goals rule)
Every time the path is different, but we aim towards the same thrilling finale 🏆🇮🇹#CoppaItaliaCocaCola Final | THE PREVIEW pic.twitter.com/qmp1bUMr9t

— JuventusFC (@juventusfcen) June 15, 2020
Only one Coppa Italia Final meeting between the sides
This will be only the second time Napoli and Juventus have met in the Coppa Italia Final. The last time the two sides met was in 2011/2012. It was a feisty affair that saw six yellow cards between the sides and a red card for Juventus. Napoli beat Juventus 2-0, courtesy of goals from Edison Cavani and Marek Hamsik. It was Napoli's fourth Coppa Italia trophy at the time.
There is a 24-point gap between the two finalists in Serie A, as Napoli have underperformed in Serie A this season, currently sitting in sixth place and a long way off a Champions League spot. Meanwhile, Juventus sit at the top of the table but are closely followed by Lazio who are only a point behind them. However, Napoli have performed much better in the Coppa Italia this season, considering they have been knocked-out at the quarter-finals stage for three out of the previous five occasions. Juventus will be hoping to last year's, miserable quarter-final exit behind them and claim their fifth title in six years.