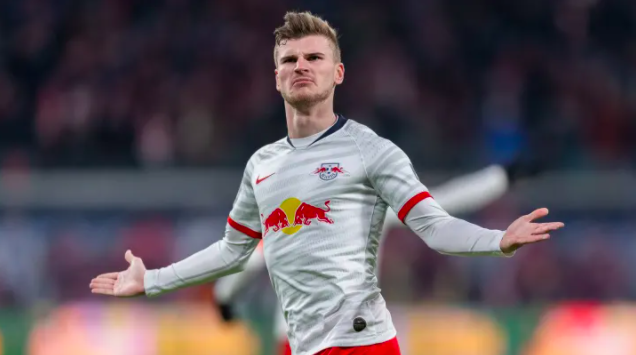 "Is the biggest game in Leipzig club history taking place without the biggest scorer in club history?" wrote Bild on Monday. The game they referred to is the Champions League Quarterfinal scheduled for August in Lisbon, Portugal. The opponent yet unknown. The player referred to is Timo Werner.
And the answer to the tantalizing question is, unfortunately for RB Leipzig, "yes."
Werner Quits On His Team
"Timo Werner (24/92 goals in 156 competitive games) should no longer be in the RB squad in the Champions League, which is to be played in the summer after the leagues ended, but instead to his future club FC Chelsea switch," Bild reported (Pardon the rough Google Translate).
Bild's Christian Falk confirmed the news on Twitter, in English thankfully, saying Werner "waives" those games with the club.
Leipzig will play their final Bundesliga game Saturday June, 27th against Augsburg and that will be it for Werner with the German side. With his transfer to Chelsea already secured, Werner has essentially quit on Leipzig. Come July 1st, he plays for Chelsea, even though Leipzig's season will continue on in Europe.
"Cui bono?" - Who Benefits?
You can explain this decision 1,000 different ways. Werner wants to avoid any potential injury before making his big-money move. Remember, he hasn't performed a medical yet, because he can't go to England nor can Chelsea's medical staff go to Germany because of Coronavirus travel restrictions.
His transfer has not officially happened. An injury in August after a month off between the end of the Bundesliga and resumption of the Champions League could derail his new contract with the Blues.
Chelsea also could have asked both the German and the German club for this. For all intents and purposes, Werner now belongs to Chelsea and $62 million is a truckload of money to spend and let someone else control.
Who knows, maybe Leipzig have chosen this as they want to make sure nothing happens so they get the $62 million this summer. That one seems the most unlikely though because throwing your player under the bus publicly is a great way to ensure no new players ever sign for your club in the future.
Whatever the reason, all parties have an incentive for Werner to skip the Champions League.
For Leipzig, though, an eight-team knockout at a neutral ground presents an incredible opportunity to become kings of Europe. Even more incredible, this is their first time playing in the competition's knockout rounds. And Werner would have exponentially increased their chances of winning Europe's premier club competition.
Without him, though, their chances just diminished greatly.
Has He Already Played His Last Game?
Bild asked whether Leipzig will play the biggest game in club history without Werner. But now, the question is whether Werner has played his final game for the club in general. Will, or should, manager Julian Nagelsmann bench him?
Werner showed clear signs he already checked out of Leipzig mentally. Werner has averaged a 7.55 on SofaScore in the Bundesliga this year. But in the first game after the transfer news broke, against last place Paderborn, he earned only a 7.4.
The next game, last weekend at Hoffenheim, he played worse with a 7.3. He missed a 1v1 sitter at the end of the first half, completed only 58% of his passes, and lost possession 16 times.
Werner has shown he's already mentally checked out. He put his two weeks' notice in and he's off to London.
So, if he quit on the team, is worried about an injury, isn't focused mentally, and has seen a decline in performance, it almost seems better for Nagelsmann to drop him.
Leipzig are comfortable third in the league and will almost certainly qualify for the Champions League again. They have a five-point cushion between them and fourth place Bayer Leverkusen. And they only have relegation battling Fortuna Dusseldorf and midtable Augsburg left on the schedule, with second-place Borussia Dortmund sandwiched in between.
Do they really need Werner for the last few games? Probably not. Especially if he's already out to lunch for fish and chips.
Werner may very well have played his last game for Leipzig.