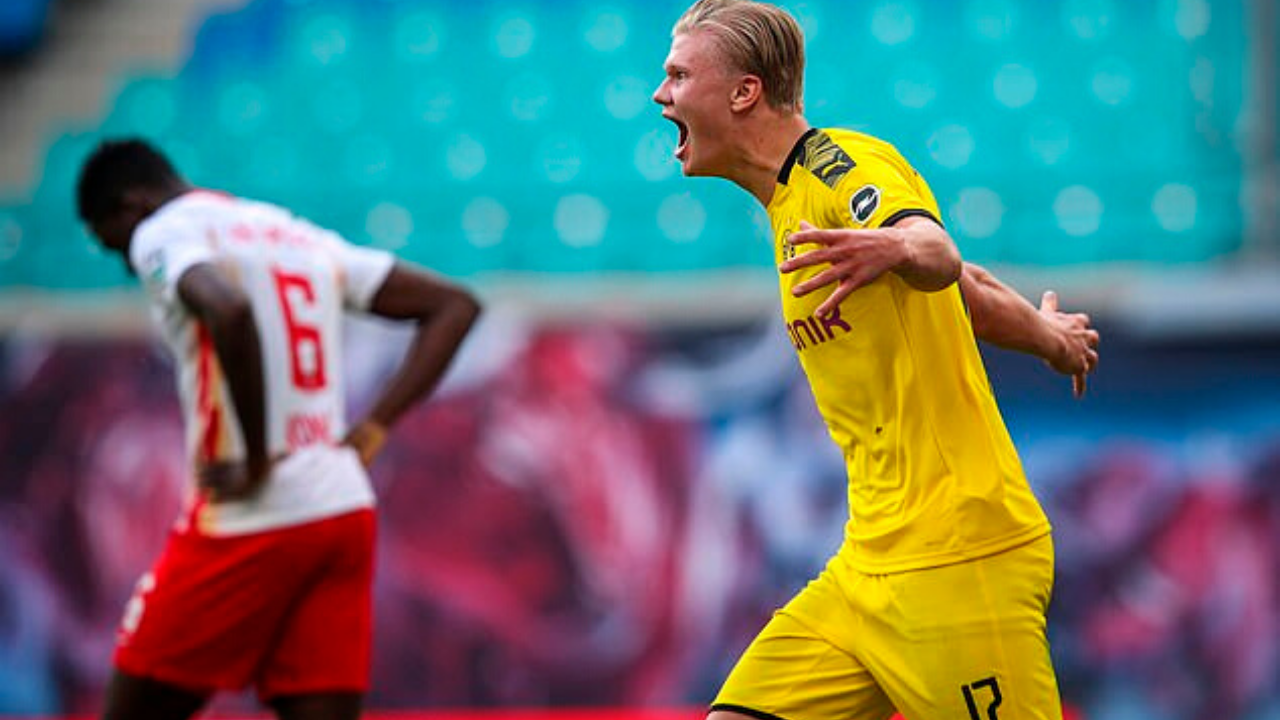 RB Leipzig easily lost 2-0 to Borussia Dortmund Saturday thanks to an Erling Haaland brace for the visitors. With the loss, Leipzig cannot finish higher than third in the table and have yet to fully confirm their place in next year's Champions League.
Un-Leipzig-Like Poor Performance
Normally a pedal to the metal type of team, Leipzig came out and sat back during the first half, trying to hit Dortmund on the counter. But in so doing, Dortmund had all the better chances on goal, including three in a five minute span with two from Haaland and one from Thorgan Hazard. Throughout the half, Dortmund peppered Peter Gulacsi's goal with Leipzig offering little in attack or on the counter.
Leipzig were bending for a half hour. And then finally they broke. Julian Brandt got free down the right hand side and crossed it for American Gio Reyna who crashed the box centrally.
He took the pass and with one touch laid it off for the nearby Haaland who cooly slotted it home. 1-0 Dortmund.
In the second half, Dortmund began to sit back a bit and preserve the lead. However, Leipzig didn't take advantage of it. Julian Nagelsmann's side were slow in their build up and passing. They continued to play with no pace and never really threatened goal.
On paper, they recorded four shots on target. But only one really tested Dortmund's Roman Burki in net. The others all meekly rolled or floated to the Dortmund shot stopper to easily scoop up or catch.
In the third minute of stoppage time, substitute Jadon Sancho sent a ball towards the right corner flag to waste time. Brandt ran on to it again and instead of sitting near the flag, he turned and attacked toward goal.
He sent in another low cross across the face of goal with Haaland making a far post run. None of Leipzig's defenders tracked him, with only midfielder Amadou Haidara trying to catch up.
Haaland slid and tapped the ball in for the insurance goal to secure the win and second place in the league. But for Leipzig, Champions League qualification will have to wait for next year, the final game of the year.
Lifeless, Lazy, Lethargic
For the first time at home this year in the Bundesliga, Leipzig didn't score. On top of that, they failed to win at home for the fifth time since the league restart. And that only includes five games.
SofaScore gave right wingback Nordi Mukiele the highest rating for Leizpzig at 7.4. Gulacsi was Leipzig's second best performer on the day, standing tall with five saves trying to protect his net. Too bad none of his defenders did the same.
Timo Werner played 75 minutes, but anonymously again following the announcement of his transfer to Chelsea. He tallied only one meager shot on target and no other shots in total. He made only one key pass, didn't complete either of his two crosses, and lost possession 11 times.
For Leipzig, his move to Chelsea can't come soon enough if he's mentally checked out, as appears to be the case.
Except for Gulacsi, everyone in home white looked lazy, lethargic, and lifeless.
Last Chance For Top Four
RB Leipzig will have to wait until next week's final game of the season, away to mid table Augsburg, to confirm a place in next year's Champions League.
They hold a one point lead over Borussia Monchengladbach and a three point lead over Bayer Leverkusen. The chances Leipzig don't qualify are virtually zero as Leverkusen would have to erase a 27 goal difference deficit in just 90 minutes. The only other way is if the Leipzig bus gets struck by lighting twice on the way to Augsburg.
Leipzig put in a massively disappointing performance Saturday. Luckily, though, they should still accomplish their preseason goal of finishing in the top four.