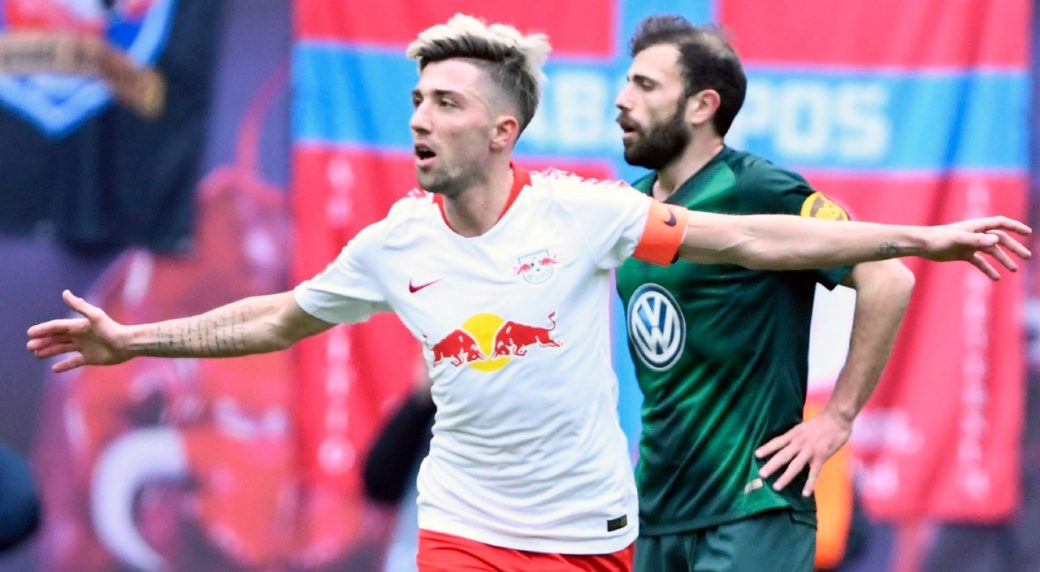 RB Leipzig's Kevin Kampl, 29, extended his contract with the German club to 2023, according to Yahoo. The Slovenia international has missed a majority of this season through injury, but remains an important part of the club's future plans.
Kampl Key Figure For Leipzig
"I'm really pleased about my contract extension. My family and I feel right at home here and Leipzig has become a second home to us," Kampl said in a statement.
"Despite my injury, the club made it clear that they would like to keep me for the coming years and I think I've paid back their support since my return."
"I'm excited for the future, there's a lot we want to achieve and I want to play my part as an experienced man in a young and talented team."
The midfielder has only featured in 10 Bundesliga games this year due to recurring ankle injuries, compared to the 25+ he played in the previous two years.
Kampl can play in any midfield position, but excels in a more attack-minded role. He is a good passer of the ball and links play well, a key facet of Leipzig's fast paced style of play. Come next year, and hopefully healthy, Kampl looks to be a key figure in Leipzig's plans.
"Kevin is one of the real leaders in our team, both on and off the pitch," Leipzig's Sporting Director Markus Krosche said.
"He has shown since returning from his long-term injury how important he is for us and how he embodies the way we want to play football."
"We're really happy that he has extended his contract early for a further two years and that we've managed to secure enough key player's future here."
Bundesliga Final Match Day
Kampl and RB Leipzig will play their final Bundesliga game of the season Saturday against Augsburg. Currently the club sit third on 63 points with Champions League qualification all but secured.
The only way Leipzig doesn't qualify is if they lose AND Kampl's former club Bayer Leverkusen beat Mainz by 27 or more.
Suffice it to say, Leipzig will play in Europe's elite club competition next year with Kampl a central figure.