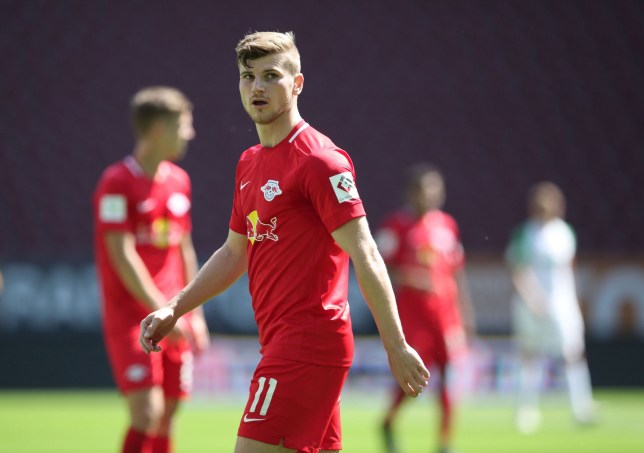 Timo Werner fired home both of RB Leipzig's goals in their 2-1 win over Augsburg Saturday in the Bundesliga's final matchday. It was a perfect send off for the German in his final game with the club, earning both Man Of The Match honors and becoming Leipzig's all time leading scorer.
Leaving Leipzig A Legend
In the 28th minute, Werner timed his run well off the back shoulder of the defenders and Amadou Haidara played an inch perfect pass to him. The future Chelsea man sprinted into the box, rounded the keeper and slotted home.
His 27th Bundesliga goal this season and 94th overall saw him surpass Daniel Frahn - who only played in the lower divisions with the club - as the all time leading scorer for Leipzig. More impressively, he did it in only four seasons, putting him down as arguably the club's first legend.
But, Werner didn't stop there. Just as he did for the first one, his second goal came from using his speed to get in behind the defense, only this time the ball came over the top with the defense scrambling back once again.
From a tight angle on the right side of the box, Werner expertly found the bottom left corner. And VAR's assist was just as important as Angeliño's for his 28th this year and 95th overall.
In his final match with the club, Werner had the perfect farewell, earning an 8.3 on SofaScore with more than just the two goals. He had two shots stopped in the first 10 minutes, one by the offside flag and another blocked. And just before the end of the first half, he teed up Dani Olmo as well with one of his two key passes.
In the end, Werner gave Leipzig a parting gift, cementing them in third place, qualifying for next year's Champions League.
Nagelsmann Success And Building On It
Manager Julian Nagelsmann came to RB Leipzig at the beginning of the season after three and a half years at Hoffenheim. Frequently compared to Jose Mourinho and dubbed "Baby Mourinho," the 32 year old's counter attacking style with some added pizazz has certainly worked at Leipzig.
Leipzig finished with 66 points, just one shy of their Bundesliga record points tally from 2016-17. The squad also shattered their previous record for Bundesliga goals in a season, 66, with 81 this campaign.
Leipzig still have the Champions League quarterfinals, and possibly more, to compete for in August. But even now, this season has already been a resounding success, despite the shaky end to the season after the Coronavirus stoppage.
Nagelsmann will have a tough task again next year trying to dethrone Bayern Munich, and hopefully not falling off after the first half of the season.
Nagelsmann and Leipzig both have a bright future to look forward to.