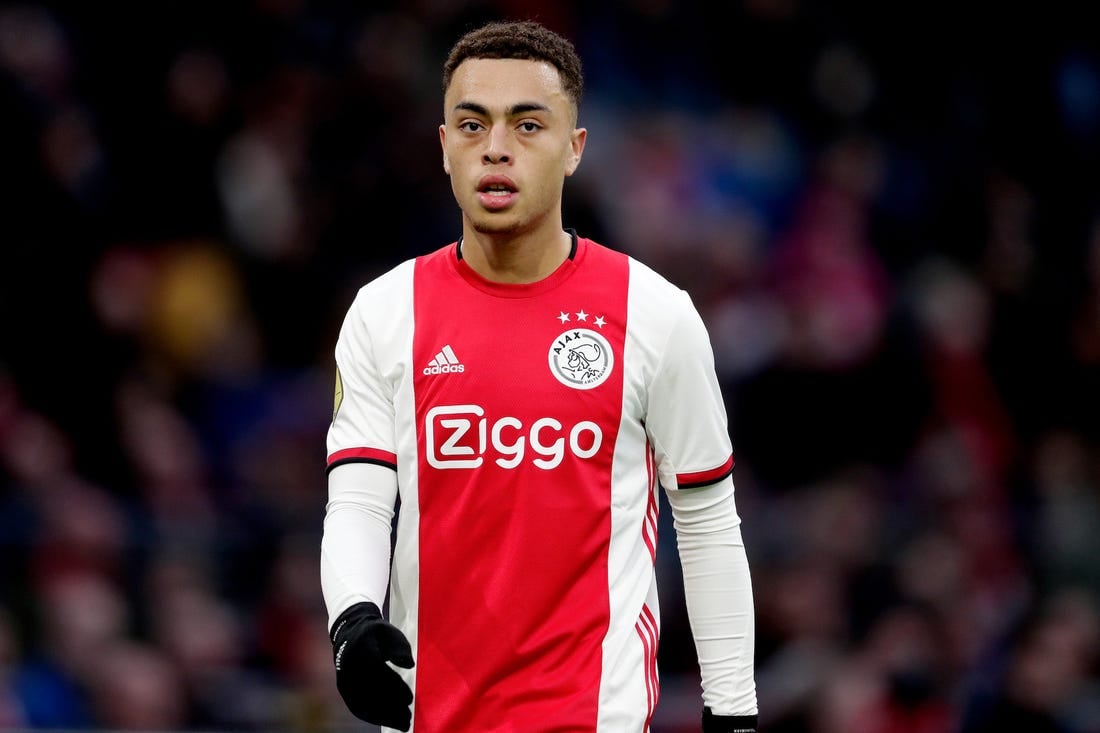 Ajax and USMNT fullback Sergiño Dest has a couple goals at the moment - become the most expensive defender in the world and play with Lionel Messi, Cristiano Ronaldo, Kylian Mbappe, or Neymar.
Good. If he didn't have those goals, there'd be a problem.
Dest Setting High Goals For Himself
Speaking to Dutch outlet NOS Jeugdjournaal with translation via ESPN about his current market value, roughly €20-€30 million, the 19 year old half jokingly and half seriously said that wasn't enough. "I want to be the most expensive full-back ever because when you reach that it shows that you are one of the best full-back of the world. I want to go over €50 million. No defender went above €100 million."
When asked about what players he'd like to share the field with, the answers were obvious. "I want to play with [Kylian] Mbappe, Ronaldo, Messi or Neymar. Time will tell if it will come true. But it is possible," he said.
Quite possibly, Dest may get to fulfill his dream sooner rather than later. Last month Spanish publication AS reported Barcelona's interest in him if Nelson Semedo left the club.
Just a few weeks ago, ESPN highlighted links between Dest and Paris Saint-Germain as their starting right back, Thomas Meunier, will leave for Borussia Dortmund this summer.
And to round out the links to world class clubs, Dest's agent confirmed Bayern Munich's interest recently as well. He won't get to play with any of the aforementioned stars at Bayern. But he likely would entertain the move if the circumstances were right, aka the money was good enough.
Talking about a potential move away from Ajax, he explained "There are a lot of rumors. No, it has not been decided that I go to Bayern Munich and I haven't really said anything yet. There is interest from clubs but I don't know if I leave Ajax."
Dest Not Ready Yet
At 19 years old, Dest is one of Europe's top young right backs. This year he won Ajax's Talent Of The Year award for being the club's best young player. He also made both his Ajax first team, Eredivisie, and Champions League debuts this season. He even notched his first professional goals and assists.
That being said, he isn't ready for a big money move to a super club. Dest wasn't supposed to even play for the first team this year, or at least nowhere near as much as he has.
He, and to his credit, took advantage of a bit of luck with persistent injuries to first choice right back Noussair Mazraoui.
However, when Mazraoui recovered from injury in the fall, Dest returned to the bench, or at least had to fight for his spot. He didn't outright earn the starting job back in the spring until Mazraoui got hurt again.
In 20 Eredivisie games this year, Dest only scored higher than a 7 on WhoScored six times. On SofaScore, it was only eight times.
So, while he has reached some major career milestones, it's been a bumpy ride.
Dest should absolutely target playing with the best players and becoming the most expensive fullback in history. Every player should have those long term goals.
But he's not ready for that yet.
Before he transfers to Bayern, Barca, or PSG, he should nail down the starting job in the 14th best league in Europe first. Hopefully he does that next year and then departs Ajax to chase his dreams of becoming the best and most expensive full back in the world playing with Mbappe, Messi, Ronaldo, or Neymar.