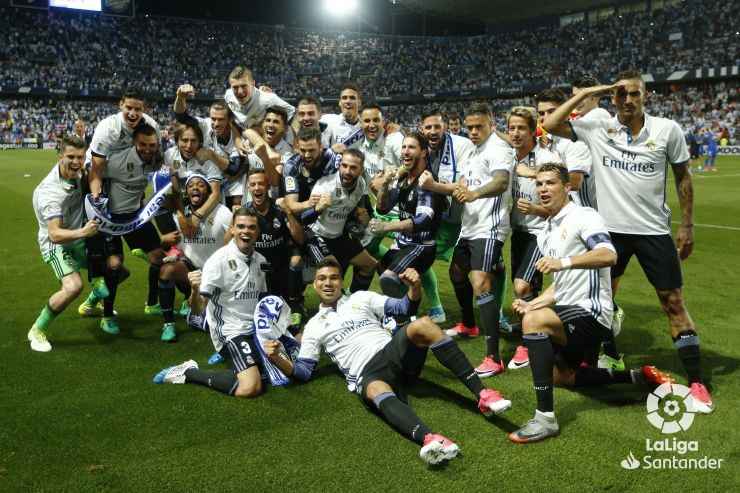 The La Liga title race is going down to the final two games of the season, with Real Madrid sat at the top of the table, four points ahead of rivals, Barcelona. Madrid are chasing their 34th La Liga title and their first title since 2017. Barcelona have dominated the previous two La Liga campaigns by winning the title by eleven and fourteen points retrospectively. However, in both seasons, it was Real Madrid's neighbours Atletico, who finished in second place, with Los Blancos finishing third, both times.
Barcelona head of the table before the stoppage
Before football and general life came to a halt in March, Barcelona were at the top of La Liga and had a two-point gap over Real Madrid. The week prior to the final round of games, Madrid beat Barcelona in the El Clásico, 2-0 to take them top. However, seven days later, Madrid would lose 2-1 to Real Betis and Messi would score a penalty in the 81st minute to take Barcelona back to the top of the table. These results would mean Barca would sit top, with only eleven games to go.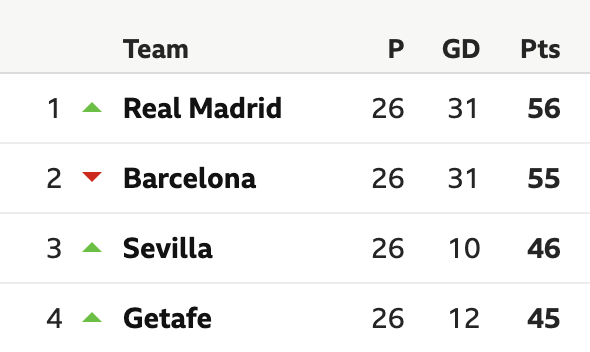 Real's dominance since the re-start
Since the return of La Liga in June, Zidane's men have been unstoppable, winning all nine games. Prior to the stoppage, Madrid had somewhat of an issue taking all three points, as they had drawn eight games. However, they have showed they have the ability and determination to hold onto all three points, by winning five out of the nine games by a margin of only one goal. Madrid have scored seventeen goals and conceded on only three occasions.
#RMCity Tuesday:
💧 Physiotherapy & hydrotherapy
⚽️ Ball control
✅ Passing accuracy
🙌 Mini-match
🧤 Goalkeeper work#HalaMadrid pic.twitter.com/F4XfNvaBQh

— Real Madrid C.F. 🇬🇧🇺🇸 (@realmadriden) July 14, 2020
Sergio Ramos
The Spanish defender has scored five goals in his last nine matches, with three of those being scored from the penalty spot. The Madrid captain has scored as many goals in the league in his last nine games then he did in the twenty-seven games prior to the stoppage of the season. Ramos is proving that he is still one of the best defenders in the world whilst simultaneously showing off his abilities in front of the opposition goal. He will be hoping that he can guide his side on Thursday to beating Villarreal and securing the La Liga title.
⛔⚽🥅 A save as good as a goal!@SergioRamos | #RMLiga | #HalaMadrid pic.twitter.com/mKYQtrn1Vv

— Real Madrid C.F. 🇬🇧🇺🇸 (@realmadriden) July 15, 2020
How can Madrid clinch the title?
Real Madrid only need two points to win the La Liga title and there are a few scenarios which may play out and still see Madrid crowned champions. Firstly, the simplest way for Real, is to be victorious against Villarreal and they will win the league. The second way in which Real can be crowned champions, is if both Real Madrid and Barcelona draw their next fixture, as Real would still have the four-point cushion with only one game left. Likewise, if both Real and Barcelona lose on Thursday, Madrid will win the title as it will not be mathematically possible for Barcelona to catch Real Madrid. Although it is unlikely than both side will draw or even lose, both scenarios will see Real secure their 34th La Liga title.

Whilst Real Madrid have had some fortune due to Barcelona drawing three of their nine games, allowing Madrid to climbed above Barcelona in the standings, you cannot take anything away from Real's dominant and consistent performances, which may see them clinch the title on Thursday.
📋 Our 24-man squad for the match against @VillarrealCF!#RealMadridVillarreal | #RMLiga pic.twitter.com/d7AHupbaIt

— Real Madrid C.F. 🇬🇧🇺🇸 (@realmadriden) July 15, 2020