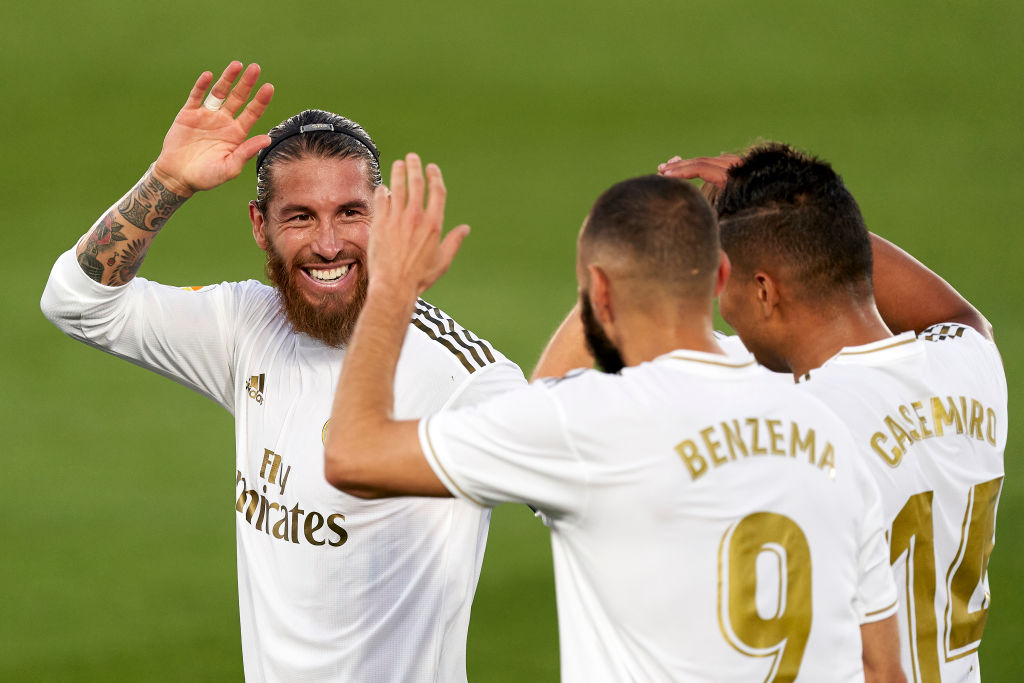 Real Madrid have won the 2019/2020 La Liga title. This sees Los Blancos claim their 34th La Liga Title and it is the first time they have won the league since 2017. Whilst Barcelona have been in first place for the majority of match-weeks this season, numerous draws saw them slip-up and allow Madrid to take first place.
🙌🏆 ¡SOMOS CAMPEONES! 🏆🙌
⚽ @LaLiga 2019/20#34Ligas | #RealFootball pic.twitter.com/XIvjdkKACt

— Real Madrid C.F.⚽ (@realmadrid) July 16, 2020
How it all unfolded
Thirteen minutes after Barcelona went behind against Osasuna, Karim Benzema's strike from inside the box put Real Madrid ahead against Villarreal in the 29th minute. Both score-lines remained the same going into half-time. Madrid continued their search for a second goal as Carvajal dribbled past defenders but his shot was well saved. Messi scored a sublime free-kick for Barcelona to level things at the Camp Nou.
Real Madrid hit the front! ⚪

A big step towards the title for Zidane's side, and who else but Karim Benzema to come up with the finish 👏 pic.twitter.com/kOaCQf8UQk

— Premier Sports 📺 (@PremierSportsTV) July 16, 2020
The score in the Madrid game remained the same until the 77th minute when Benzema slotted home a penalty to make it 2-0. However, there were crazy scenes seconds before, as Ramos initially stepped-up to take the penalty but he decided to lay it off to Benzema who scored, but the referee ordered a re-take as Benzema was already inside the area. In the 83rd minute Villarreal closed Madrid's lead to one-goal, courtesy of Vicente Iborra. Real Madrid thought they had scored a third in the 95th minute when Marco Asensio tapped the ball into the net but the referee ruled it out for a handball during the build-up. The final whistle sounded and there were smiles all around for the Madrid players as they had just won the La Liga title!
Ramos and Benzema = Pires and Henrypic.twitter.com/uLdNxPlqgF

— 90min (@90min_Football) July 16, 2020
Madrid's victory against Villarreal extends their unbeaten run to ten games, in which they have won every single game. Their last defeat came in the final game before the temporary stoppage to football in March. Since the restart in June, Zidane and his men have been unstoppable and their hard work has paid off, as it has seen them be crowned La Liga champions. Real have won the league with one game left to play and their final game sees them travel to relegation-threatened, Leganes.
REAL MADRID ARE CHAMPIONS OF #LaLigaSantander 2019/20! 💜🏆 pic.twitter.com/f7Hc2nPDdS

— LaLiga English (@LaLigaEN) July 16, 2020
Real Madrid still have one more game to play in La Liga, and they will want to come away will all three-points. But in just over three-week's time they must travel to England to face Manchester City in the second-leg of their Champions League Round of 16 game. City lead 2-1 and have two crucial away goals and Madrid also have captain, Sergio Ramos suspended for the fixture. However, Real will want to maintain their winning momentum from the final day of the season but at the same time they will not want to pick-up any injuries, that could potentially harm their chances of making the Champions League Quarter Final.