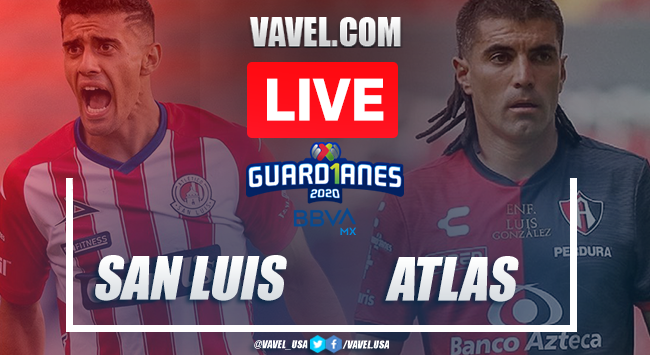 Summary of the one-goal tie between Atlético de San Luis and Atlas
94' The match ends
90' Added time
89' Foul at the edge of the area
87' Post!
84' Goal cancelled
82' Last change of Atlas
80' Cut Camilo Vargas!
79' Close to scoring San Luis!
74' San Luis trial
72' Atlas change
71' Game stopped
69' First change of San Luis
67' One more warning for San Luis
62' Atlas about to score!
59' Atlas shot
56' Caution for Atlas
53' San Luis Pressure
48' Werner present!
47' First yellow card of Atlas
46' Atlas change
45' The second half starts
45' The first half ends
The San Luis goal
41' Third San Luis player cautioned
39' Atlas responds!
38' Second warning for San Luis
37' Close to San Luis for the second goal
35' San Luis goal!
31' Game stopped
28' Yellow card
27' Now try Malcorra
The Atlas goal
18' Atlas goal!
17' Foul in favour of Atlas
14' Shoot Luciano Acosta
13' Atlas approaches, but without danger
10' Minutes of study
4' Stalking San Luis
3' First attempt at Atlas
2'
Game on!
Atlas Lineups
Atlético de San Luis Lineups
Novelty in the San Luis goal
Atypical weekend for Jalisco teams
Atlas arrived at the stadium
Victorious start in the U17
Atletico de San Luis U20 won by a small margin
Don't leave here
How to watch Atletico San Luis vs Atlas Live TV and Stream
Player to watch: Atlas
Player to watch: Atlético de San Luis
In search of the first victory
Triumph is obligation
Location
Good afternoon to all VAVEL readers!