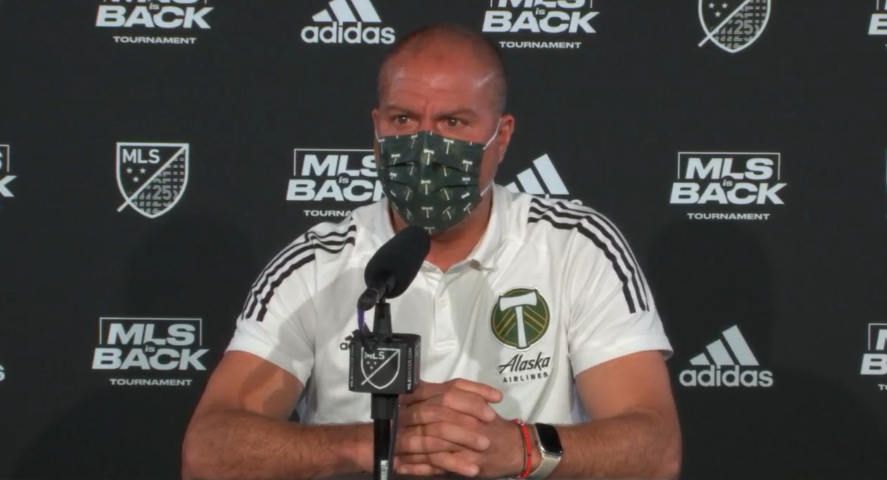 The Portland Timbers have been pretty successful in MLS so far. They won the MLS cup back in 2015, they were a finalist in 2018 so it's no surprise that they are back in a final of a major tournament.
Diego Valeri, Sebastian Blanco, and head coach Giovanni Savarese spoke to the media today ahead of their final on Tuesday vs Orlando City SC, in which they now have a chance to book a spot in the 2021 Concacaf Champions League.
Argentine midfielder Diego Valeri was the first one to touch on the subject.
"It's an international competition and it's a great chance to do it in the short term. We are one game to go and it's going to be great to put the team in the prestige we wanna be so it's a great chance and we are going to fight for it".
He also touched on what is like going through a pandemic and what it took for him and the team to get where they are today.
"After all this break all that amount of time just being home, we didn't even have the chance to train with the team so it was a long process and now we are at this point. It's a great feeling because from the first training even when we trained individually, we all knew that this tournament was going to come and we were focused on putting the Timbers in this position. Now this feeling is a feeling of satisfaction and we want to complete it performing tomorrow and winning the trophy"
He even took the time to give his thoughts on the way Nani has been carrying his team and the threat he poses.
"Its clear that what Nani brings to Orlando is quality and experience".
"He has a lot of talent and something that is key in this time of the league: the hunger to compete. You can tell that he came to the league and to the team trying to put to a mark on the history of Orlando and he's fighting for it. This tournament was brilliant because he is showing his talent, his level of competition".
Sebastian Blanco also shared his thoughts on the upcoming final:
" I think we need to do what we have been doing all tournament. We are an ambitious team, we are a smart team, we have to wait for the right moment, we have to be a compact team. We have to show solidarity both attacking and defending".
Lastly, manager Giovanni Savarese gave his take on the all-important match against Orlando City:
"I am extremely content with the way we have arrived to this final".
This is the result of great work from the players and it didn't start from the beginning of this tournament. It starts from the time we had the quarantine, from the discipline of the players and the way they conducted themselves during the quarantine time, how they come back and did the individual training phase one, phase two and from that time the mentality has been very positive", he added.
"Now we have one more game to lift the trophy. Another difficult game against a very good team but the group has stayed very steady understanding that the best strength of this group so extremely proud and content to have this opportunity to play this final".
He also touched on the subject what a challenge Orlando City will present to them:
"Credit to Orlando and what they have done to arrive at this final, I think what Oscar has done in little time is very good in order to put this team in this final"
"Now it's one more to lift the trophy and we have to look at this game like one more game and play the way that we have played so far, understanding what the game needs from the beginning all the way to the end cause it will change at some moments in the match but the maturity of our group has shown that we can solve those issues inside the field and prevail so we come into this match with the same mentality".
The Portland Timbers will face off against Orlando City SC on Tuesday, August 11th, and kickoff is scheduled for 8:30 pm Eastern Time. The game can be seen on ESPN, ESPN Deportes, TSN, and TVA Sport in Canada. TVA Sport will carry the game in French for viewers in the Quebec region.