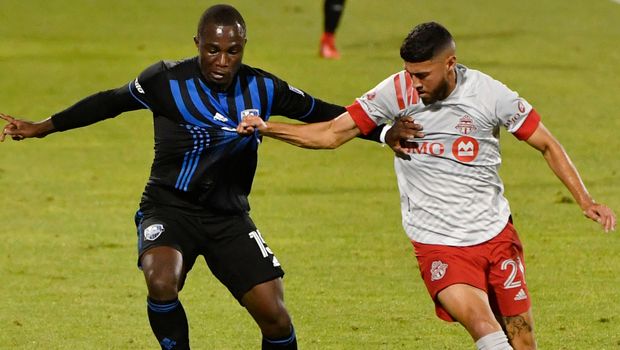 The Montreal Impact faced off against their rivals from down the 401 looking to gain some traction in the race to the Canadian Championship. These two clubs last met back on July 16 in Orlando during the MLS is Back Tournament: Toronto FC won that match 4-3 in a high scoring affair that helped them win the group.
Toronto had also two wins to date beating Vancouver Whitecaps twice at home while Montreal had come off a 2-0 win over those Whitecaps three days ago at Stade Saputo. The first half was a pretty tight affair and both teams weren't giving an inch to the opposing team.
We saw two hard fouls by Toronto FC on the Impact but referee David Gantar was letting both teams play keeping cards and his whistle in his pocket. At the 10th minute, TFC got the first corner of the game but decided to pass not shoot and it didn't amount to anything.
TFC suffered an injury in the 13th minute when Jake Mullins seemed to pull something and was replaced in the 18th minute by Nick Deleon. They had another chance at a corner but once again the Impact did a good job of clearing the danger away.
TFC thought they had opened the scoring when Auro Jr sent a cross in front of the net that Deleon headed in but upon further review, the play was deemed offside and the goal was overturned. The half finished 0-0 and both teams went into half trying to figure out how to break the deadlock.
The second half proved to be an entertaining one and we would find out who would be taking the crucial three points. Two minutes into the half TFC was awarded a penalty kick for a handball in the box. Alejandro Pozuelo stepped up to the spot and kicked the ball past Clement Diop to make it 1-0.
On the 78th minute, it seemed as if the Montreal Impact had scored to level the match at one but the goal was deemed offside. Romell Quioto was inches away from tying the game. That was the closest Montreal would get and Toronto FC would take the 1-0 win.
These two teams won't have to wait long as they will meet on Tuesday, September 1st at BMO Field in Toronto.